PR agencies promote companies or people via editorial coverage.  This is "earned" or "free" media, unlike paid advertisements. PR agencies push for their clients to feature in newspapers, magazines TV programs, and websites.
The work of PR agencies often includes writing and distributing press releases, writing speeches, writing pitches, creating special events, conducting market research, networking, copywriting, blogging, social media promotions, and crisis management. PR agencies help build their clients' reputations through the media. They can analyze the organizations and find positive messages, and translate these to be of worth to the media. Similarly, they can take bad news and determine the best response to minimize the harm.
---
Top PR Agencies You Should Absolutely Check Out in 2022: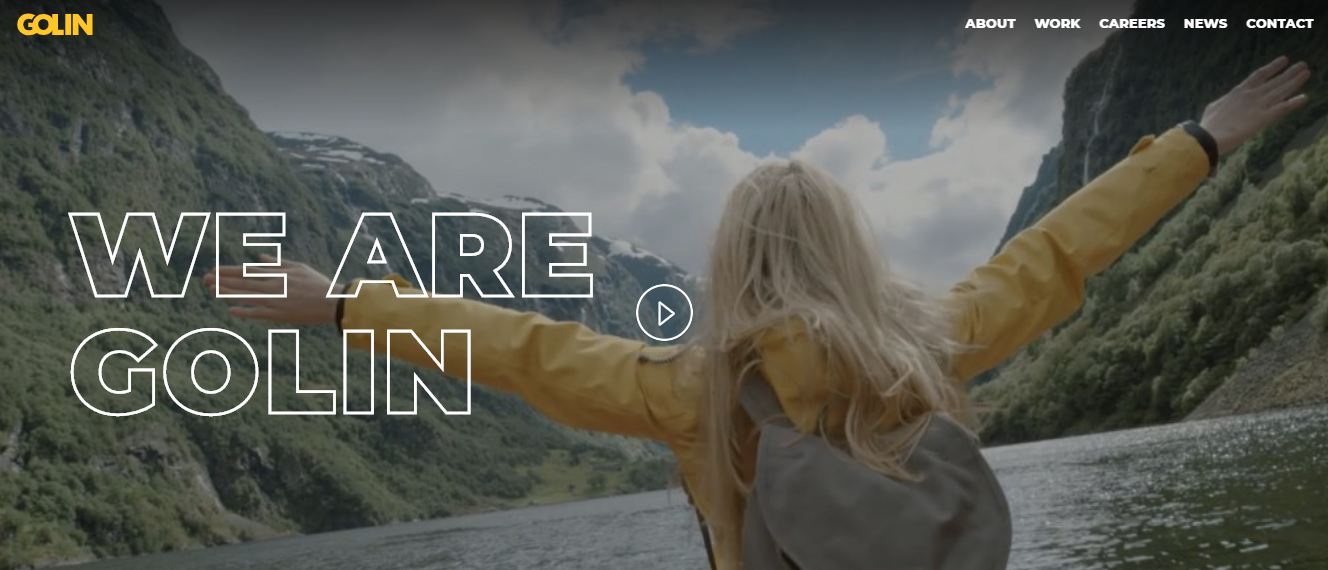 Golin has been around for just over 64 years. They see themselves as a progressive PR agency making a difference in a time where attention is hardest to attract and hold. Their progressive nature is driven by data that influences the customer journey, a critical component in today's evolving marketing world. Their services include content creation & production, content discovery & amplification, crisis management, data & analytics, employee engagement, inclusion & lgbtq+ strategy, influencer marketing, media relations & training, public affairs, social media, social purpose and UX/UI design. Their clients include Tiny Tickers, Pepsi, Mattel, MacDonald's, Lexus, Porshe, Roche and more. Golin is also a global firm with offices in Noth America, Asia and EMEA.
---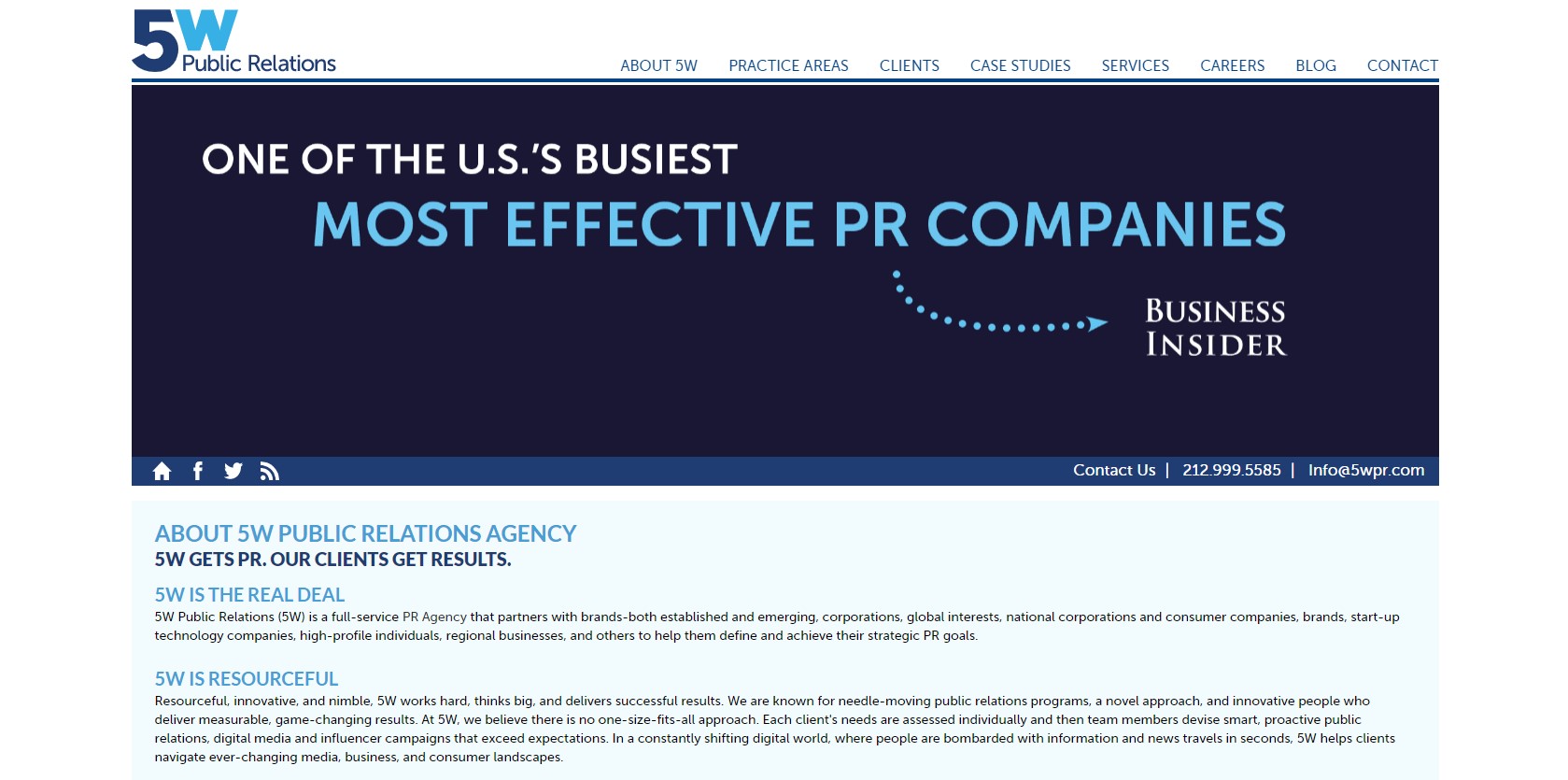 5W Public Relations is a full-service PR Agency based in New York City, with a team of more than 175 passionate and creative experts. They partner with brands, both established and emerging, corporations, global interests, national corporations & consumer companies, start-up technology companies, high-profile individuals, regional businesses, and others to help them define and achieve their strategic PR goals.
The agency works in various practice areas across B2C and B2B categories, designed to raise their clients' brand, sales, and bottom-line results. They implement powerful, proactive, and passionate media relations efforts and offer a comprehensive range of integrated marketing services to meet every client's unique needs.
5W Public Relations' services include integrated marketing, public relations, strategic planning, event management, reputation management, influencer & celebrity marketing, product integration, and social media & digital marketing. 
Their clients include Sparkling Ice, Triller, Topps, L'Oréal, The Trade Desk, Epicor, LifeStyles, Payless, SodaStream, and Vizio.
---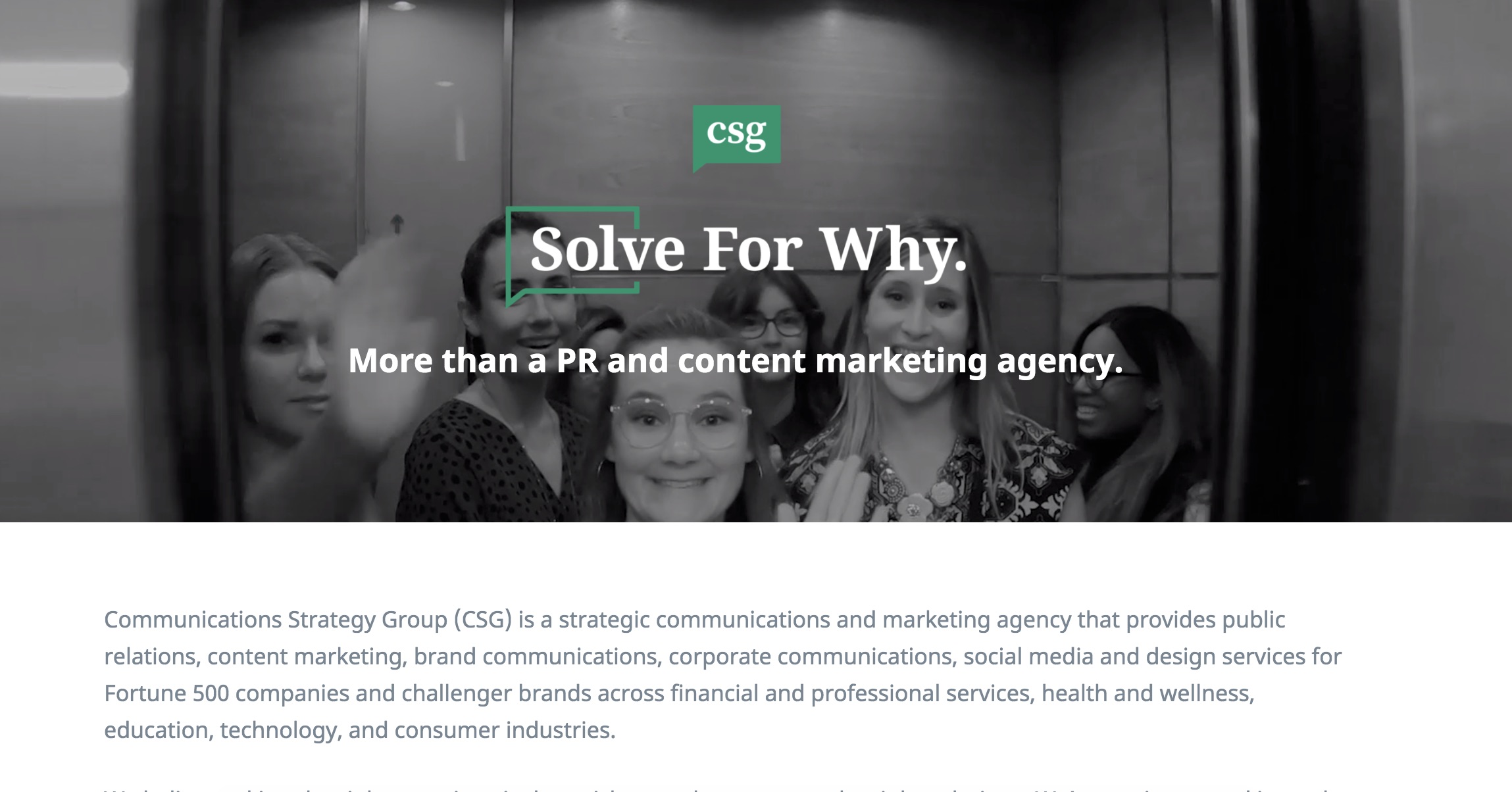 Denver, Colorado-based Communications Strategy Group (CSG) is a strategic communications and marketing agency that provides public relations, content marketing, brand communications, corporate communications, social media, and design services. Their main clients are Fortune 500 companies and challenger brands across financial and professional services, health and wellness, education, technology, and consumer industries.
They emphasize that they are more than a content marketing and public relations agency. They help organizations leverage high impact strategic communications and marketing techniques to solve their most difficult challenges and activate growth opportunities.
Some of their best-known clients include Crayola, Fisher-Price, Mattel, Wendy's, TransAmerica, and Vesta.
CSG strategists combine deep industry expertise, influencer relationships, data-driven insights, and access to a team of digital specialists and a full-service creative team to deliver communications and marketing strategies that are unique to each of their client's brand attributes and opportunities.
From content marketing and public relations strategy to brand articulation, crisis communications, and social media, CSG tells authentic stories that find audiences where they are and transform them into customers and brand champions.
---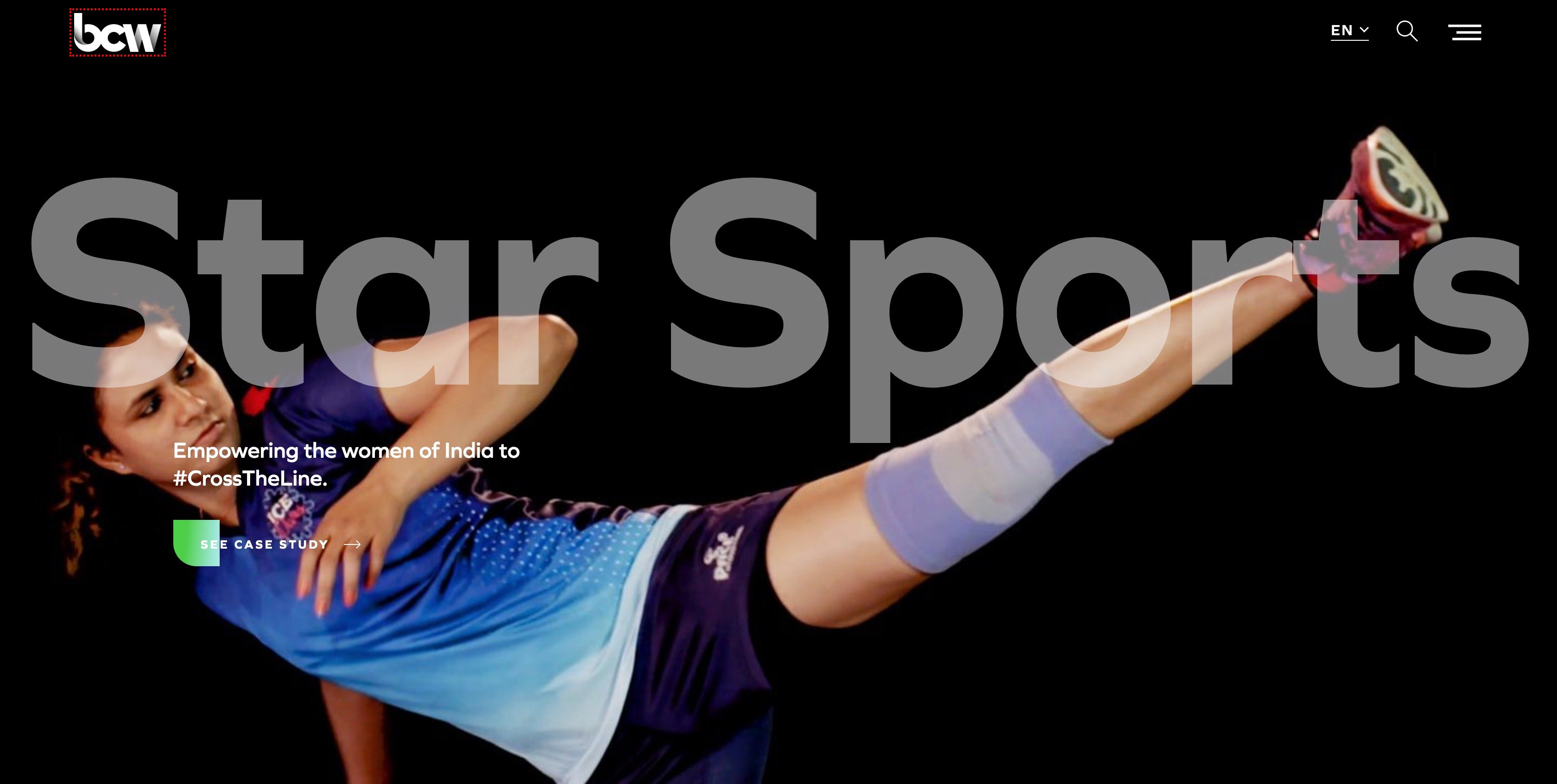 BCW is a giant global full-service communications agency. It was formed from the merger of Burson-Marsteller and Cohn & Wolfe. It is part of WPP, a British multinational advertising, and public relations company, and the world's largest advertising company. The merger brought together the corporate and public affairs, crisis and issues management expertise of Burson-Marsteller, and the digital and creative, consumer, and healthcare strengths of Cohn & Wolfe.
BCW is truly global with offices across North America, Latin America, Europe, Middle East, Africa, and the Asia-Pacific. Its stated areas of expertise are also colossal, covering nearly every sector imaginable. As you would expect, it lists many large corporations as its clients, including Nokia, Maserati, 21st Century Fox, Bayer, Coca-Cola, Colgate-Palmolive, Dow Chemicals, ExxonMobil, FedEx, and many more.
BCW aims to build big, insight-driven ideas that inspire action and connection across the globe. They help their clients move, inspire, engage, and lead people in a favorable direction, across all sectors on a global scale. They are a channel-agnostic approach, with valuable earned media at the core. 
BCW is a finalist in the upcoming 2019 Global PR Agencies of the Year awards. Cohn & Wolfe won the North American Agency of the Year at the 2018 Global SABRE Awards.
---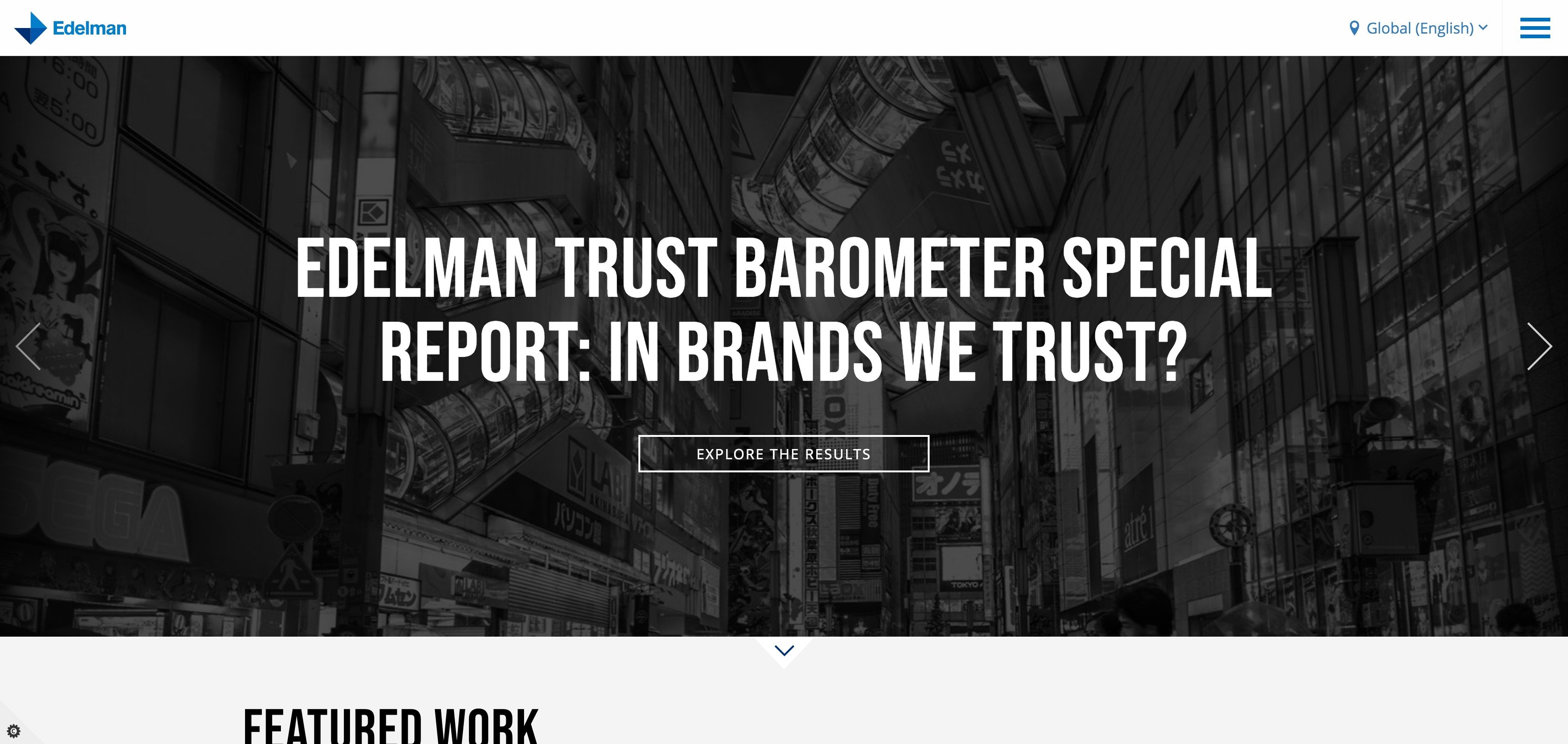 Edelman is the world's largest PR agency. 2018 was not a particularly good year for Edelman – they saw a 1% decline in global revenues. However, they are still a significant force in PR and communications. Their fee income in 2018 was still reported to be $888.4M.
They have continued to add 600 creatives and planners over the last few years, taking their staff levels to 5,618. According to the founder, Richard Edelman, they remain undaunted by the challenge of reinventing the firm into a truly integrated marketing services player.
The digital practice now accounts for more than 20% of the firm's global revenues. 
The firm continues to produce high-quality work. It is a finalist for the 2019 Global PR Agency of the Year. It won the award for Digital PR Consultancy of the Year in the Asia-Pacific region.
One of their most successful recent campaigns was for KFC in Australia. The client tasked Edelman with showing the public how  KFC cares about young Aussies. Edelman leveraged the launch of KFC's Youth Foundation to get the word out about the company's charity efforts, but without the stuffy corporate feel. With the founding of the new youth organization, they launched new limited-edition KFC merchandise ranging from enamel pins to chicken-scented surf wax. Every purchase resulted in a donation to the foundation.
---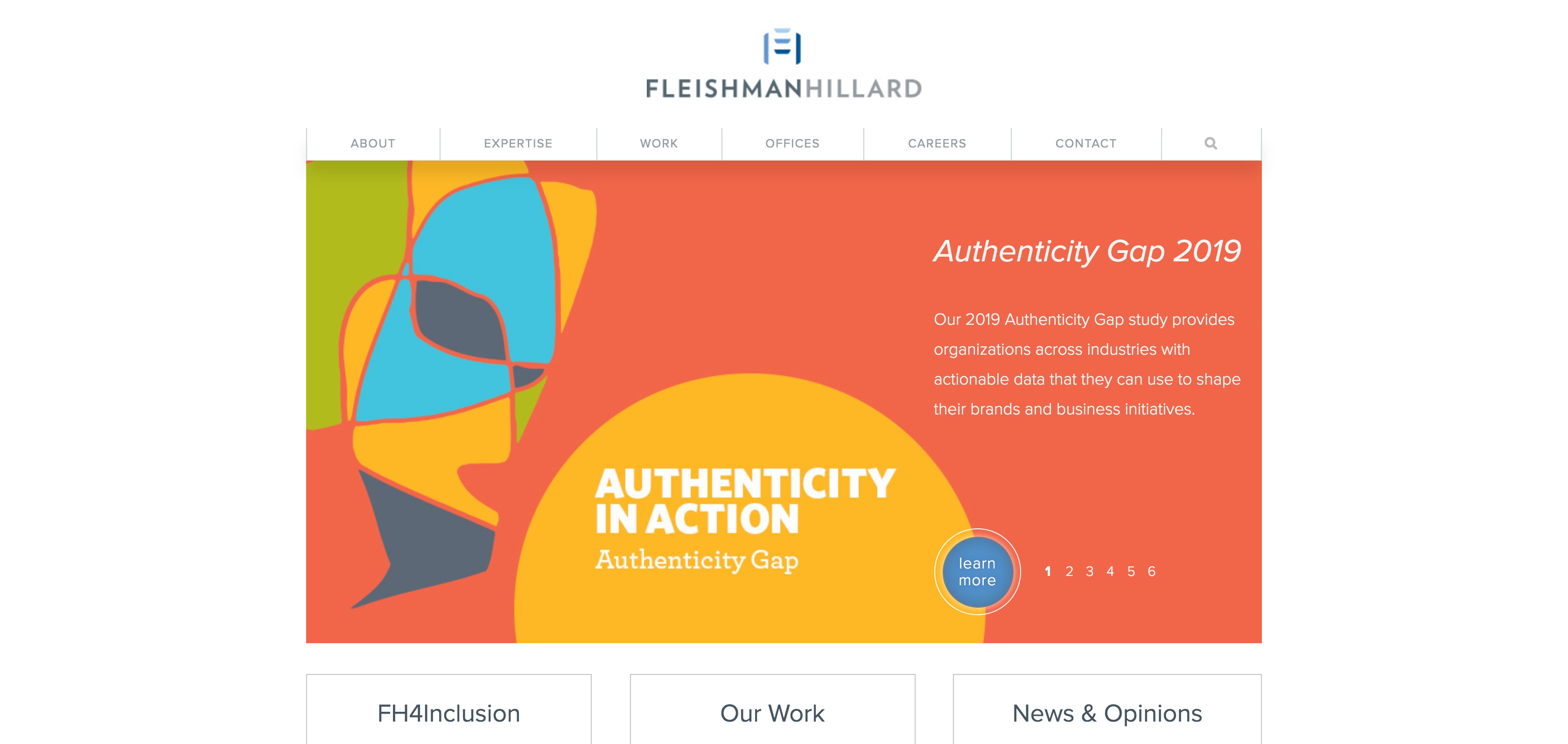 FleishmanHillard was founded in St. Louis, Missouri, in 1946. It is now a part of the Omnicom Group. Omnicom Group Inc. is an American global media, marketing, and corporate communications holding company, headquartered in New York City. Omnicom is composed of five major agency networks that oversee 1500+ agencies as parent companies. FleishmanHillard is part of its Diversified Agency Services (DAS) division.
They are currently the fourth largest agency in the world, with an estimated fee income of $606M in 2018. This showed a 6.1% growth compared to the previous year.
They are a finalist in the 2019 Global PR Agencies of the Year awards. 
They have a healthy list of clients, including AARP, AT&T, Bayer, Emerson, Fitbit, GM, Pepsico, SAP, and Samsung. They added 26 clients worth more than $1M in 2018, including BNY Mellon, Elanco, GM, GoPro, Hanes, Johnson & Johnson, Philips, Roche, and the US Army.
FleishmanHillard regularly takes advantage of its Omnicom connection, and partners with sister agencies to deliver integrated campaigns.
One exciting recent campaign was for Levi Strauss & Co. Levi has a 20-year naming-rights agreement – Levi's ® Stadium – with the NFL's San Francisco 49ers. The relationship has earned the stadium the nickname, "Field of Jeans" after the classic film "Field of Dreams." In November 2018, the company covered the park's playing surface with 20,000 pairs of jeans donated by the community and 49ers fans over two weeks to the nonprofit Goodwill. It blanketed almost the entire field – leaving only a swath of turf, forming the universal recycling symbol. A time-lapse video of the activation went viral and capped a campaign that kept 12-plus tons of clothing out of landfills and funded Goodwill's job-training programs.
---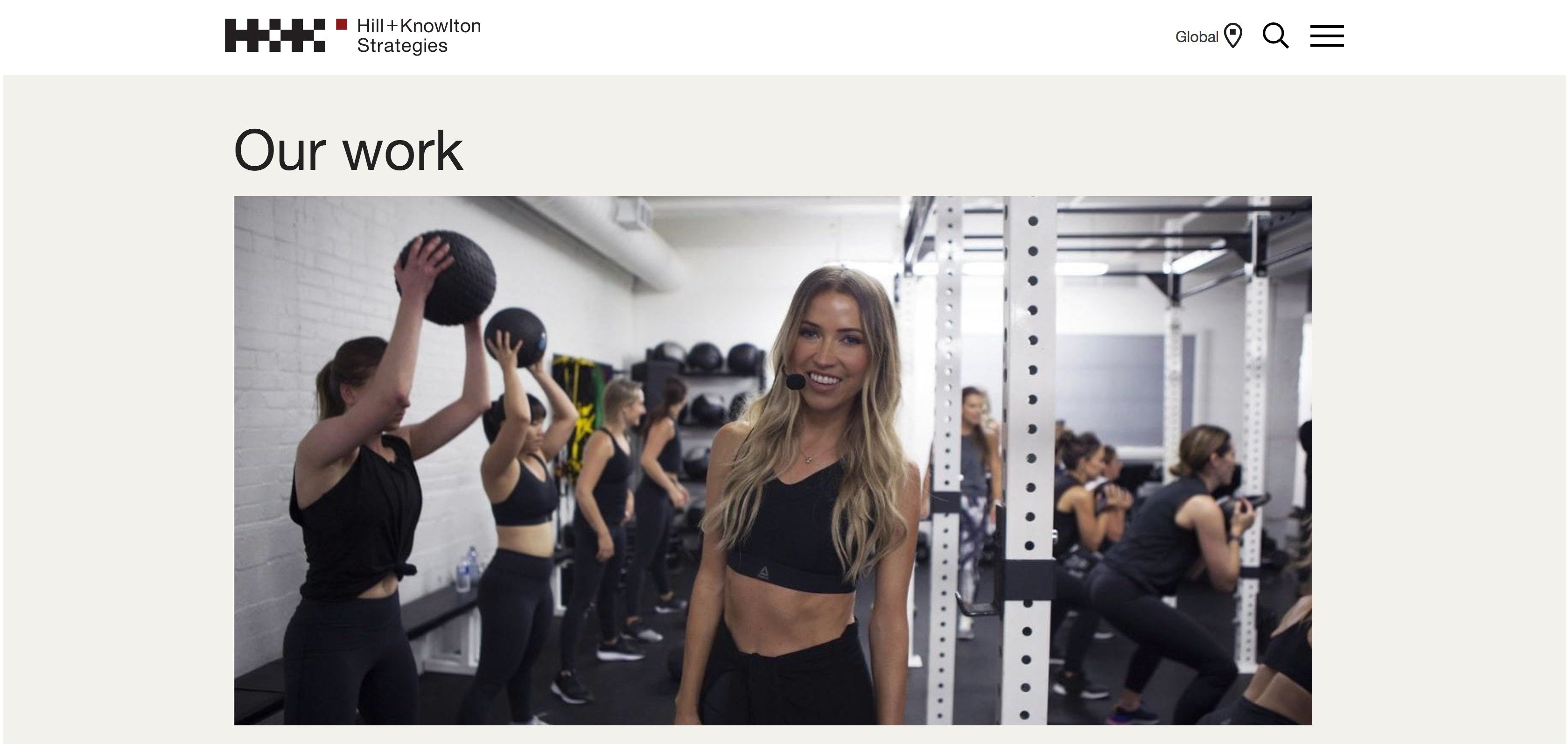 H+K Strategies is short for Hill+Knowlton Strategies. They offer senior counsel, insightful research, and strategic communications planning throughout the world. They have over 87 offices around the globe, and their clients represent 59 of Interbrand's 2013 Top 100 Global Brands and 50 percent of global Fortune 500 companies. The Holmes Report ranks them as the seventh-largest PR agency in the world, with an estimated 2018 fee income of $400M. They are part of WPP.
Although H+K Strategies has its headquarters in New York, it has a particularly strong presence in the EMEA (Europe, the Middle East, Africa) regions. H+K increased its income in 25 out of 30 markets in EMEA, with well above average performance in the UK, the Middle East, and Russia/Ukraine.
Some of the new European clients the agency gained in 2018 include Activision, ADNOC, the Azerbaijan Tourist Board, Barilla, British Airways, Cisco, Colgate, IKEA, Johnson & Johnson, La Liga, Norad, Oculus, and Smart Energy. 
Synergy H+K Strategies was named North Asia Agency of the Year, with particular success in Korea.
---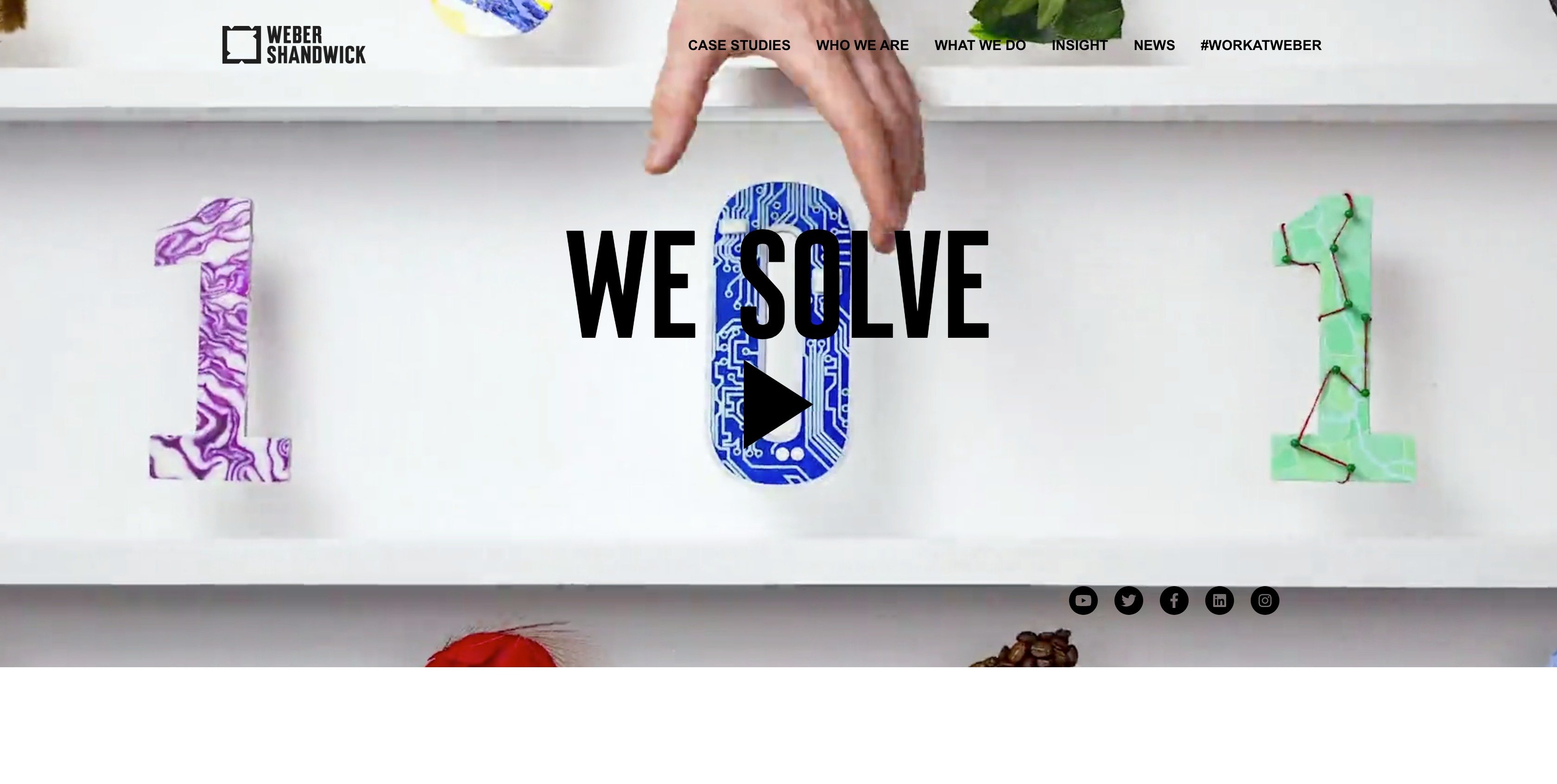 Weber Shandwick is a public relations agency with its headquarters in New York. They are part of the Interpublic Group of Companies (IPG), an American publicly traded advertising company. It is one of the "Big Four" agency companies.
Weber Shandwick takes second place in the Holmes Report's Global Top 250 PR Agency Ranking 2019. The agency's estimated fee income in 2018 was $840M, a 5% increase on the previous year. 
They are a finalist in the 2019 Global PR Agencies of the Year awards. The firm picked up Large Agency of the Year honors in Asia. The firm also established itself as a regional leader in Latin America, where it earned the award for the Mexican Agency of the Year.
Weber Shandwick retained 49 of its top 50 clients in 2018. It recorded its strongest new business year in a decade.
One of their more exciting campaigns was for HSBC UK, in an attempt to build awareness of the effects of online fraud. They used 'deep fake' style technology on Rachel Riley, a much loved UK television celebrity known for her talent in math. A shocking video appeared on Rachel's social channels where Rachel confessed to being "bad at maths" and having answers fed to her via an earpiece. A day later, after national outrage, HSBC UK reassured the public that this had been a 'deep fake' style video, with Rachel's mouth movements adapted and her voice dubbed over by an impersonator. Rachel was in on the stunt. Viewers received follow-up educational videos from Rachel to help them stay safe the next time they went online.
---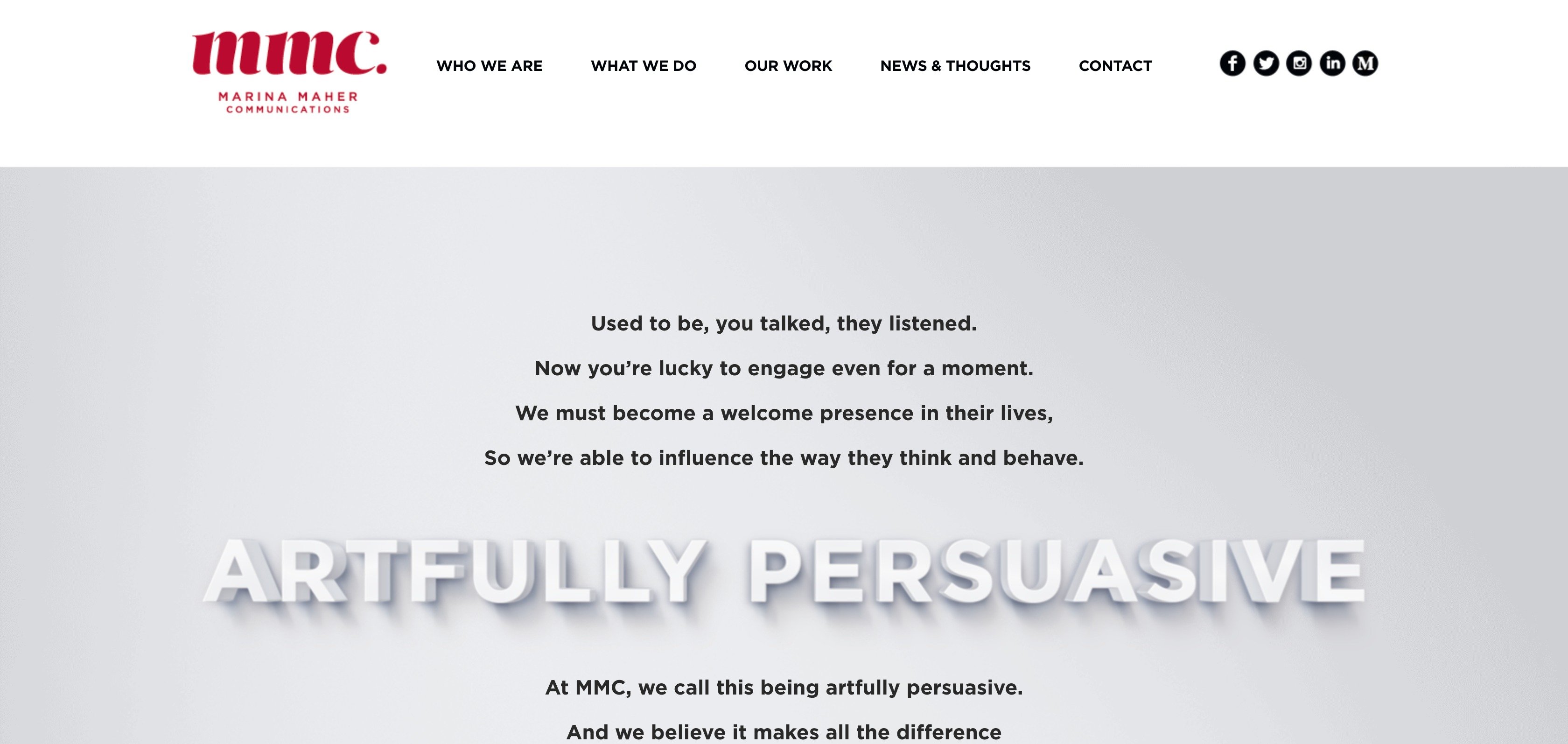 Marina Maher Communications (MMC) is a creative agency with over 30 years of experience in PR, earned media, and communications. They ranked 30th in the Holmes Report's Global Top 250 PR Agency Ranking 2019, with estimated fees income of $70M
The agency was named the 2018 North America Midsize PR Agency Of The Year and was a finalist in the 2019 awards.  This has helped it earn new business from name clients, including P&G's Pantene, Rodan & Fields, Natural Cycles, United Therapeutics, Bluebird Bio, and Akili Therapeutic. 
For some years now, MMC has helped Merck advance the conversation about maternal mortality, with an initiative called Merck for Mothers. MMC has helped Merck for Mothers amass nearly 200,000 Facebook fans through a mixture of positive and inspirational personal stories about birth and motherhood. In 2014 they expanded the audience to Twitter. They have established the custom hashtag #EndMaternalMortality.
 In 2016, the campaign added Instagram to the mix. Merck for Mothers' average monthly potential reach exceeds 225,000. They have found their engagement rates to be an astounding ten times higher than the norm.
---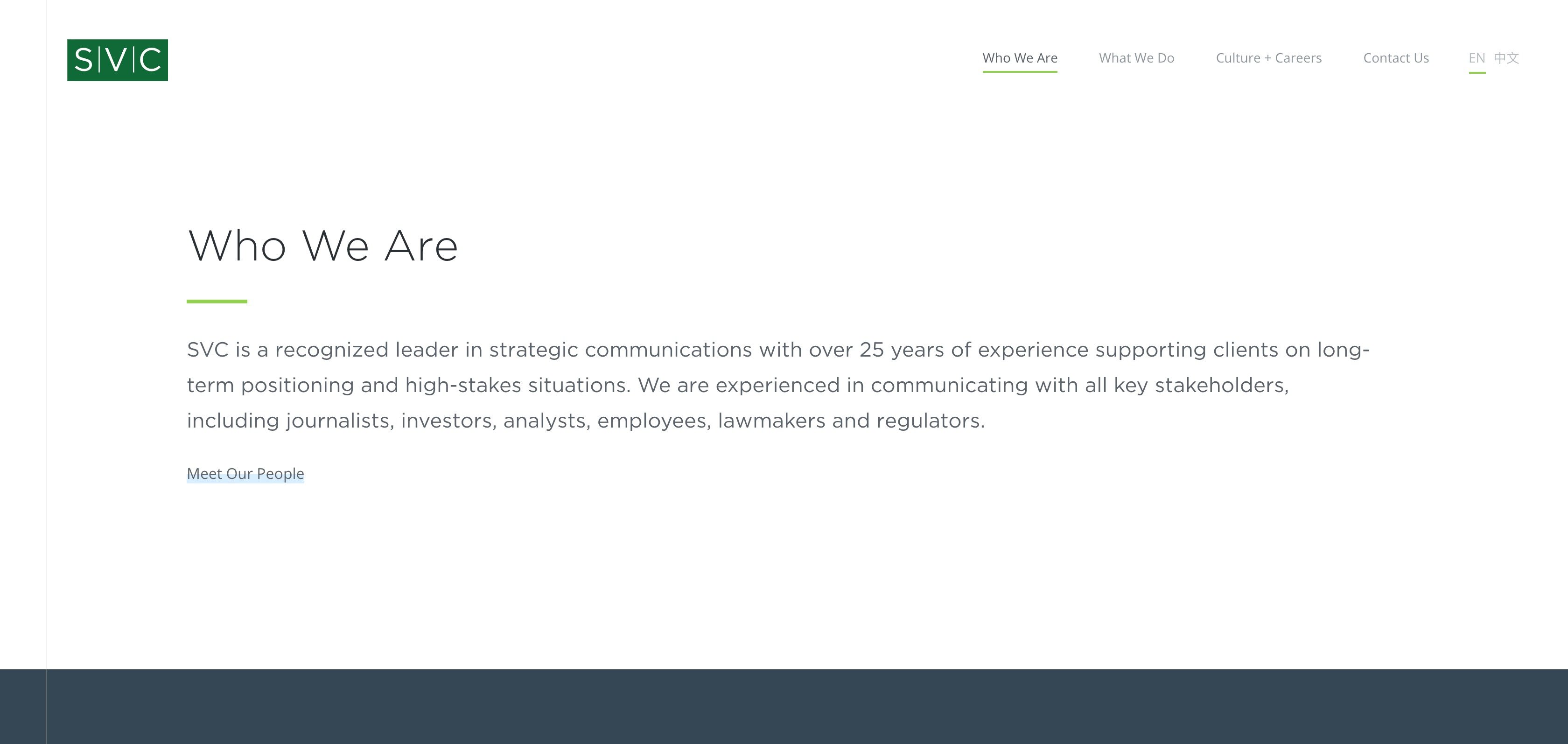 Sard Verbinnen & Co (SVC) is a financial communiocations specialist. This helped them win the 2018 Global Corporate/Financial Agencies of the Year award by The Holmes Report. 
They have over 25 years of experience supporting clients in long-term positioning and high-stakes situations. They are experienced in communicating with all key stakeholders, including journalists, investors, analysts, employees, lawmakers, and regulators. SVC provides strategic communications advice and services to help clients manage overall positioning and transformative events affecting their reputation, business, and market value.
The company lists its areas of practice as including:
Corporate Positioning

IPOs and Listings

Mergers and Acquisitions

Restructurings and Bankruptcies

Crisis and Special Situations

Cybersecurity and Privacy Issues

Litigation Support

Public Affairs

Activism, Corporate Governance, and Shareholder Engagement

Environmental, Social and Governance
Sard Verbinnen worked with Bayer on its acquisition of Monsanto, with Qualcomm on its defense against Broadcom, with Samsung on its acquisition of Harman, and with ADP in its defense against activist Pershing Square Capital. It handled the initial offering of Best, Inc., the largest IPO by a Chinese company in 2017. The firm provided crisis communications support for the board of directors at Wells Fargo.
---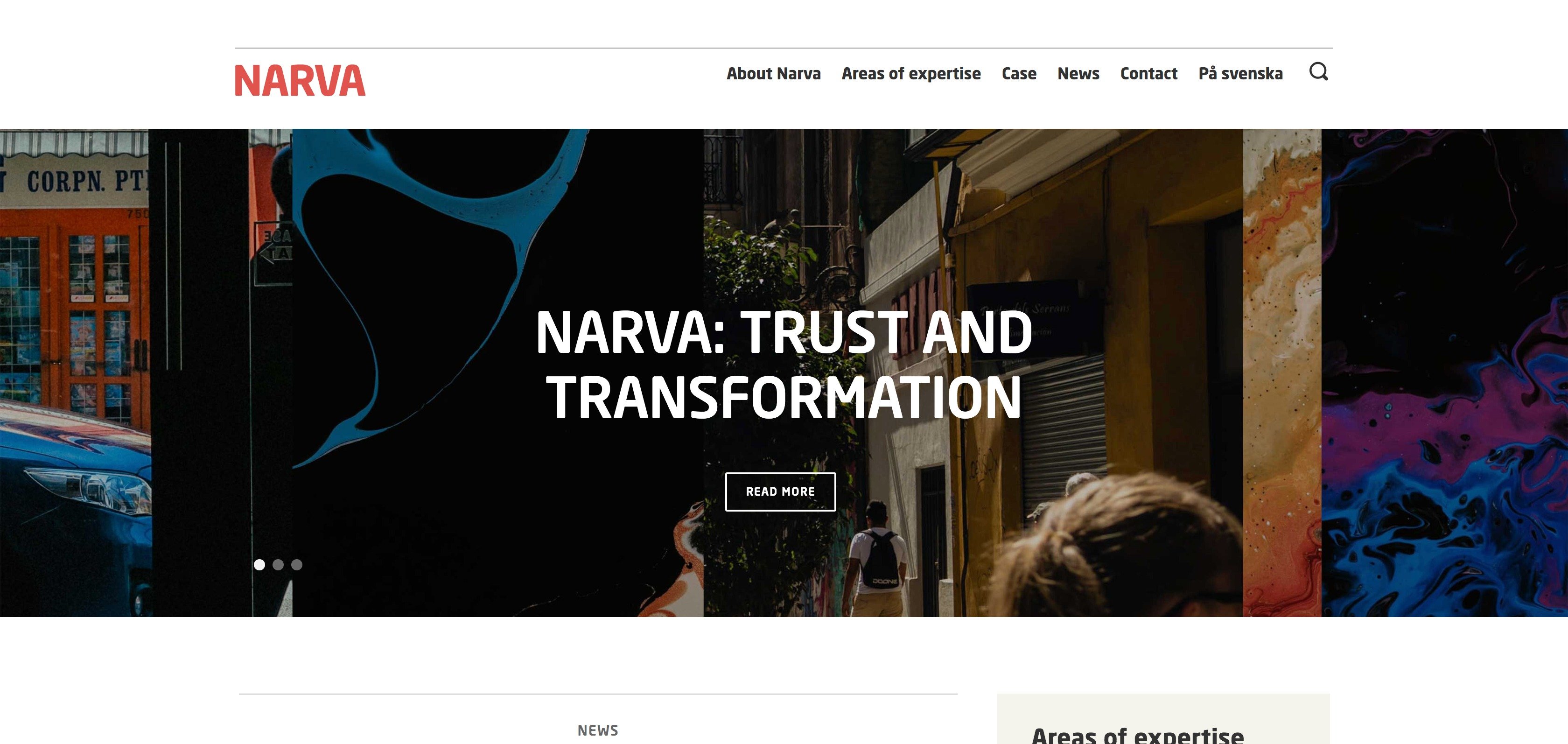 Narva is named after the Swedish army victory over a Russian force three times its size. It is one of the leading communication agencies in the Nordics. 
The agency was founded in 2000. It is part of the Ahead Group, the largest agency alliance in the Nordic region. In 2017, Narva booked sales of SEK 90 million. They currently employ 60 people.
They won the Award for Nordic Agency of the year at the 2018 SABRE Awards. They won double gold for "If I was Minister of Health and Social Affairs", with the Swedish Childhood Cancer Foundation at the Polaris Awards 2018. They have also won an award for Best Annual Report 2017 (Boliden in the category for the largest company), and The Publishing Prize 2017 (Elanders –  best annual report listed company).
Narva has offices in Stockholm, Gothenburg, and Malmö.
---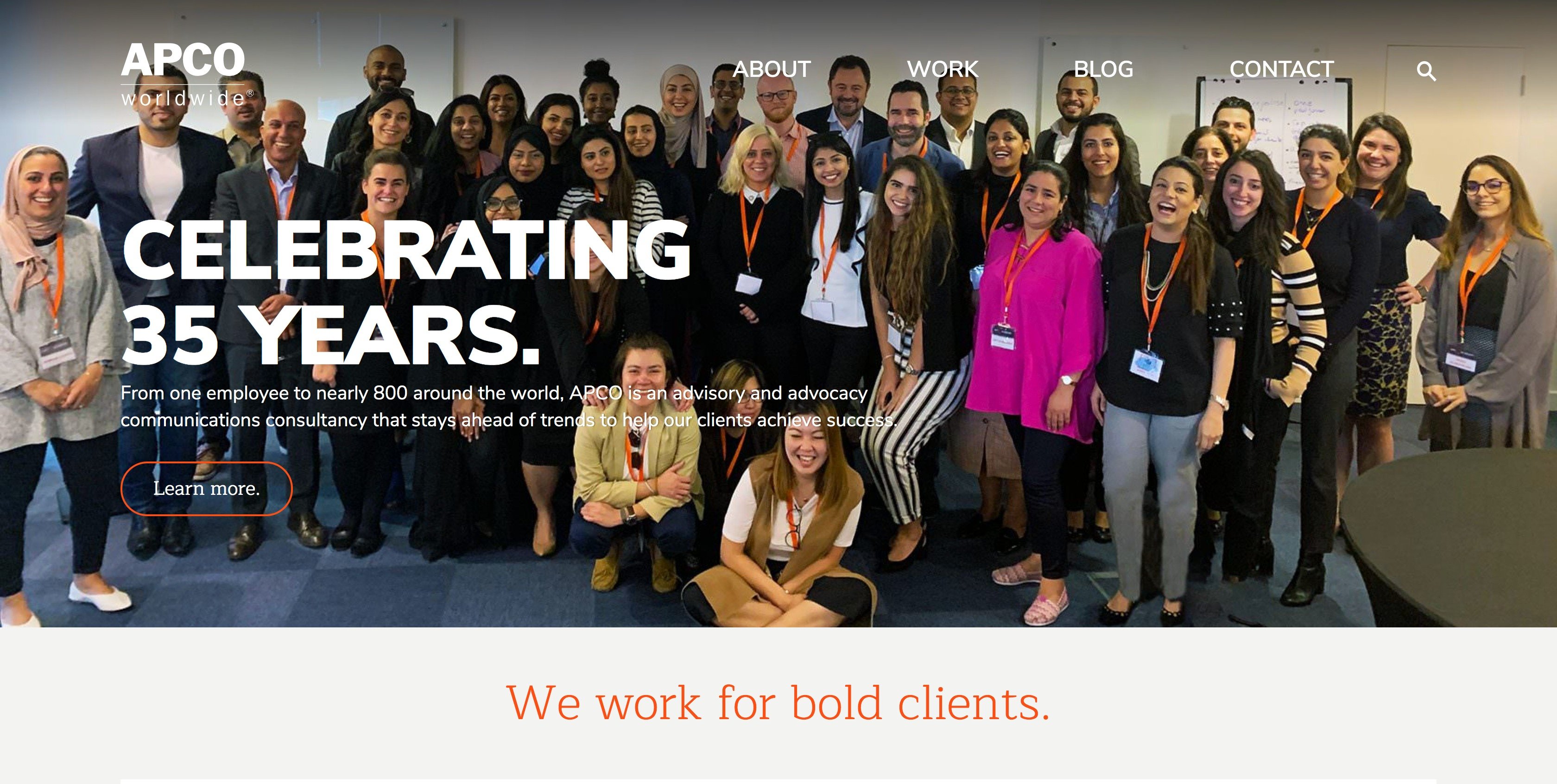 APCO Worldwide is an advisory and advocacy communications consultancy. They help leading public and private sector organizations act with agility and build organizational reputations, brands, relationships, and solutions to succeed. They are a majority women-owned business.
The agency won The Holmes Report 2018 EMEA Public Affairs Consultancies of the Year award and was a finalist in the 2019 Global Public Affairs Agencies of the Year award.
APCO redefined and expanded the definition of public affairs, both in its early embrace of research and analytics and in its investment in digital and social capabilities. 
Their Europen division has particular strength in London and Brussels—the two most significant public affairs markets in the region. In 2017 it expanded its offices in Germany (Berlin and Frankfurt), Italy (Rome and Milan), and France. They are a significant player in the UAE and Saudi Arabia.
---
IN.FOM is a Singapore-based public relations and communications agency. They continuously aspire to be at the forefront of reinventing communications. Their approach prizes sustainable employee and client relationships.
They began operations in 2011 in Mountbatten Square, Singapore. They have upgraded their Singapore several times since then, and also opened a Bali office.
Their work gained recognition almost from the company's inception, culminating in them winning The Holmes Report's 2018 Global Technology Agencies of the Year award. 
Some of their important clients include Ruckus Networks, Expedia, SGInnovate, UnionPay, Engie, CA Technologies, Herbalife, Intralinks, Intel, and Nokia.
---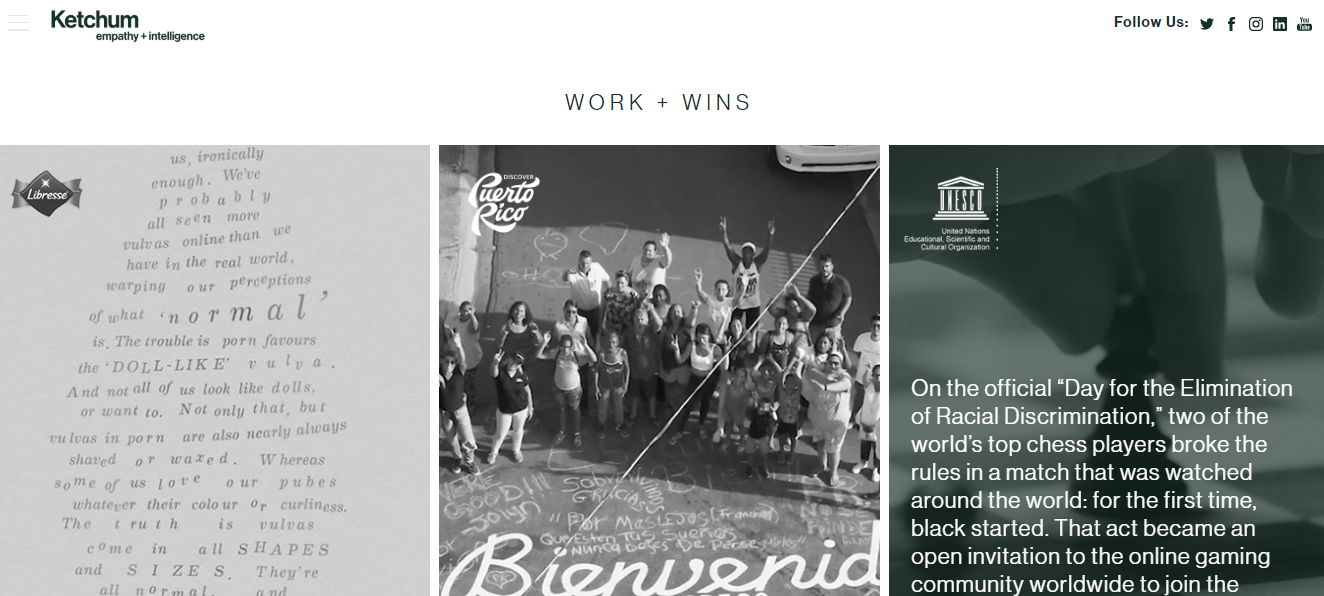 Ketchum is a global outfit. They are in 70 countries across the globe. And for their size, they've been able to plant themselves pretty well in various industries. These include food, financial and professional services, health and wellness, energy, technology, transportation, travel and retail. They also work with government organisations and their work is powerful. In a bid to empower a movement against the opioid epidemic in the US, Ketchum helped the National Safety Council (NSC) by launching a campaign called "Prescribed Death". 
The campaign featured a travelling memorial of 22,000 pills carved with faces of overdose victims, along with a CNC machine dedicated to creating new carving every 24 minutes (the rate of fatal opioid overdose). This campaign helped the NSC generate over 11 million video views, over 1 billion earned impressions, and a 2,017% increase in shared Facebook impressions.
Ketchum also leans into many areas you'd expect a large PR agency to take part in. These include influencer marketing, change consulting, analysis, content creation, audience segmentation, paid media, and more. Ketchum has won Grand Prix: Glass Lion for Change and Titanium Lion awards.
---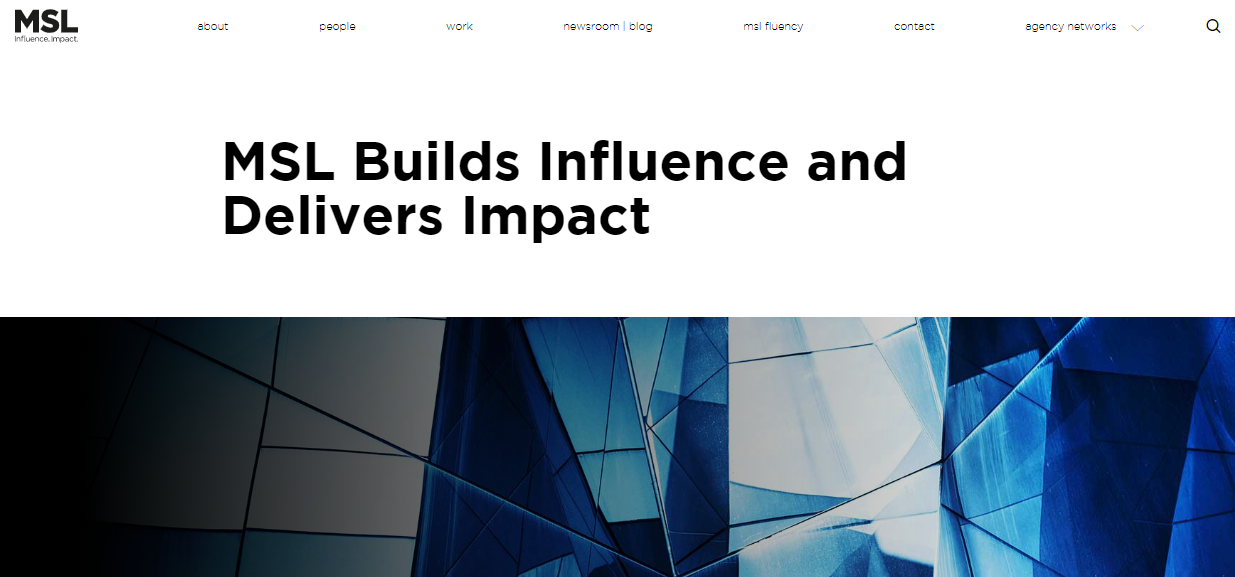 MSL's approach to PR and communications is based on a tried and tested principle they call the 'Power of One'. It's their method of establishing strong and effective collaborative efforts to help their clients communicate powerful messaging. Their areas of expertise include digital and social media, content creation, media relations, platforms and tools that enable brand and commerce uplift, and insights and planning (including analytics).
MSL caters to the automotive, energy, health, technology, financial and professional services, food, beverage, agriculture, manufacturing, industrial and defence sectors. As you can tell, they've positioned themselves to service all kinds of brands. But what makes MSL a force to be reckoned with is its core set of practices. They offer consumer marketing, crisis and issue management, employee engagement/communications, social purpose and sustainability, financial communications, public affairs, and reputation management and corporate communication. One of MSL's most notable campaigns was created for Vicks. It was developed to highlight the plight of 29 million orphans in India. The ad shares the true story of a girl born with a rare and incurable skin disease called Ichthyosis. The girl narrates her perspective on life and shares that if it wasn't for the love of her parents who adopted her as an infant, she might never have had the chance to feel loved or live a life filled with hope and dreams. 
The video ad went viral in 24 hours, generating a total of 323+ media exposures and $700,000 in earned PR. It also pulled 749 million impressions and over 19 million engagements. MSL has 100 offices in 40 countries and employs over 2,300 staff. 
---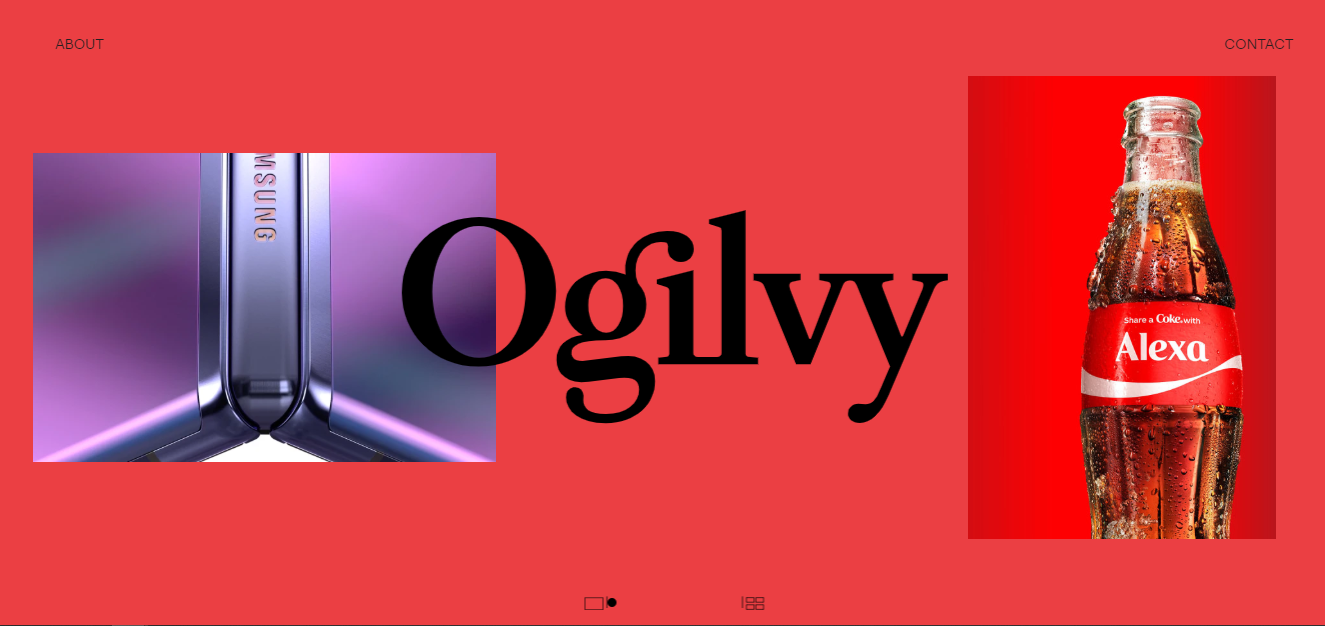 There's no creating a list of the top PR agencies in the world without featuring Ogilvy. Their influence on the world of marketing and advertising is unprecedented. They are home to Coca-Cola, Samsung, Pizza Hut, IKEA, Turkish Airlines, Rolls Royse and many other major brands. And while Ogilvy has been around since 1948, they are still as relevant as ever. Take the IKEA "Müpolash" ad. It's a play on how popular IKEA products are and how much people love sharing their IKEA goods on Instagram. The "Müpolash" is a combination of the four most Instagrammed products from their range; mugs, pots, lamps and shelves. Ogilvy created an ad to poke fun at the nature of social media but also leveraged it. To stand a chance to win one of five limited edition Müpolash units, IKEA Instagram followers had to use the Müpolash AR filter and place their home. 
And that's just one example, they also took over media with their "The Restaurant With No Food" campaign for Hellman's. Food waste is a serious problem, one driven by a lack of inspiration to use ingredients. Ogilvy invited people to bring their unused ingredients to a local restaurant for chefs to transform into 5-star meals. The result? A complete takeover of social media, an endorsement from the UN and even educational talks on food waste held in restaurants.
Ogilvy has offices in Africa, Asia, Australia and Oceania, Europe, Latin America, the Middle East and North America.
---

Founded over 45 years ago, PorterNovelli set out with the ambitious goal of using the art of communication to advance society. And in that time, they've helped countless brands communicate their very best messages. PorterNovelli has also produced striking work. To draw attention to the growing threat of child sex trafficking in Atlanta, Georgia, a city the FBI ranks as one of the top cities for child sex trafficking, the firm commissioned 72 school buses with branding to drive through Georgia. Statistics show that as many as 3,600 children are trafficked from Georgia. The campaign was perfectly timed to drive awareness before the Superbowl, a period officials believe increases the probability of children being trafficked. 
The campaign lasted a month and drew attention from major outlets such as Fox, The New York Times, Adweek, USA Today, and over 500 more. It also generated 43 million social media impressions in 48 hours. 
PorterNovelli practices in five areas. These are purpose, reputation, health, food and innovation. Their clients include the National Honey Board, ALS Association, Timberland, California Almonds, MacDonald's, Sony, Roche, Novartis, and more. They have offices in North America, Latin America, Asia and EMEA. 
---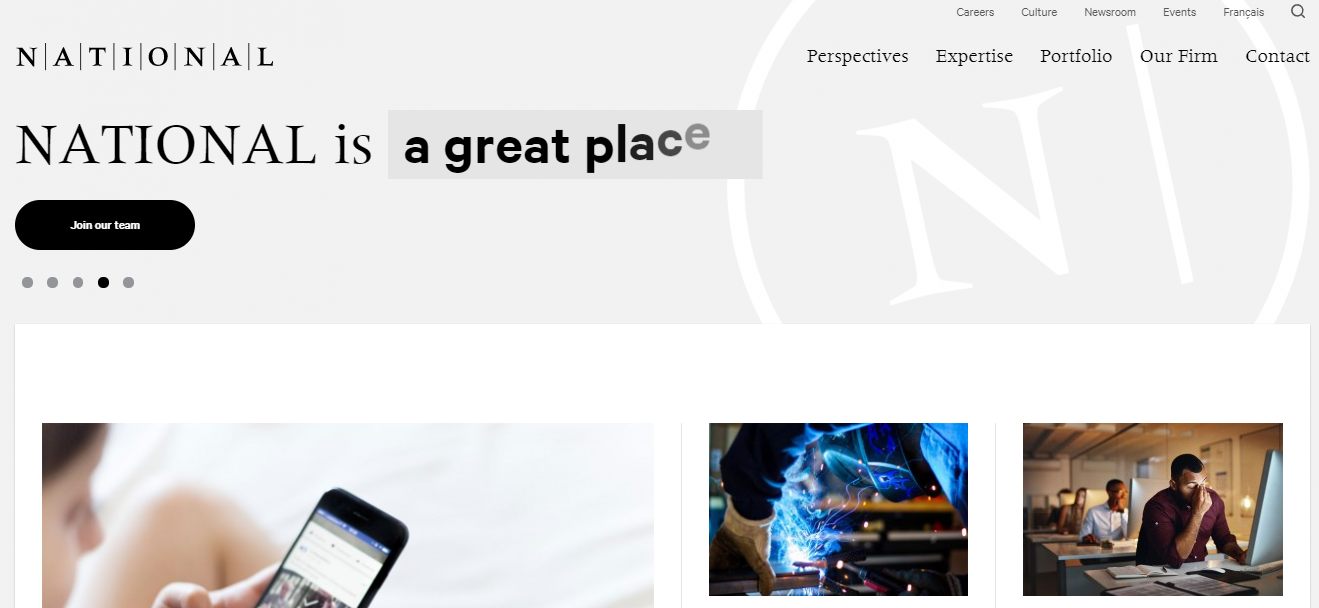 Unlike most of the top PR agencies on our list, National Public Relations isn't a global brand. In fact, they are Canadian and dominant in Canada. The firm was founded in 1976. With offices in Vancouver, Calgary, Toronto, Ottawa, Montreal, Quebec City, Saint John, Halifax and St. John's, their footprint stretches across Canada. 
They serve 12 sectors. These include cannabis, consumer goods & services, energy, financial services, healthcare, manufacturing, mining, professional services, public sector, retail and eCommerce, technology and transportation. As one of Canada's largest PR firms, they have a broad range of expertise. They provide everything from advocacy and influencer marketing to social acceptability and community relations, sponsorship and sports marketing. 
When it comes to their work, National has a knack for tackling tough PR challenges. Take vaccine hesitancy. It's a contentious subject. When Pfizer wanted to remind Canadian parents about the importance of completing a full schedule of recommended infant vaccinations, they turned to National for help. The result was a well-thought-out campaign that lasted over a year. In centred around the popular children stories that emphasised the number three (The Three Bears, Three Blind Mice and The Three Little Pigs) and an important call to action for parents to "Don't Overlook What's Missing" as a reminder to complete the vaccination schedules. National helped Pfizer triple app page visits in the first year of the campaign and boost app downloads by 55%. 
---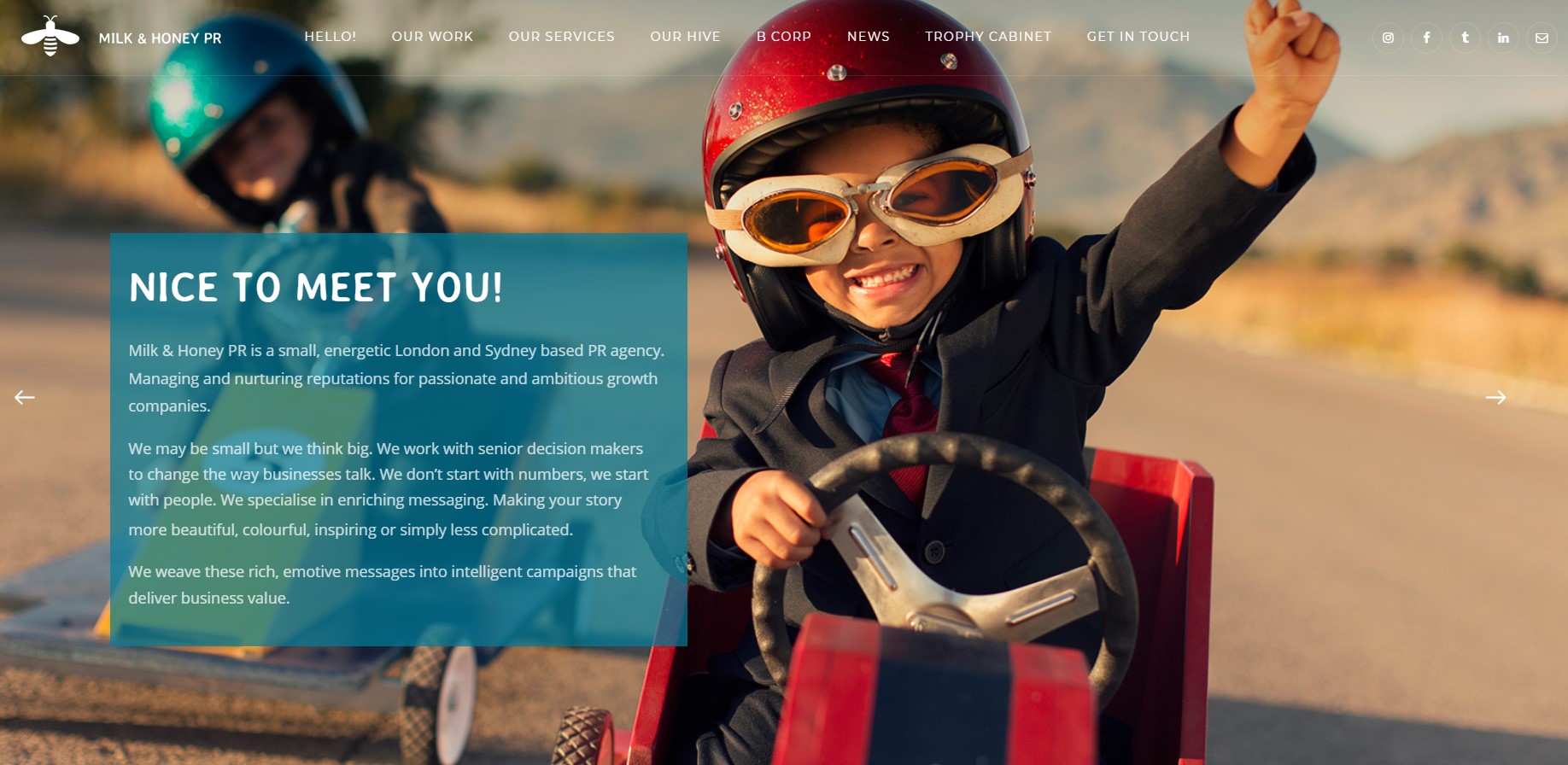 Milk & Honey PR is a comparatively small London and Sydney-based PR agency. They manage and nurture reputations for passionate and ambitious growth companies.  
They believe values are the core of their business. They work hard to make sure that all they do is right, not just for them, but the people for whom they work and the communities around them. They are proud to be B Corp certified, setting the new corporate standard for ethical, social, and environmental performance.
They try to think as part of their clients' teams, providing the right advice – professional, thought-provoking, and intelligent suggestions. They aim to ensure a quick turnaround of information, best practices, and timely delivery. They focus on attracting and engaging the right people to individual clients, using their relationships with a broad circle of media, influencers, bloggers, and opinion formers.
Milk and Honey PR groups its services into:
Corporate reputation and brand management

International orchestra model, currently across EMEA, APAC, and North America

Human relations

Digital design

Video production, in partnership with Leap Films, a London based film production agency

Bee-spoke packages, e.g., creative buzz, idea generation sessions, workshops, media masterclasses, and more
---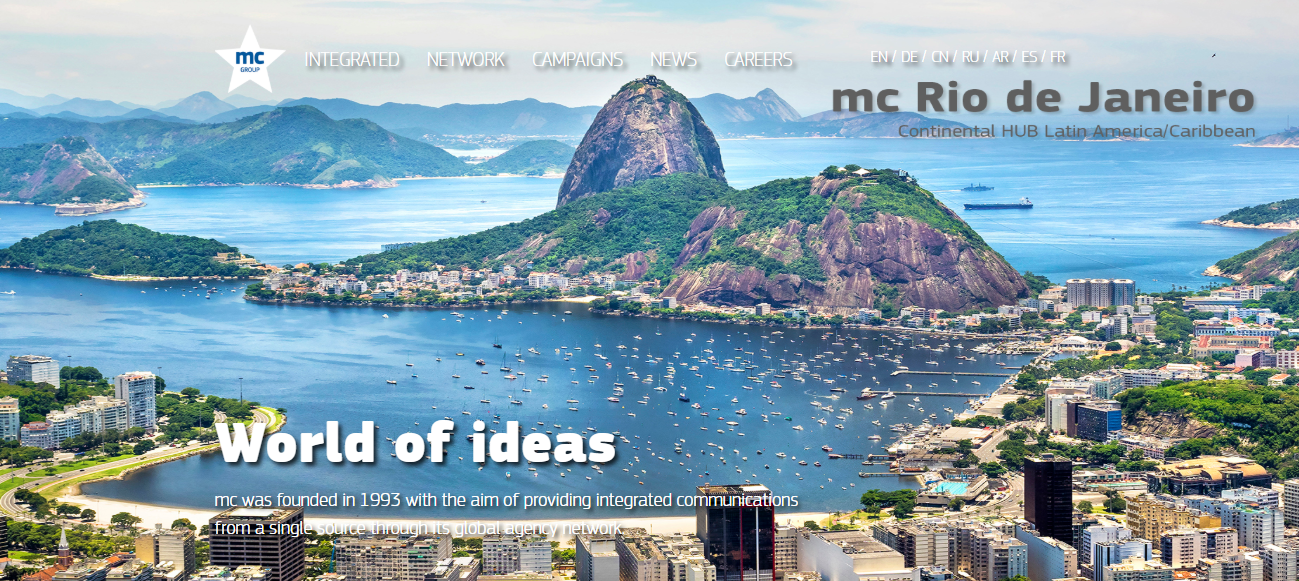 MC Group is a full-service agency. With 80 office across the globe, it's the only German-based firm with 28 offices in all EU member states. And it's this footprint that makes MC Group a drawcard for clients that must reach international audiences. While MC Group is in 80 countries, they're one of the younger firms on our list of top PR agencies globally. Founded in 1993, they have, however, managed to attract powerful brands. These include serving as the press and information office for the German Federal Government to working with Audi, The Palm (a resort in Dubai), Vodafone, Air Malta, Bayer and more. 
As an integrated agency, they offer services in various sectors. These include corporate publishing, TV and film production, sports and entertainment and travel. Their ability to blend various marketing principle and mediums allows them to offer advertising, digital and event marketing service as well. 
---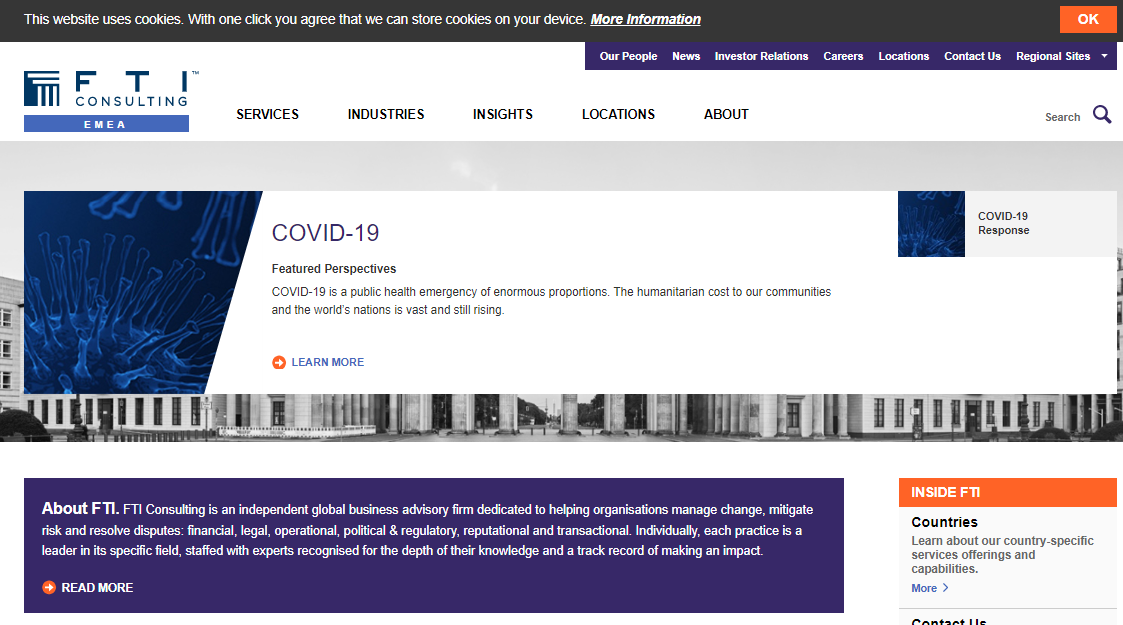 FTI Consulting is an advisory firm to the construction, energy & utilities, financial, healthcare, real estate and telecommunications, and media industries. They've been around for over 25 years and have grown to 27 countries on six continents with over 5,550 staff. Their strategic communications services include M&A, crisis communications & special situations, capital markets communications, corporate reputation management, public affairs and government relations, people and change management, and strategy consulting and research. 
As a consulting firm, they have a strong research arm and publish papers regularly. Some of their most notable research projects include work around dark data, how competition is damaging the aviation industry, and market entry due diligence.
---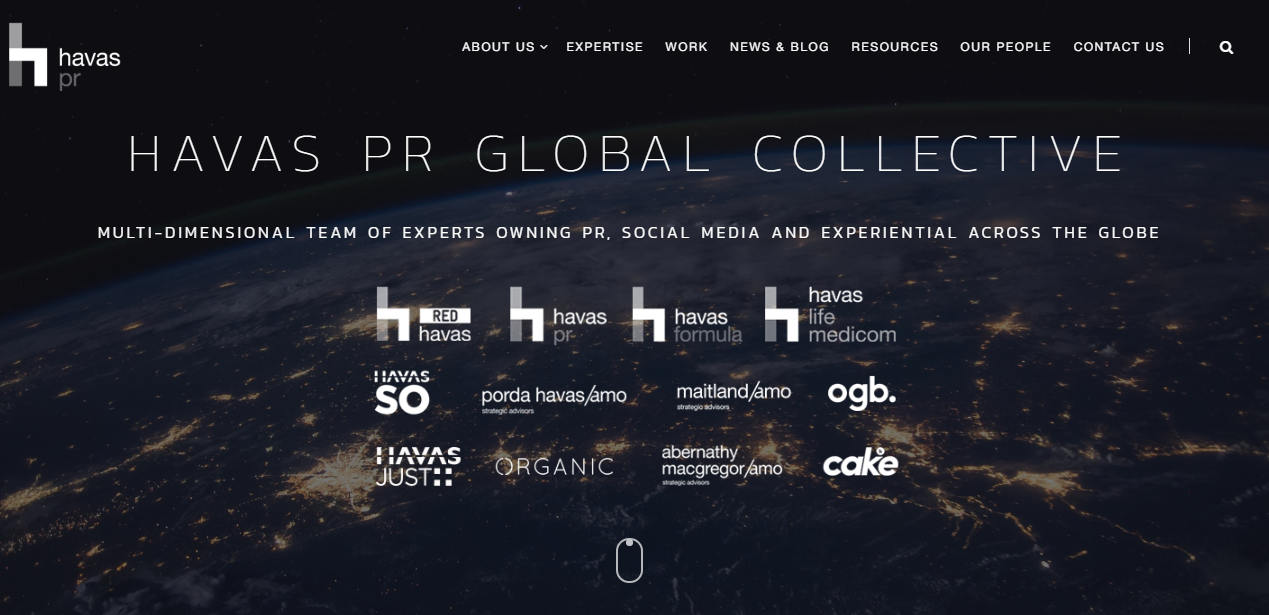 Havas PR was founded in 1994. Today, they are in 37 countries, with 30 agencies and an army of 1,500 PR professionals. Expertise-wise, they offer consumer and lifestyle, corporate and reputation management, technology and eCommerce, government and causes, travel and tourism, automotive and mobility, and issues and crisis management services. Like other younger agencies on our list, Havas PR has also made a splash in the world. They have global brands for clients. These include the likes of Kellogs, Toyota, Aspen, Japan Airlines, Virgin Mobile, PWC, Costa Coffee, Volvo, Novartis, Coca-Cola, and more. Havas PR has also produced impressive results for their clients. When East Coast Rail Service started to feel the pinch of low-cost domestic flights between Scotland and London, they turned to Havas PR UK to find a way to stay relevant. 
Havas PR created a campaign called "I Love Trains Week". The campaign received coverage on social media and helped East Coast Rail Service generate £695,000 (2x their revenue target), with 13% of all revenue coming from new passengers.
---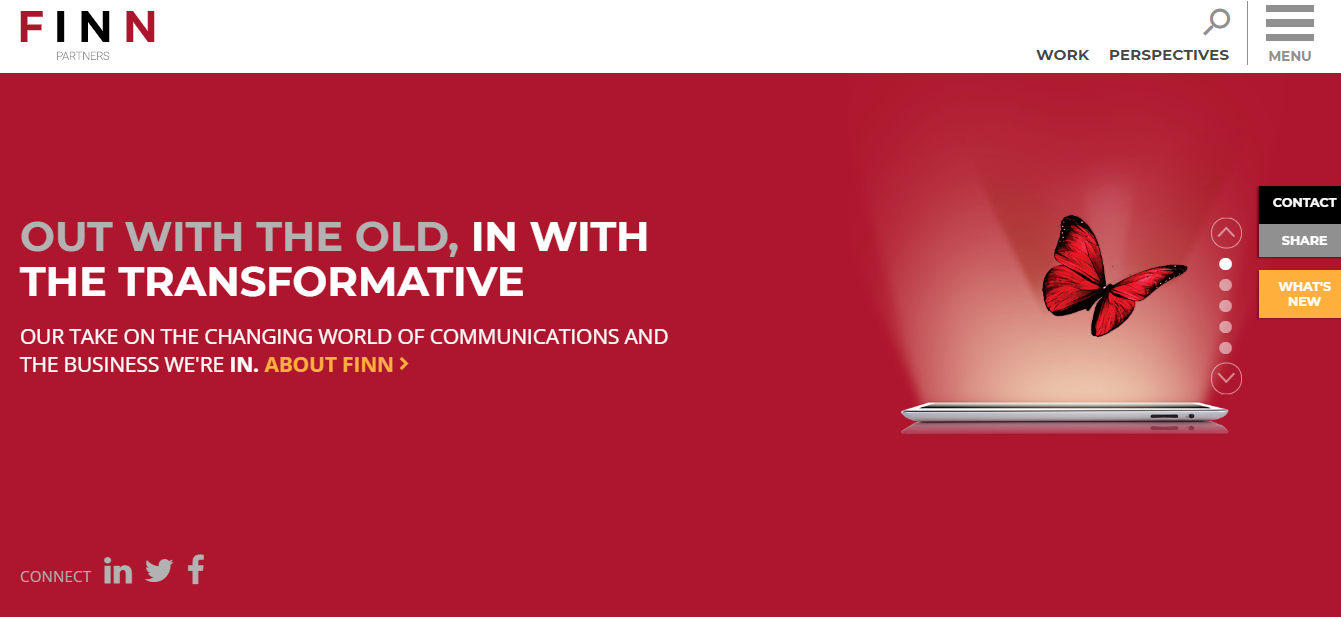 Finn Partners was founded in 2011. As the brainchild of Peter Finn, the idea was to build something different. Over the last nine years, Finn Partners has succeeded in attracting all the right attention, including numerous awards. And since their inception, they've boomed. They operate on three continents and have over 80 staff. 
They offer clients an integrated approach to positioning their brands, one that's driven by the need to stay relevant and generate leads and business. Sectors they serve include the arts, associations, consumer, education, entertainment, fashion, beauty, luxury, financial services, government, manufacturing, health professional services, publishing and authors, social good, technology, and travel and lifestyle. 
Finn Partners clients include international brands like Jack Daniel's, The Parfume Shop, KLM Airlines, Operation Smile, and more. 
---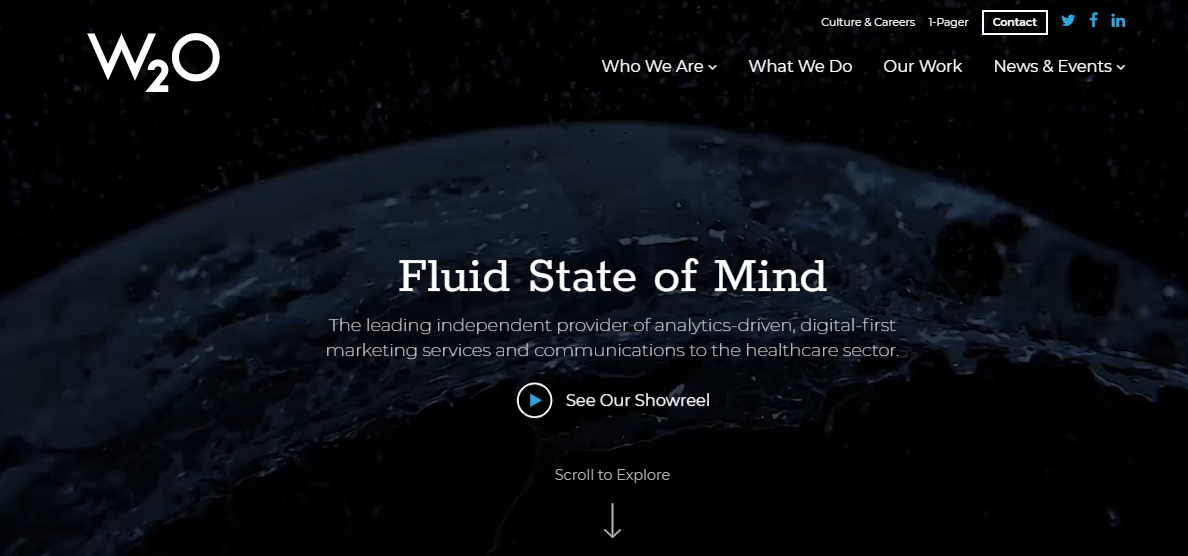 W2O is a healthcare marketing and communication agency. They take an analytics-driven and digital-first approach to helping clients produce creative and effective marketing campaigns. To date, they've worked with 24 of the 25 biggest pharmaceutical companies in the world. These include Radius, Valeant, Tudorza, Cedar, Lupin Pharmaceutical, Genomic, and Horizon. 
W2O is also highly effective at generating results. Tasked with the challenge of helping Cardinal Health drive adoption for their new inventory management system, they were able to create a campaign based on strong persona-backed research, leading to wide adoption and 97% retention of Cardinal Health's Inventory Management software. W2O has 900 staff based in 15 office in North America and Europe.
---

ICF Next is has dubbed themselves a hybrid. They are what they call a "combination of a traditional consulting agency with cutting-edge digital agency services". They cater to disaster management, education, energy, environment, financial and consumer, health, hospitality, social programs and transportation industries. They help brands in these areas with advisory services, analytics, cybersecurity, digital enablement (think technology, design, and development), marketing and engagement, policy and regulatory analysis, research and evaluation and managing workforce and human capital. 
ICF Next has been around for over 50 years and has offices in Europe, Asia and the Pacific, Africa and the Middle East.
---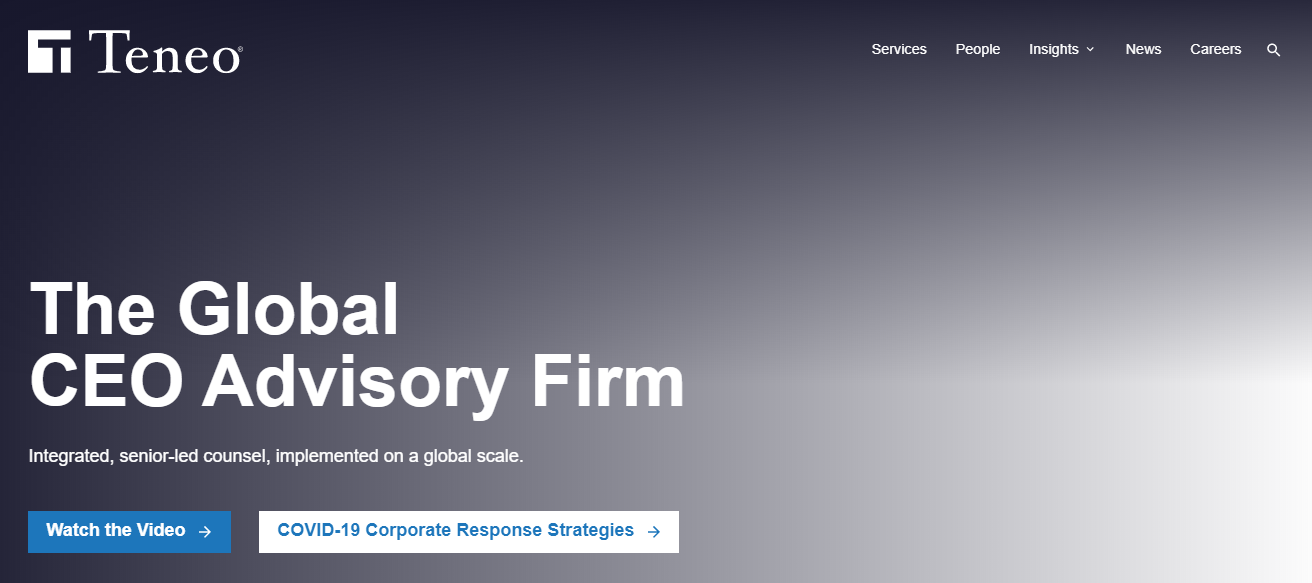 Teneo Holdings is a global advisory firm. They have offices in the Americas, Asia-Pacific, Europe, and the Middle East and Africa. They focus on four business segments that include strategy and communications advisory, management consulting, capital advisory and risk advisory. Within those four segments, Teneo Holdings offers over 30 solutions. Like other global advisory firms, Teneo Holdings publishes a considerable number of research reports. Most notable among their work is an eBook called "Vision 2020". It offers a global outlook along with insights on markets and politics. 
---

Sunny Side Up is a Tokyo-based PR firm. Launched 30 years ago, the agency entered the market as a specialist athlete PR agency. They have since broadened their scope to service large international and domestic companies. These include Indeed, AirBnB, Lego and Getty Images, to name a few. Sunny Side Up has been behind some of the most exciting brand activations. One example is the launch of US favourite Shake Shack in Japan. The agency ran a PR campaign that helped promote the brand successfully, driving more recognition of Shake Shack and its products. 
---
WE Communication was established in 1983. Today, they are in 23 cities across the Americas, Europe, the Middle East and Africa. Their expertise and capabilities span PR, brand purpose and integrated communications. Like many data-driven agencies, they have strong insights and analytics arm, one that's used to inform all campaign messaging and positioning. They cater to technology, health and consumer industries, and have worked with titans in each. These include Tencent, RSA, Lenovo, Cisco, MacDonald's, Brother, Capital One, GlaxoSmithKline, and more.
WE Communications also has what it takes to make an impact in the industries it services. VSP Global research showed that children comprehensive eye exams did not take place as often as they should. And with vision making for as much as 80% of academic learning, VSP Global had to take steps to ensure that child education didn't suffer, and that children had the opportunity at better visions. 
WE Communication developed a PR campaign that leveraged trusted sources parent's look to. The result was an integrated approach that drove an authentic and meaningful message to parents to have their children's eyes tested. The campaign generated over 3,700 clicks to the VSP Global Find An Eye Doctor webpage along with earned media in 18 publications.
---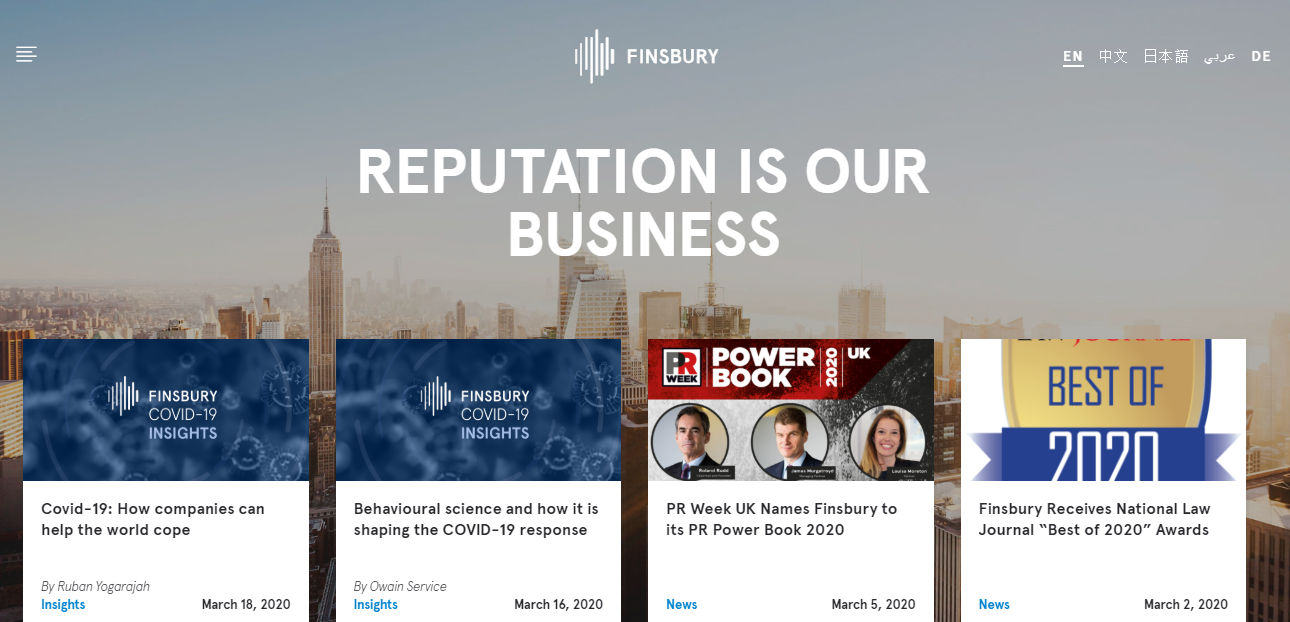 Finsbury is a global strategic communications firm. They act as advisers to boards, senior executives and legal counsel of many of the world's largest and successful brands. Their expertise includes capital markets & transaction communications, corporate & leadership positioning, crisis and issues management, corporate & public affairs, employee & change communications and digital. They've also partnered with Hering Schuppener Consulting and The Glover Park Group to expand their reach to 18 cities with over 500 consultants. Other partners include Fogel & Partners and LLYC. 
The best test of any PR agency is their ability to produce results and Finsbury passes. FTSE 250 housebuilder, Taylor Wimpey, needed to envigorate their corporate social media accounts. Finsbury devised an integrated marketing strategy the included brand monitoring, listening, social media, influencer marketing, paid media, and more. In a year, they helped Taylor Wimpey reach 6.1 million people, and grow their Twitter audience by 72.7%.
---
Frequently Asked Questions
What are the top PR agencies?
We have looked at more than 25 top PR agencies in this article. The best one for you will depend on your size (and therefore budget) and location. Many of the PR agencies listed here have won awards for the quality of their work, although they tend to focus on large clients, for example, Fortune 500 companies. PRovoke (formerly The Holmes Report) has ranked Edelman as the top PR agency in both 2020 and 2019, followed by Weber Shandwick, BCW, FleishmanHillard, and Ketchum.
What are public relations agencies?
The Public Relations Society of America (PRSA) describes public relations as being "a strategic communication process that builds mutually beneficial relationships between organizations and their publics." It is about influencing, engaging, and building relationships with key stakeholders to shape and frame the public perception of an organization. Public relations agencies are companies that specialize in providing services to clients to shape the public opinion of those organizations.
Is hiring a PR firm worth it?
Whether hiring a PR firm is worth it is, of course, a matter of opinion. It very much relates to your expectations. What level of publicity do you consider a good return on your investment when you engage a PR agency? Media relations can drive vast numbers of website traffic, build incredible awareness, provide credibility, and allow for thought leadership. But it doesn't necessarily create the sale. Therefore, you need to consider carefully the reasons why you would want to hire a PR agency.
Does PR make a lot of money?
If you look closely at the PR agencies we have covered in this article, you will notice that many are large organizations. They clearly make sufficient money to succeed at the level they do. According to Salary.com, the average salary range for jobs in public relations is $54,342 to $225,569. This suggests that PR is a well-paid career and that there are clear paths to earning high-level incomes. Of course, these numbers can rise substantially for those who become partners in large PR agencies.
What should a PR firm do for you?
Most firms that hire a PR agency do so to protect or enhance their reputation through the media. A good PR agency can publicize the best features and activities of an organization while mitigating any damage caused by bad news relating to the organization. A good PR agency can help their clients project a positive message to the people that interest them. PR agencies listen to the marketplace and know the conversations that matter. They can project you positively into these conversations.
What should I look for in a PR agency?
When considering working with a PR agency, there are several things you should look for. Firstly, you will want to see whether they have a good track record. Do they have a reputation for successfully working with their existing clients? You will want to see evidence that they are transparent – you want to know what you will receive for your money. Ideally, you should also find an agency that specializes in your industry. Success in one sector does not necessarily cross to others.