One of the most lucrative ways to make passive income is affiliate marketing. Essentially, it allows companies to advertise their products through an affiliate in exchange for a commission. Compared to traditional marketing, this significantly increases audience reach for less cost and risk.
With that said, creating a successful affiliate marketing program requires strategy, and using affiliate marketing software is a fundamental one. Here are some of the best affiliate marketing platforms to help you jumpstart, oversee, and expand your affiliate marketing initiatives.
---
Top 14 Affiliate Marketing Software Platforms for 2022:
---
What is an Affiliate Marketing Platform?
An affiliate marketing platform is a vendor that facilitates all bases of affiliate program management. This includes onboarding, tracking and reporting sales and clicks, managing referrals, optimizing site traffic, and paying commissions. Knowing which initiatives are doing well allows you to grow your affiliate marketing program more effectively.
Using an affiliate marketing platform can give you access to a marketplace of affiliates. Moreover, it helps prevent fraud and protect your and your partners' privacy, building trust for all parties. Many affiliate marketing platforms even enable merchants to send e-mails and newsletters on the software, improving communication with affiliates.
Now, finding the perfect platform for your brand is half the battle. Getting stuck with the wrong one is the worst that could happen. Here are some features that you should check out.
---
What to Look for in An Affiliate Marketing Software Platform
👉 User-friendly interface
An intuitive interface should accommodate not only you, but other types of affiliates, too. You want a dashboard that gives an overview of your campaigns and their progress. On the other hand, affiliates should be able to view their earnings and easily access shareable content. Additional points go to platforms that enable all parties to customize their dashboard to match their brand.
👉 SaaS integration
Integrating with e-commerce platforms like PayPal and Shopify is an important feature of affiliate marketing platforms. Find one that instantly sets up applications that you use. It's ideal to have as many integrations as possible, though some platforms also allow users to create custom integrations.
👉 Reports and Tracking
You want affiliate marketing software that tracks clicks and sales in real-time. This would allow you to see which of your campaigns are doing well and which ones need improvement. Moreover, a software that gives you and your affiliates detailed and overview reports would help you plan future campaigns more efficiently.
👉 Customer Support and Documentation
Customer assistance should always be available across platforms for you and your affiliates. Consider customer support uptime, as well as customer ratings. Outside office hours, the ideal platform has a ticket system for emergency cases.
👉 Price
While features should still be your focus in finding an affiliate marketing platform, price should also play a role. Some software is great for smaller companies with a tight budget, while others can benefit from more complex programs with their advanced features.
Now that you know which features to look into, it's time to check out 12 affiliate marketing platforms that check all the boxes for us.
---
Why Should You Use Affiliate Marketing?
Affiliate marketing can be an effective, low-risk and low-cost marketing strategy for smaller online stores with limited marketing budgets. In short, the beauty of affiliate marketing is that it can help you to reach more potential customers faster without necessarily increasing your marketing spend. The only things you basically need to concentrate on are to create content, spread the word about your program, and manage your affiliates.
As virtually everything can be tracked, it also makes it easier to measure the ROI. With the help of the right software, you can easily view data on sales, impressions, leads, and clicks via a dashboard.
Depending on the software that you use, you can also concentrate on selling specific high-ticket items. This way, you can ask your affiliates to promote only a select few products in return for a higher commission. Alternatively, if there are certain items that have a low turnover rate, you can instead ask your network of affiliates to concentrate on these to help you get rid of excess stock.
---
Best Affiliate Marketing Software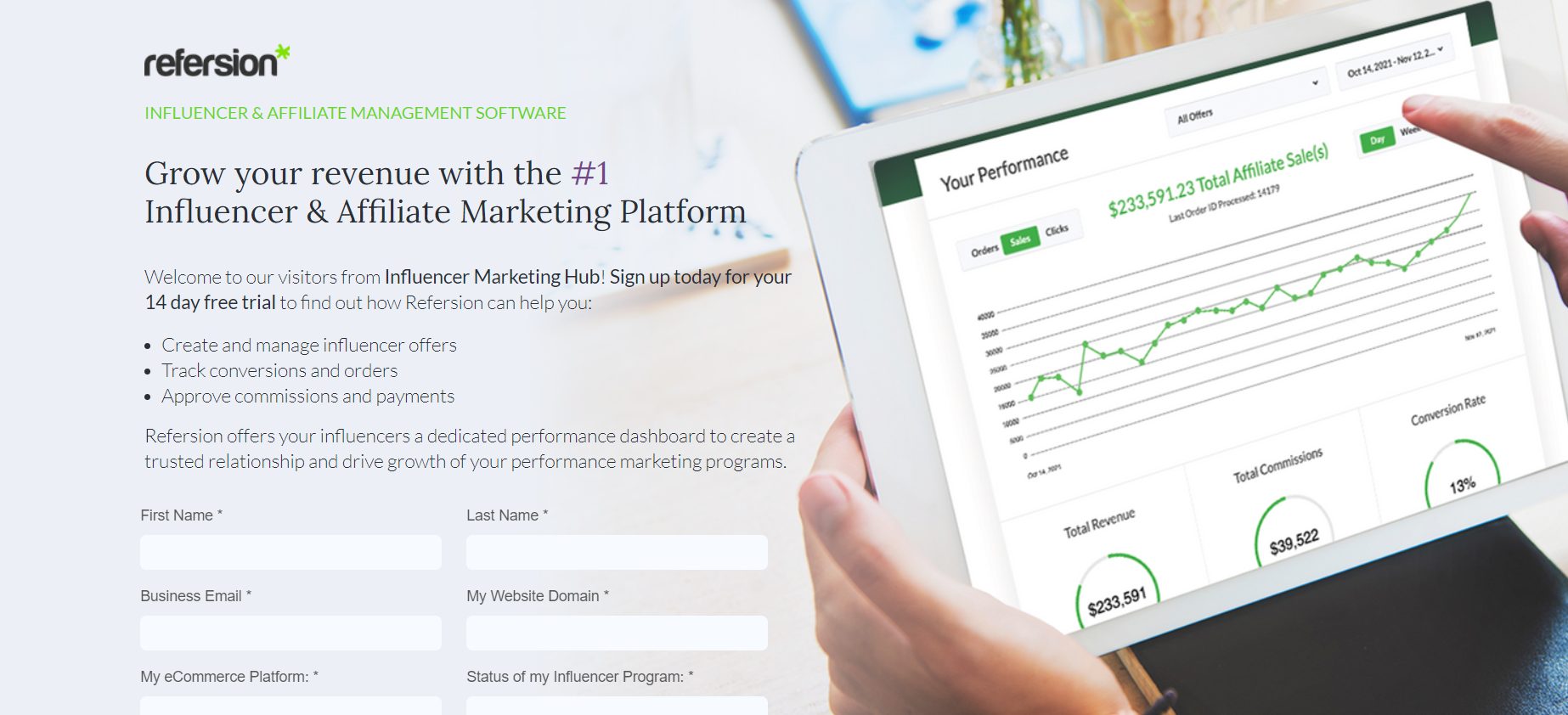 In just two years, Refersion expanded from a beta product into a profitable company. With seven years in the industry now, the affiliate marketing platform has almost 20,000 clients. Its top-notch customer support makes it a favorite among merchants and partners. New customers can even attend onboarding seminars and training that allows them to review the software's features.
Additionally, the Refersion marketplace lists affiliates for you to discover, helping grow your program faster. Affiliates get a personalized portal with their dashboard, where they can monitor their activity, commissions, and payouts. You become discoverable in turn when Refersion lists your affiliate program on the marketplace for free. Refersion integrates with all major commerce platforms like Shopify, Salesforce Commerce Cloud, Magento (an Adobe Company), BigCommerce, WooCommerce..
Key features
E-commerce platform integration

Commission, payment, and tax automation

Dashboard customization

Real-time and easy-to-read reports

On-boarding webinar for new customers

API documentation
Pricing
Refersion starts at $89 a month with a 14-day free trial.
---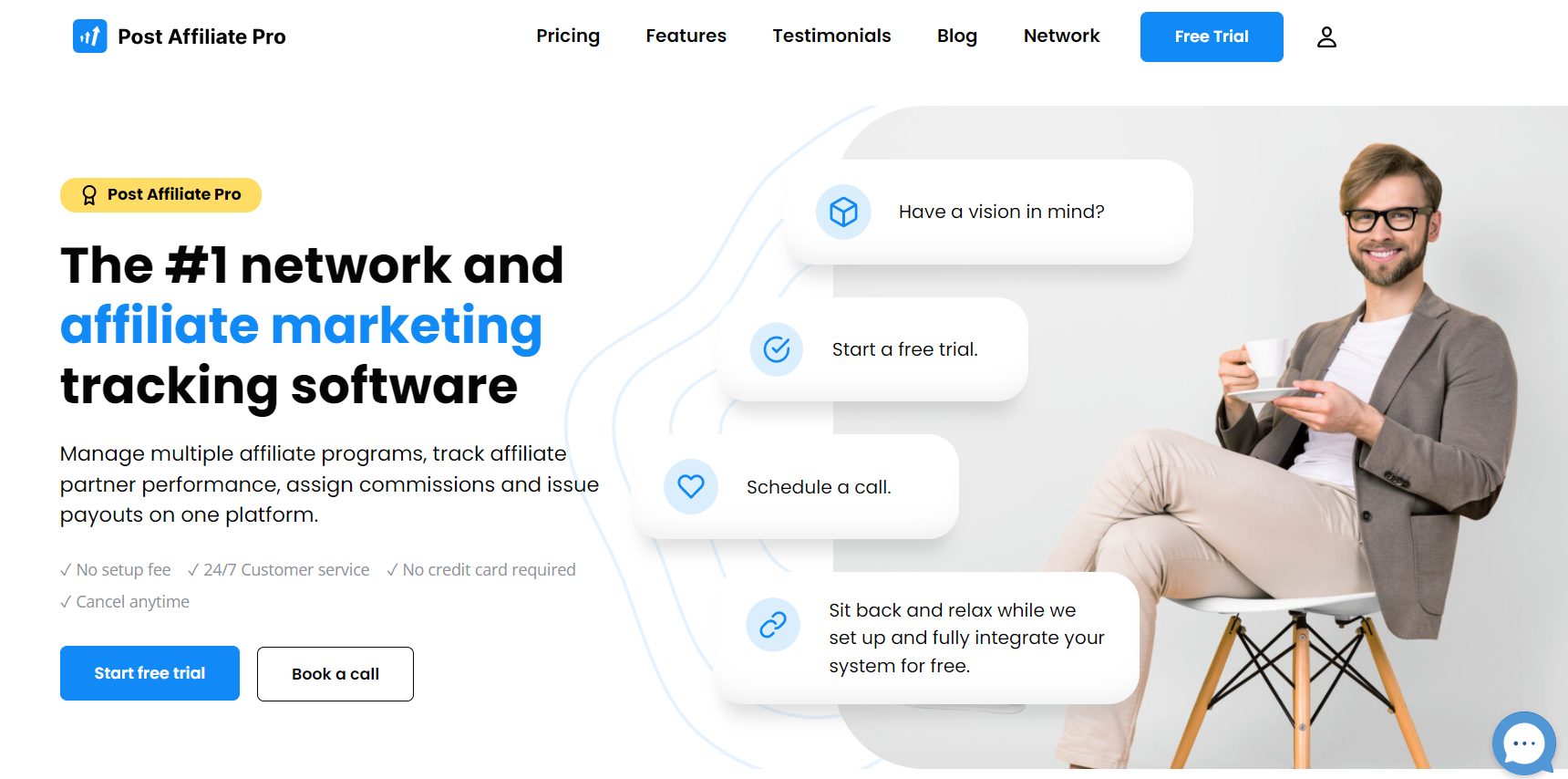 As the most reviewed affiliate marketing software, Post Affiliate Pro has a presence in over 100 countries. The company has 100 million affiliates and paid commissions amounting to $500 million. It has also won several awards in referral software, customer satisfaction, and affiliate management software.
Post Affiliate Pro integrates with over 200 CMSs and payment processors, making it easier to customize for your brand. The platform's branding feature allows you to create different banners for your promos and get free lifetime updates. Furthermore, the software has a five-star customer support team available around the clock on various communication platforms.
Key features
Free full set-up

Customizable interface

Real-time data reporting

24/7/365 customer support
Pricing
Post Affiliate Pro starts at $97 a month with a 14-day free trial.
---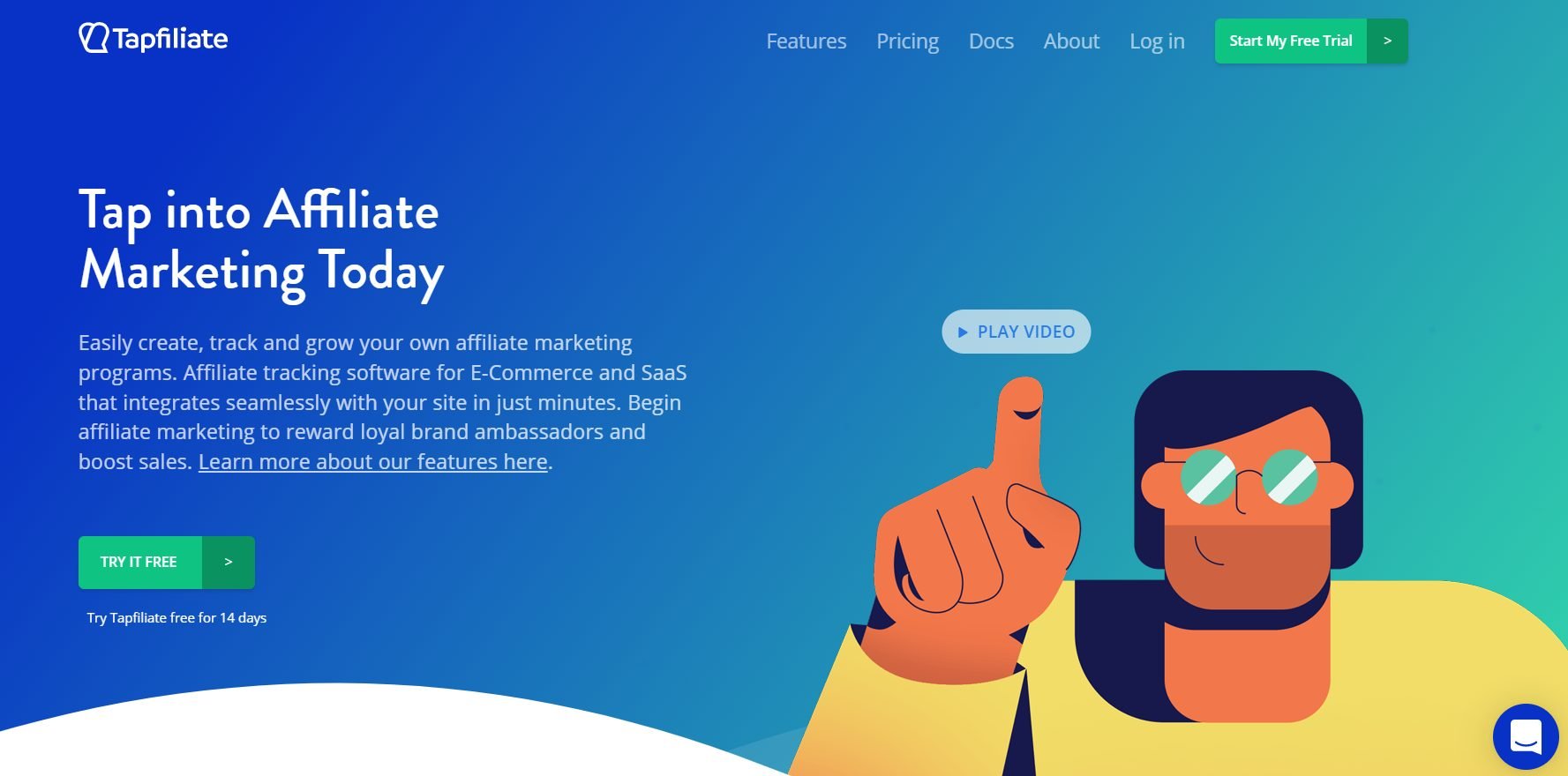 Tapfiliate's 93% customer satisfaction rate speaks for itself. More than 2,000 clients stand by this platform, which places customer happiness at its core. Additionally, Tapfiliate is part of the Amitad, a network that gathers advertisers and affiliates in one platform.
Moreover, this affiliate tracking software promises full brand control. You can create personal links and sign-up pages, as well as manage brand materials and promotions within the platform. This can be attractive to affiliates, whom you can even add with an invite URL. In addition to integrations with more than 30 SaaS platforms, you can also create custom integrations.

Key features
Step-by-step onboarding

Sales tracking links and coupons

White-labeled affiliate pages

Commission flexibility

Real-time program reporting

Integrations with more than 30 platforms

Custom integrations
Pricing
Tapfilliate prices begin at $89 a month with a 14-day free trial.
---
A leader in affiliate management, LeadDyno has tracked more than 81 million referrals and more than $200 million in affiliate sales in 2020. It integrates with more than 25 platforms, which you can install in just one click. These include e-commerce, payment processors, CRM, and marketing platforms.
One of LeadDyno's most exciting features is the affiliate portal, which you can customize with your logo, color scheme, and welcome message. You can also upload your marketing materials, which affiliates can easily access and share to their platforms. You can even send newsletters and create incentives and trackable coupon codes to your affiliates.
Key features
Real-time commission tracking

One-click integrations

Multiple tracking options

Marketing and recruitment automation

Easy set-up commission structure

Customizable payment scheme
Pricing
LeadDyno's Starter plan is $49 per month with a free 30-day trial.
---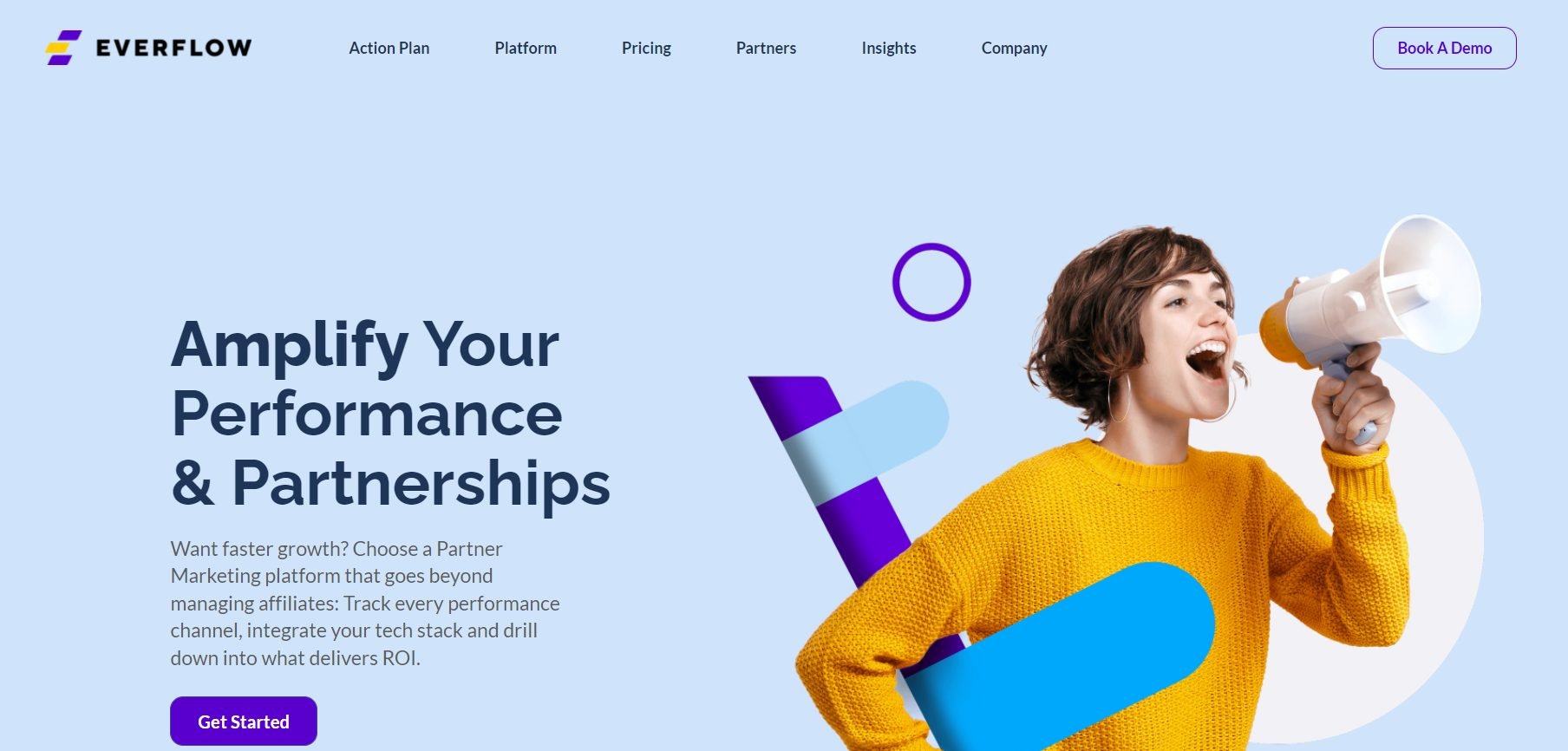 A company that began in 2016, Everflow has already tracked more than $1.39 billion in revenue in 2020 and $1.1 billion worth of payouts. Everflow enables merchants to manage more than one type of partnership, from influencers and offline placements to media buying. The platform also offers a tailored action plan (from prelaunch to hyperscale) for brands, agencies, and ad networks.
With Everflow's Direct Linking feature, you can track and gather performance reports without any hassle. It works not only with Google Ads and Facebook but also with the software's integrated shopping carts, which you can set up in an instant.
Key features
Performance and impression tracking and analytics

Coupon code reward

Variance reports

Direct linking

Instant cart setup

24/7 customer support
Pricing
Everflow starts at $750 a month.
---
If you're on a budget, Affiliatly is an ideal option. Check out their Pro Unlimited plan, which allows unlimited affiliates, only costs $129 a month. Plus, it comes with a 90-day free trial that does not require any payment information on your end. Despite its low costs, Affiliatly has a wide range of features that don't stop it from competing with other affiliate marketing software.
Affiliatly officially integrates with 10 platforms, including Shopify and WooCommerce. For your unsupported e-commerce sites, Affiliatly can provide JavaScript and ad PHP codes to help you integrate them on the platform. This referral management software can even help you inspect your site to check if it's compatible with the platform.
Key features
Shareable content

Individual affiliate management

Quick link generation

Gift card rewards for affiliates

Performance and activity tracking

Custom integration for unsupported platforms
Pricing
Affiliatly's starter pack is $16 a month with a 90-day free trial.
---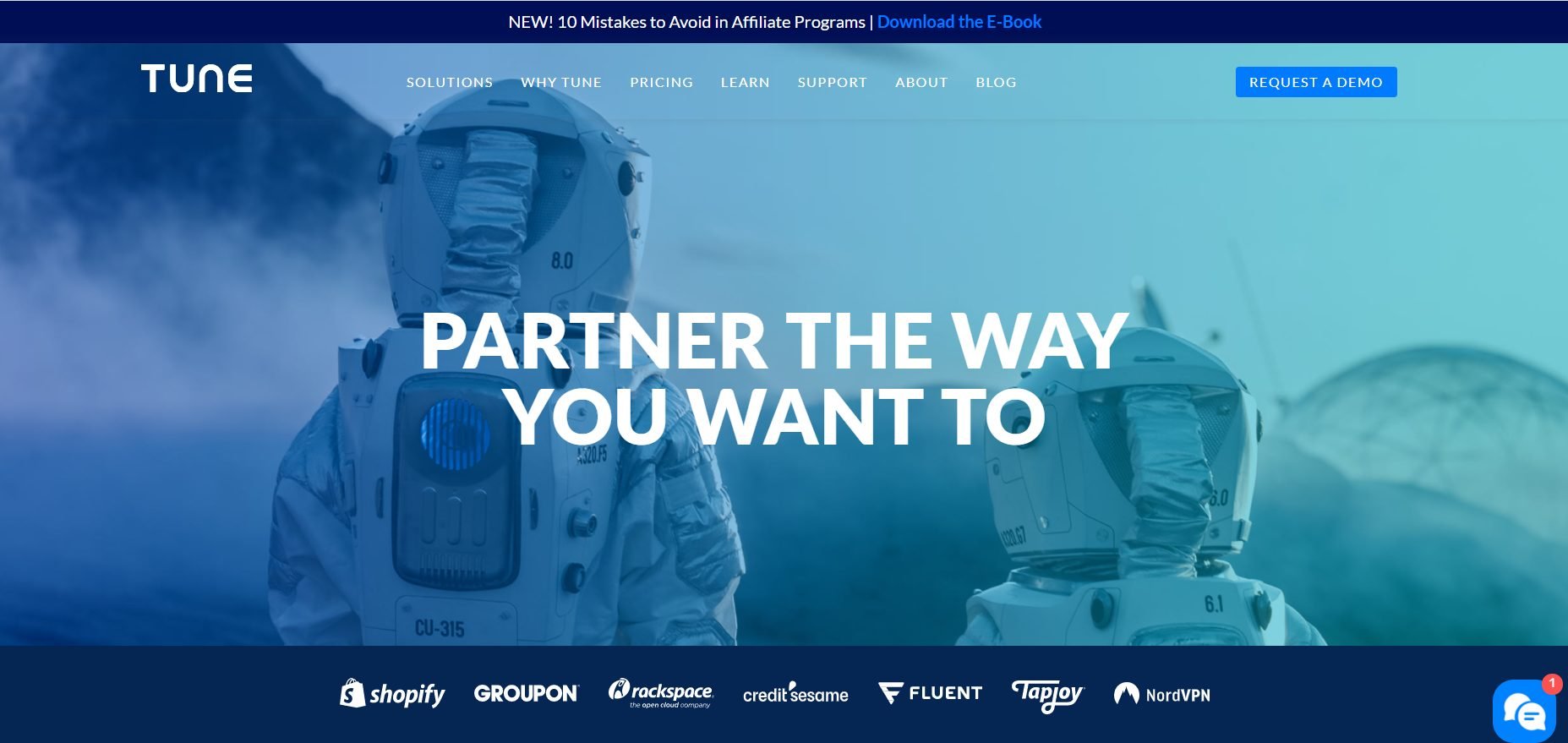 TUNE boasts a 98% customer satisfaction rate. TUNE launched the first software solution to measure mobile app campaign performances. The company has since expanded its services to support the needs of all types of performance partnerships, including ad networks, influencers, and publisher businesses.
TUNE works across desktop, mobile, and app, which helps you track your progress anywhere and anytime. The software's performance automated tools can even help you save time and increase your net profit. With the platform's cookie-less server postback tracking, you can even get accurate and real-time data reports on your campaign's performance.
Key features
Real-time reporting

Automated workflow and pay-out schemes

Customizable payment rules

Access across various digital platforms

Customer support
Pricing
The plan for advertisers is at $499 annually, while the plan for networks starts at $799 per year. Both plans come with a free trial.
---

PartnerStack is an award-winning all-in-one partnerships platform. It has seen 122% revenue growth among its customers and $180 million in partner-driven revenue in the past year. PartnerStack focuses on empowering affiliates, who can receive their own dashboards, as well as performance incentives.
PartnerStack has a four-step method to scaling partnerships. Listing your program in its marketplace can make you accessible to thousands of affiliates. You can even customize an onboarding experience unique to each of your partners. Moreover, the platform automatically computes conversions, so you never have to miss a payment.
Key features
Customized onboarding

Automated and flexible payment scheme

Incentives for top partners

Conversion across every platform

Software integration
Pricing
PartnerStack prices are from $500 a month for companies.
---

iDevAffiliate has 20 years of experience under its belt. Its ease of use and rich array of features make it popular among merchants, who are also the platform's focus. iDevAffiliate's features cater to different users, from beginners to experts. Their built-in onboarding even comes with over 40 hours of video tutorials.
iDevAffiliates allows partners to use their own subdomain for their account location and inbound links. This eliminates any suspicious links, building more trust among affiliates and audiences. You can even share your links on social media, as well as build stronger SEO through backlinking. On the other hand, coupon codes don't require links, which is great for offline marketing.
Key features
Social media sharing and SEO linking

General Lead and coupon code tracking

Step-by-step onboarding

Multi-tier recruitment

Unique subdomain

More than 175 integrations

Performance rewards

Fraud prevention and security
Pricing
Prices for iDevAffilaite start at $39 a month.
---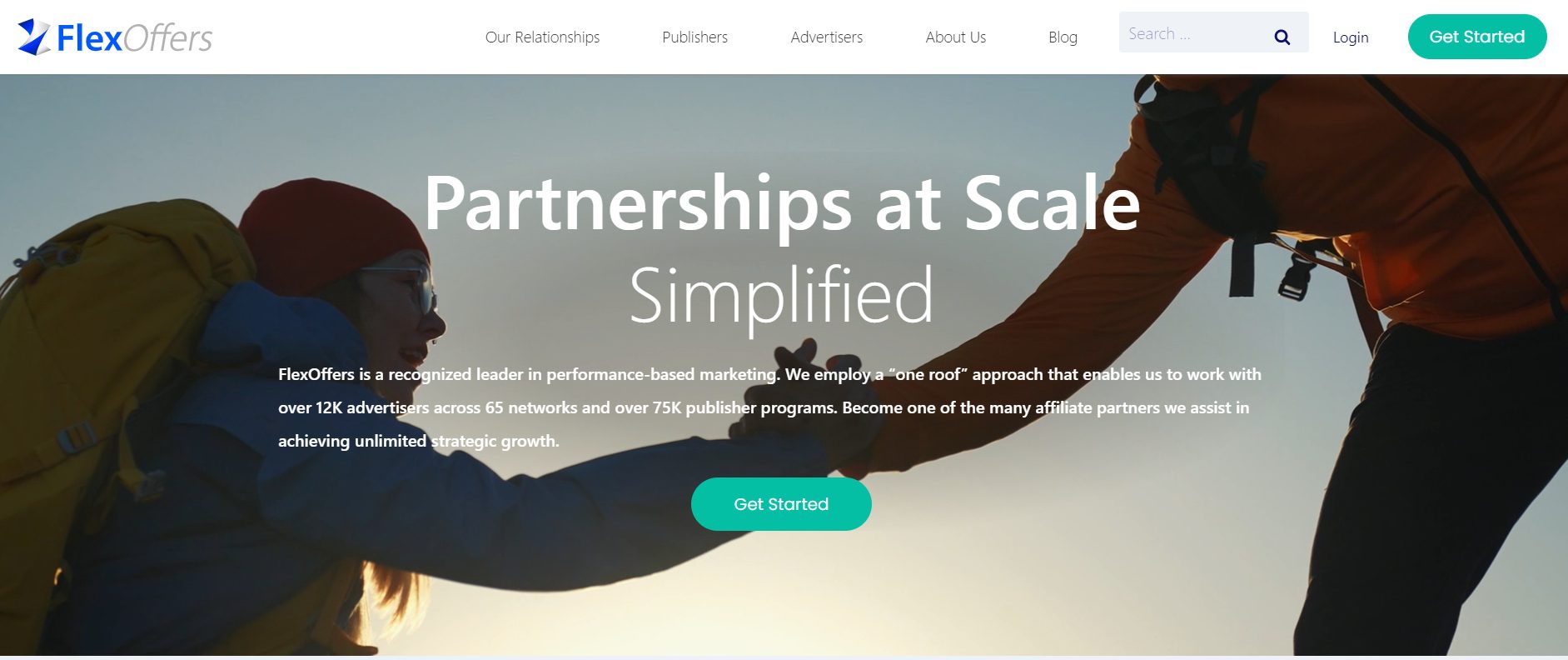 An award-winning performance-based platform, FlexOffers has more than 12,000 affiliate programs. The software assigns each domain to an account manager proficient in affiliate marketing. Moreover, the platform's support team is readily accessible through phone or email, plus a ticket system after office hours.
FlexOffer's advertiser interface is one of its biggest highlights. It not only allows you to see performance reports in real-time but also makes your promotions accessible to publishers. Moreover, you'll be able to see which potential customers have visited your website along with the total conversions that your campaign has generated.
Key features
Advanced payment options

Cookie-less tracking

Real-time traffic reporting

24/7 compliance monitoring
Pricing
FlexOffers provides pricing upon request.
---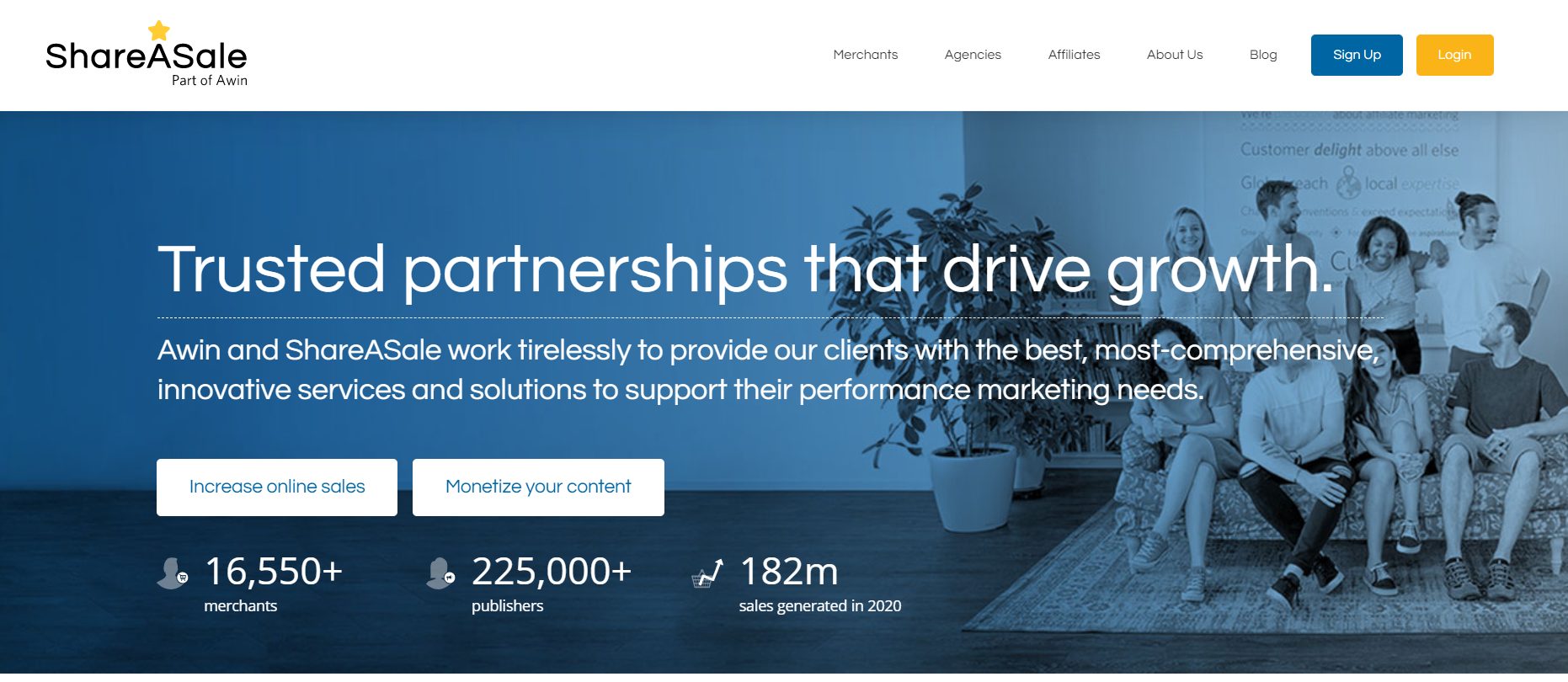 More than 20 years in the business, ShareASale has over 16,000 merchants and 225,000 active partners around the world. The platform seeks to nurture relationships between clients and partners. In 2020, it has generated $14 billion in revenue for clients.
With ShareASales's user-friendly interface, communication would be easier for you and your affiliates. You'll have as much control over your program's setup, including the time frame of your report and information to track. The platform's automated marketing emails can help save you time, while affiliate rewards and customizable commissions can motivate your affiliates.
Key features
Real-time performance insights

Customizable reports

Custom commissions

Cookie-less tracking
Pricing
The one-time network sign-up fee for merchants is $550 plus a $100 minimum deposit that goes into your account.
---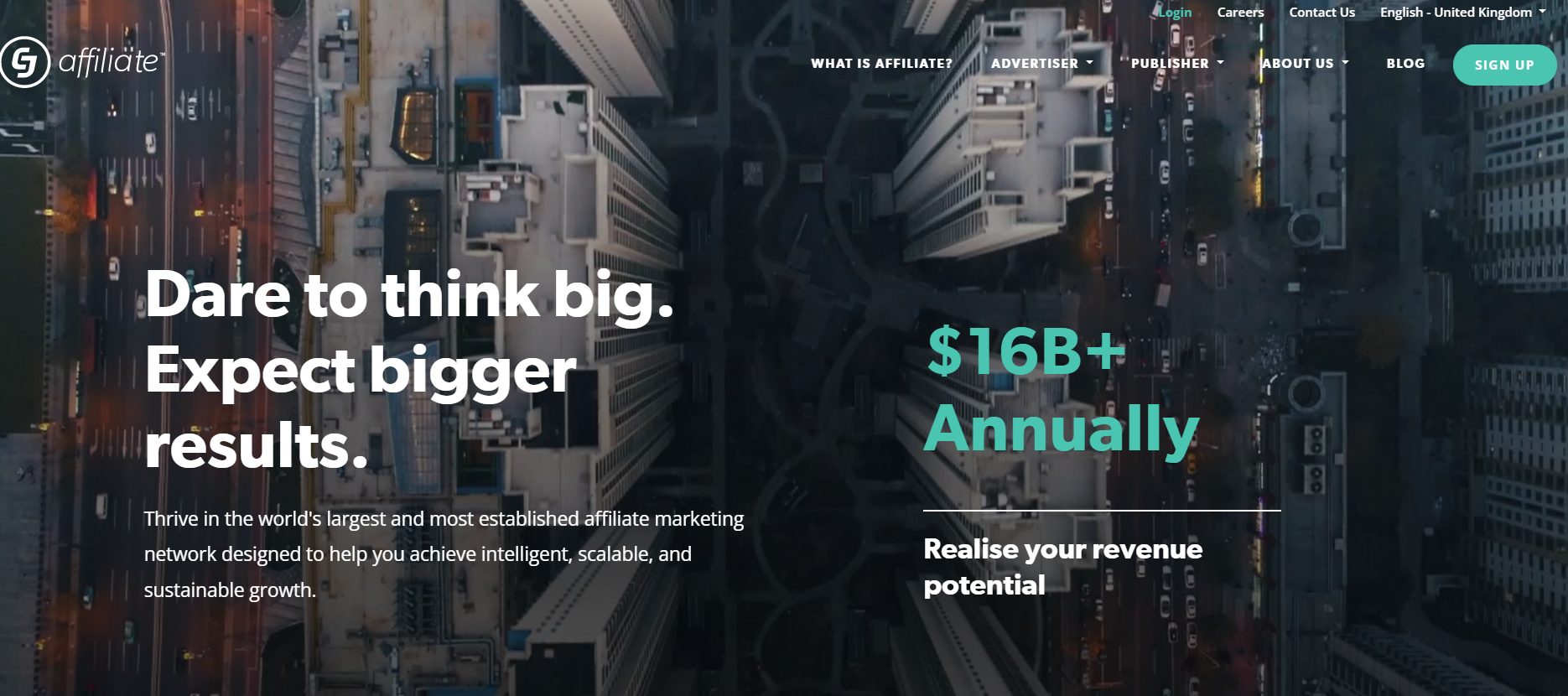 Over 3,800 brands around the world trust CJ Affiliate, an affiliate marketing platform that has been making a mark since 1998. In their first year alone, CJ Affiliates merchants have grown their revenue to 30%. It's worth noting that the platform has close to 170,000 affiliates, making them a viable partnership ecosystem.
With CJ Affiliate, you can be confident that you're compliant with privacy regulations. Its sophisticated tech promises network quality that detects and eliminates fraud. The platform also reviews affiliates before their first payment, plus you can get specialized protection in facilitating your program policies.
Key features
Omnichannel integrations

Real-time insights and analytics

Intuitive platform

Custom commissions

Flexible compensations

Easy integration to eCommerce platforms
Pricing
Prices are available upon request from CJ Affiliate.
---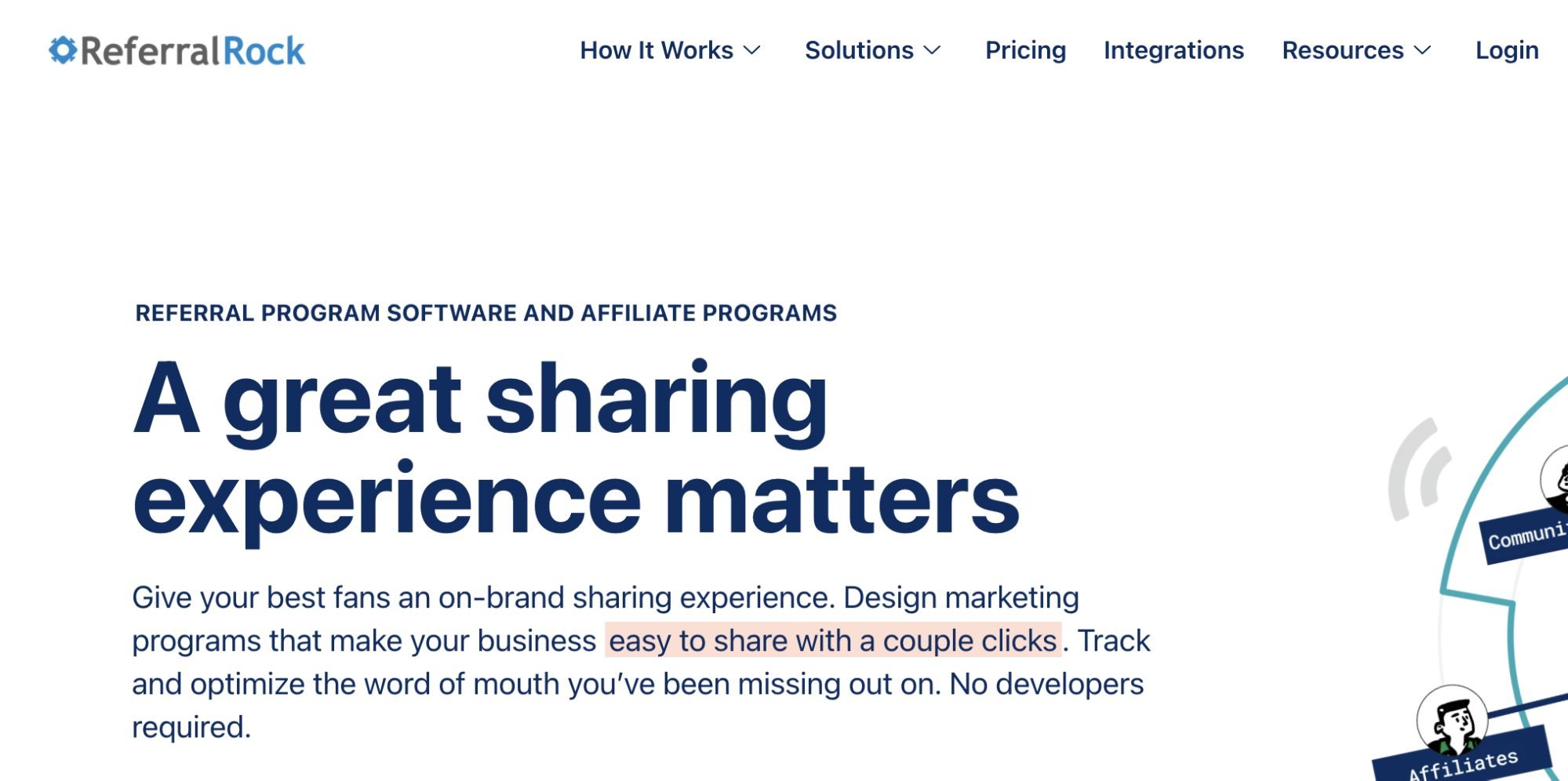 You might be familiar with Referral Rock as one of the top referral program software solutions available that can help you to take advantage of word-of-mouth advertising. In addition, it also offers partner and affiliate marketing software to help ensure your best affiliates stay engaged.
It offers more than 25 integrations that include integrations with the main eCommerce platforms like Shopify, Magento, Squarespace, and 3dcart. With it, you can promote your affiliate marketing program on a number of marketing channels like, for example, embedding it in your site.
One of its most attractive features is that it offers highly configurable reward options. From time-based offers to recurring rewards, there are many types of incentives that you can create that will draw attention.
All plans include comprehensive support. Not only will you have a dedicated success manager, but there will also be a kickoff call, program audits, technical integration assistance, and referral best practice training.
However, it does come at a price. So, it's not the most suitable option for eCommerce business owners on a shoestring budget.
Key features:
Multiple incentive structures

Referral attribution and activity tracking

Automatic payouts

Advanced reward rules

Triggered emails

Social media sharing

Downloadable reports and activity tracking

Team accounts
Pricing: Plans start at $200 per month.
---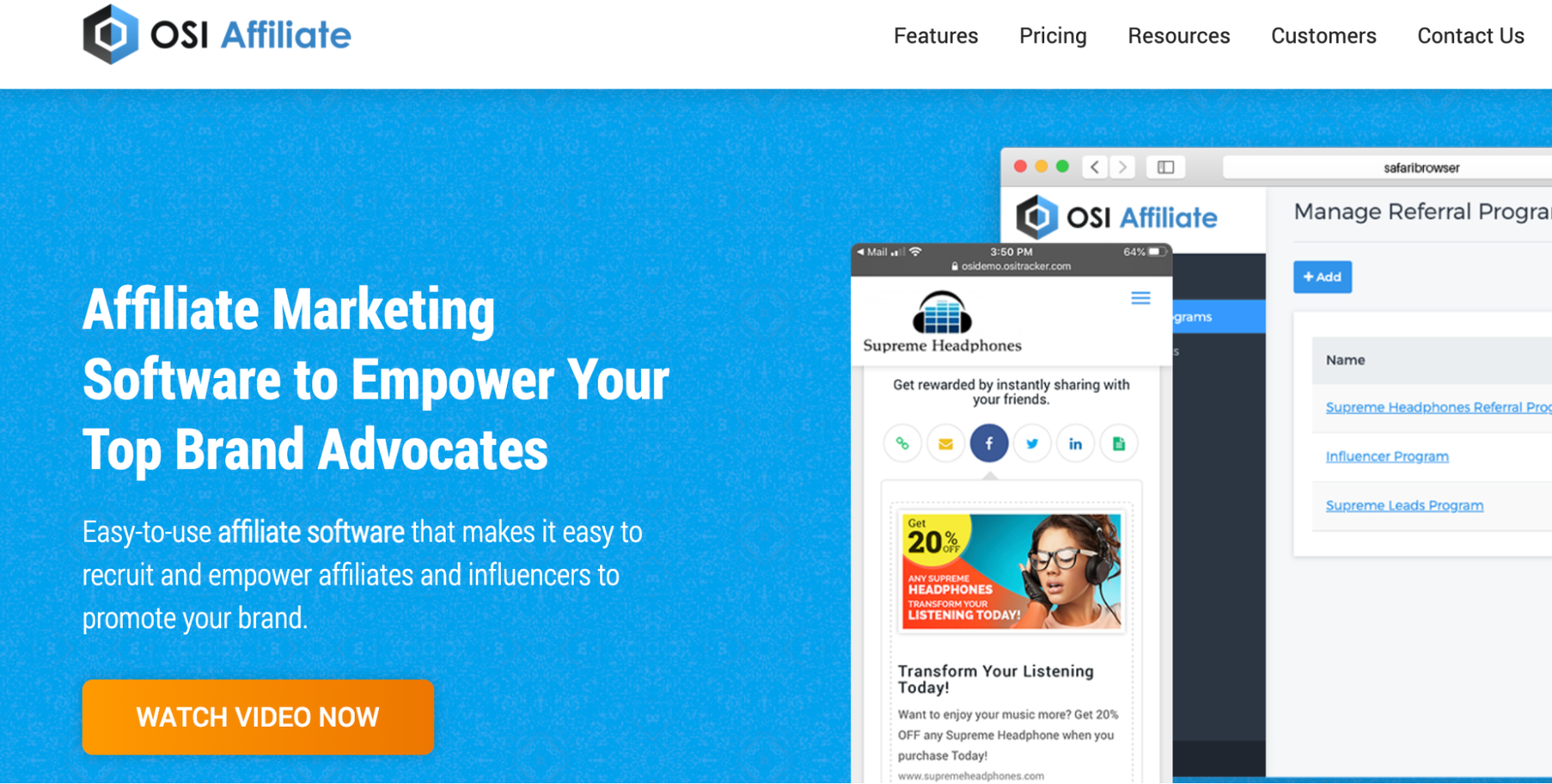 Boasting an impressive 4.9 rating on Capterra, Omnistar Affiliate is one of the most highly rated and reviewed affiliate software solutions. It's used by 16,000 businesses from various industries that include real estate, healthcare, and eCommerce. If you're going to be using it to help with your eCommerce store, you'll be happy to know that it integrates with thousands of apps, including Shopify, WooCommerce, BigCommerce, and Squarespace.
While on the topic of integrations, Omnistar Affiliate also includes full integration with LinkedIn, Facebook, and Twitter. This means that your affiliates will have no issue sharing their link across these leading social networks for more exposure.
Similarly to Refersion, it also has its own exclusive directory where you can find affiliates. This can come in handy if you're searching for people who are more knowledgeable about affiliate marketing than your pool of customers.
Alternatively, it can help you to identify your most loyal customers by means of a single-question survey. This way, customers who rated their experience with your store as very positive can automatically be included into your program. This auto signup feature can be a real timesaver. Plus, it simply makes it much easier if you want to scale your program as quickly as possible.
Then, to keep your affiliates engaged and motivated, you can share email templates and upload banners or other creative digital assets that they can use to forward to their network. Not only does this help you to keep the branding more consistent, but it also makes it much easier for affiliates to promote your products. After all, if it's too much work for your affiliates to promote your products your affiliate program won't take off.
Key features:
Social media sharing

Exclusive influencer directory

User-friendly setup wizard

Multi-level marketing

Promo code tracking

Various rewards available that include commissions, coupons, gift cards, and discounts
Pricing: After its free 15-day trial, pricing starts at $47 per month.
---
Wrapping Things Up
By investing in one of these tools, it becomes much easier to manage your affiliate program and affiliates. This will leave you with more time to focus on finding the right affiliates and creating captivating content.
That being said, take your time to research the different tools available. While we featured only 10 software solutions, there are many that you can choose from. At the end of the day, the right tool should be able to create links and banner ads and take care of the admin tasks, at the very least.
All of the tools that we discussed offer either some form of free trial or demo. Take advantage of this before you make any financial commitments. Also, be sure to pay attention to online reputation. There are a number of review websites that you can check out before making your final decision.
And, if you're not convinced about trying out affiliate marketing yet, consider this — more than 80% of brands are already using affiliate programs. What's more, almost 40% of marketers agree that it's one of the top marketing strategies for attracting new customers. As you only pay for actual results, there's not a lot that you can lose by giving it a try at least.
Frequently Asked Questions
Which platform is best for affiliate marketing?
Top 10 Affiliate Marketing Software to Increase Your eCommerce Sales:
1. Refersion
2. iDevAffiliate
3. LeadDyno
4. Referral Rock
5. Omnistar Affiliate
6. Tapfiliate
7. Post Affiliate Pro
8. ReferralCandy
9. Affiliatly
10. Everflow.io
How do I create a platform for affiliate marketing?
To work in affiliate marketing as a beginner, follow these easy steps to adapt your platform for affiliate marketing:
Pick a platform
Pick a niche
Find affiliate programs to join
Make great content
Drive traffic to your affiliate site
Aim for growing clicks on your affiliate links
Convert clicks to sales
What is Clickbank?
Clickbank is a marketplace for affiliate marketing and e-commerce serving digital content creators. Content creators can add their products to Clickbank, where they can manage the sales and check out process. The products are also visible to their network.
Can I do affiliate marketing on Whatsapp?
Yes, you can do affiliate marketing on Whatsapp. When you work in affiliate marketing, you will get commission depending on what product you sell. Once you choose the product to promote, you can start promoting on Whatsapp using your affiliate URL. You can share the link with your contacts and connected groups on Whatsapp.
How can I earn from Instagram?
These are several effective ways to earn money from Instagram:
Brand partnerships to promote products and services
Affiliate marketing
Sponsored content
IGTV ads
Consulting
Fan membership-based services
License your photos