Best for:
Small and Medium gaming and mobile app brands
Overview
Instagram is still, for the moment, the platform that most people associate with influencer marketing. Which, at this stage of the game, is a little weird. Both influencer marketing and social media have evolved beyond pictures of pretty people and places and products—and many IM software developers just ignore the alternatives in favor of what they see as the safe bet.
BuzzGuru has taken a different, yet logical, course of action. Their focus is on gaming and mobile brands, and Instagram just isn't where their target audience is hanging out. YouTube and Tiktok? Yes, and yes. Twitch? Duh. Who needs Instagram?
Their database of more than 20 million influencers is focused on this market niche, and only in the world of influencer marketing can you call 20 million people a niche. But this database isn't just the result of algorithms scraping the social web for stats. BuzzGuru sprang to life in 2017 as a global influencer marketing agency, during which time they've produced thousands of video collaborations and curated their own roster of relevant influencers. While algorithms play a part, there's human experience backing this database, and for the right kinds of brands their pool of influencers is filling up a very deep well.
Like their database of influencers, BuzzGuru's platform is the result of their experience as an agency. While they're not the first agency to release a self service version of their behind-the-scenes systems, this is the first one we've seen that aims to provide tools to smaller brands and agencies. It foregoes a full end-to-end solution in favor of focusing on business and marketing intelligence. There's a discovery module by default—they've got millions of profiles indexed, you might as well be able to search it—but really the focus here is on learning all you can about two groups: influencers, and your competitors.
---
Summary:
---
Pricing
BuzzGuru's pricing covers a wide range of monthly fees, suitable for small to large businesses. In addition, at the higher end of their plans, they offer some targeted add-on solutions for the verticals they serve.
Free, $0/mo —

Straight from the "Get What You Pay For" department is the free plan, which offers Discovery for 1 user, with only the most basic analytics for each profile.



Basic, $99/mo —

Same as the Free plan, but you can organize your influencers into exportable lists, plus some basic information about competitive apps, sites, and games.



Professional, $299/mo —

All of the above, plus a library of videos and streams with detailed information, basic analytics for apps, sites, and games, 70 tokens to purchase more advanced analytics



All-in-One, $999/mo —

All of the above, plus an unlimited number of influencers in search results, which is the first we're hearing that there was any limit to the number of influencers in search results. Additionally, All-in-One subscribers get access to the competitive analysis packages listed below.



Competitive Research Add-ons
There are three different research add-ons, one for Apps, one for Sites, and one for Games. In each case, the cost for this add-on is $1899 for the year if you subscribe to the Professional plan. As mentioned above, these are included with the All-in-One subscription. For all three options, users get the following:
Complete analytics for any app, site, or game

Competitors' ad campaign budgets

All videos that mention the competing app, site, or game

List of influencers promoting the app, site, or game

Analytics and contact information for each influencer in the list
---
The Details
When you get down into the details of BuzzGuru, you'll find software that functions well and is easy to navigate. The features around Discovery aren't anything revolutionary: this isn't the first and definitely not the last platform to allow you to search for influencers and refine the results through filters to get to a manageable number. BuzzGuru's big promise is in its focus on gaming and app developers/brands. And the delivery on that promise is right on the discover page.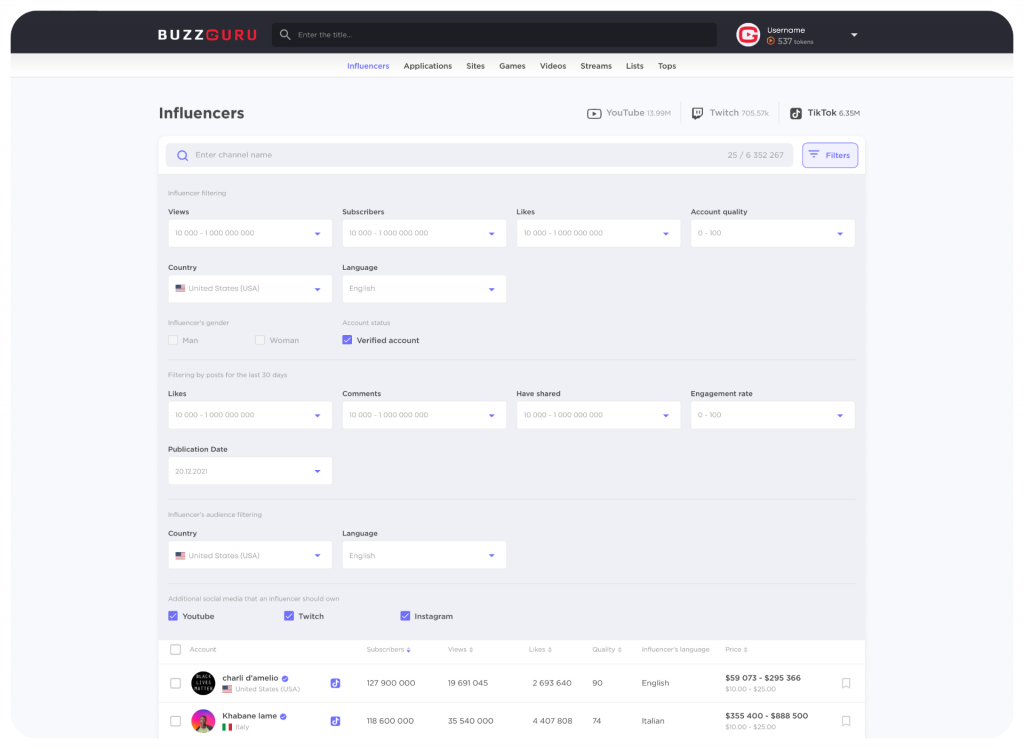 Two filters stand out here: Game Genre and the Games themselves. It's a really obvious inclusion, but then no one else has thought to include these. Hundreds of other search tools include a filter for a "gaming" category, but make no distinction between Minecraft and FIFA ad Grand Theft Auto. These are vastly different games with very distinct players. Not all gamers look alike, Boomer.
Heading into the profile of any influencer that comes up in your search yields deeper information. The summary page gives a quick overview of the channel of theirs you've selected, with subscriber count, average views, engagement rate, and an estimate of the cost to work with them. There's also a score of the quality of their audience, and a ratio of likes to dislikes, which can be very helpful in determining the value of their engagement. You'll see the catalog of their videos, and there's a separate place to look at their sponsored videos, specifically.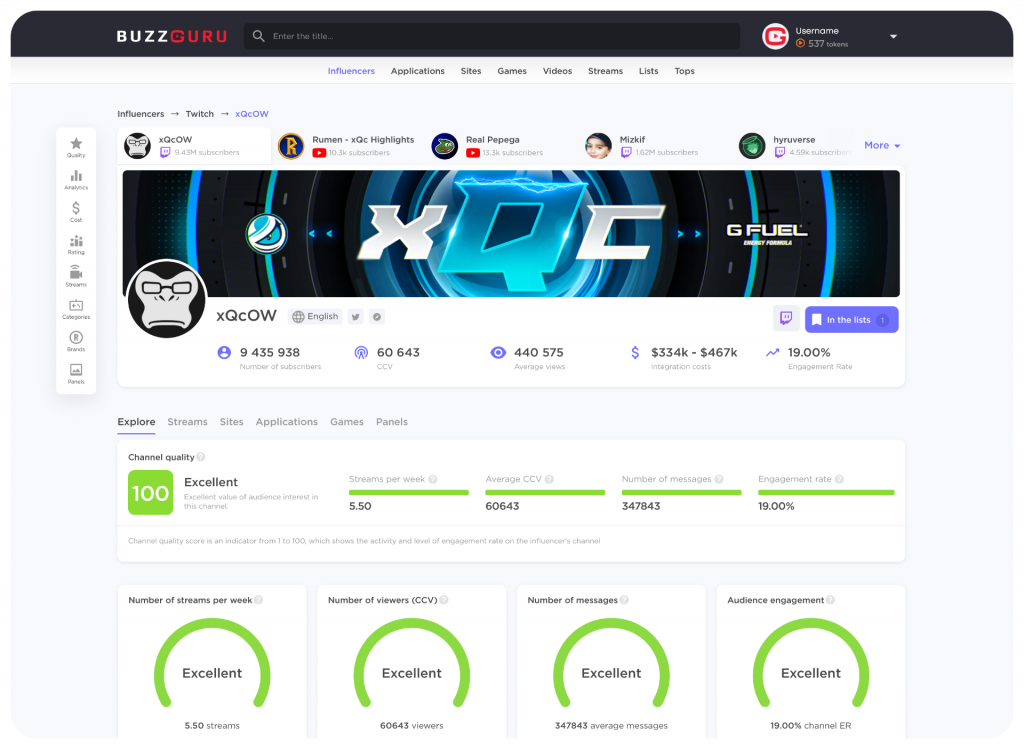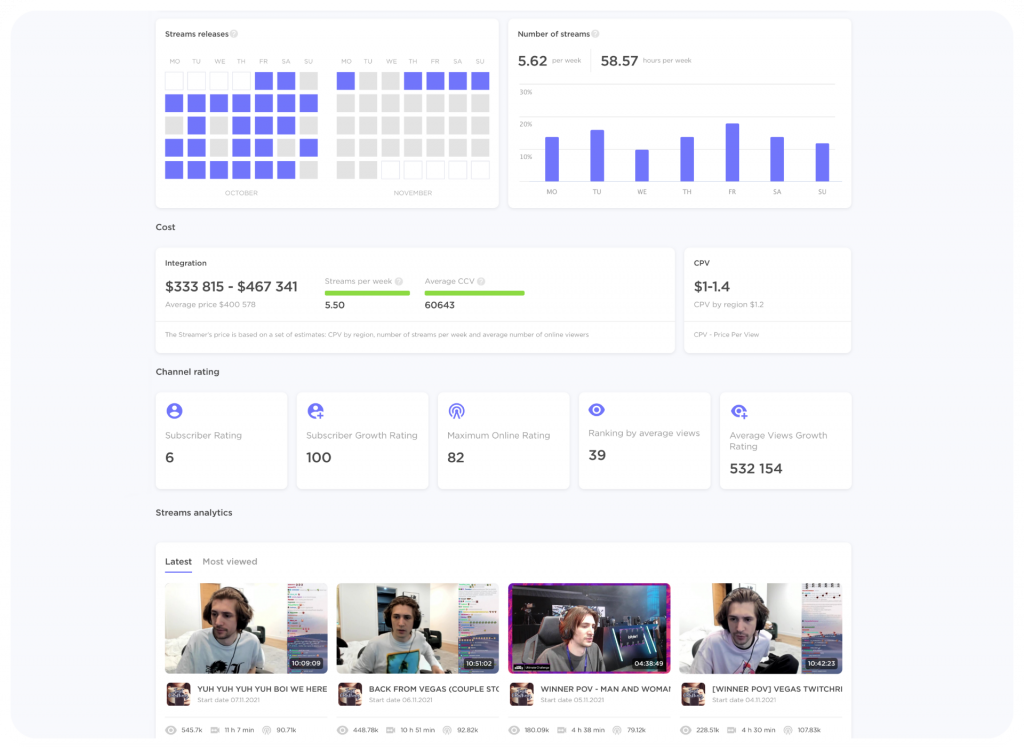 From there, it's a very welcome rabbit hole of information and analytics about their videos, their audience, and brands and games they've mentioned. You can find out the history of dates and times they tend to post, the categories their content falls in, and frequently used hashtags. When you check out brand mentions, it's not merely a list of things they've said. All the videos and their data are indexed within BuzzGuru, so you just click through the listing to the video entry. The video itself is embedded right in the page, along with the description that was published along with it. Sitting amongst all that are some informational stats: Views, Likes, Dislikes, Engagement Rate. The same goes for mentions of apps and games.
If the influencer also has a Twitch channel, that will show up alongside their YouTube stats. If you're looking for a Twitch-only streamer, you can specify that during search. The same is true for TikTok, and the data you get out of these profiles is a bit different than what comes up for YouTube. TikTok data reveals Challenges an influencer has participated in, for example, while Twitch clues you in on a streamers concurrent viewership (CCV).
Across all these channels, the analytics don't go quite deep enough. Audience data that goes into demo- and psychographics would be good, though we can't exactly fault BuzzGuru for this. YouTube doesn't share this info. TikTok, on the other hand, does give some data around audience gender and locations, and this info is available on the platform's TikTok profiles. Video analytics are a little light across the board, though. At the very least, BuzzGuru should be showing the stats of how long people stick around for watching these videos, useful information for knowing what works and what doesn't.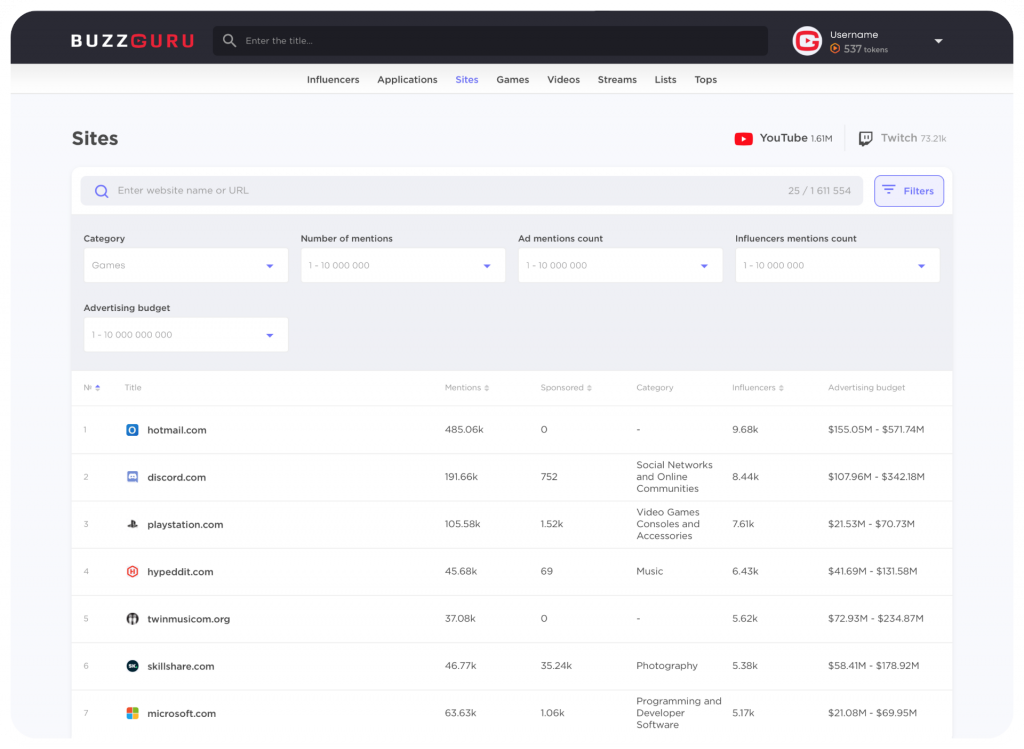 Competitive analysis works much the same as the influencer search and profiles do. Remember, this isn't a tool for you to research any company that's out there. The competitive analysis focuses on BuzzGuru's niche—gaming and mobile apps—while offering similar glimpses as the influencer search. Here, though, the information has more inherent value. Learning about an influencer gives you insight into how relevant that influencer is, but the same info about a competing product tells you more about how you want to proceed with the influencers you found.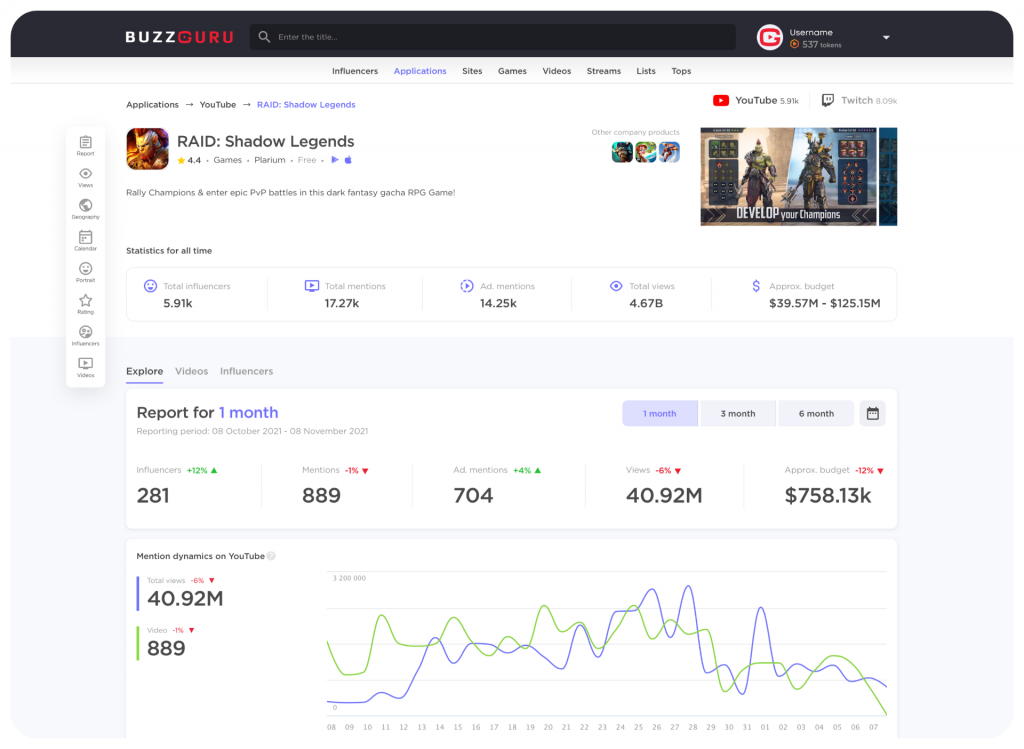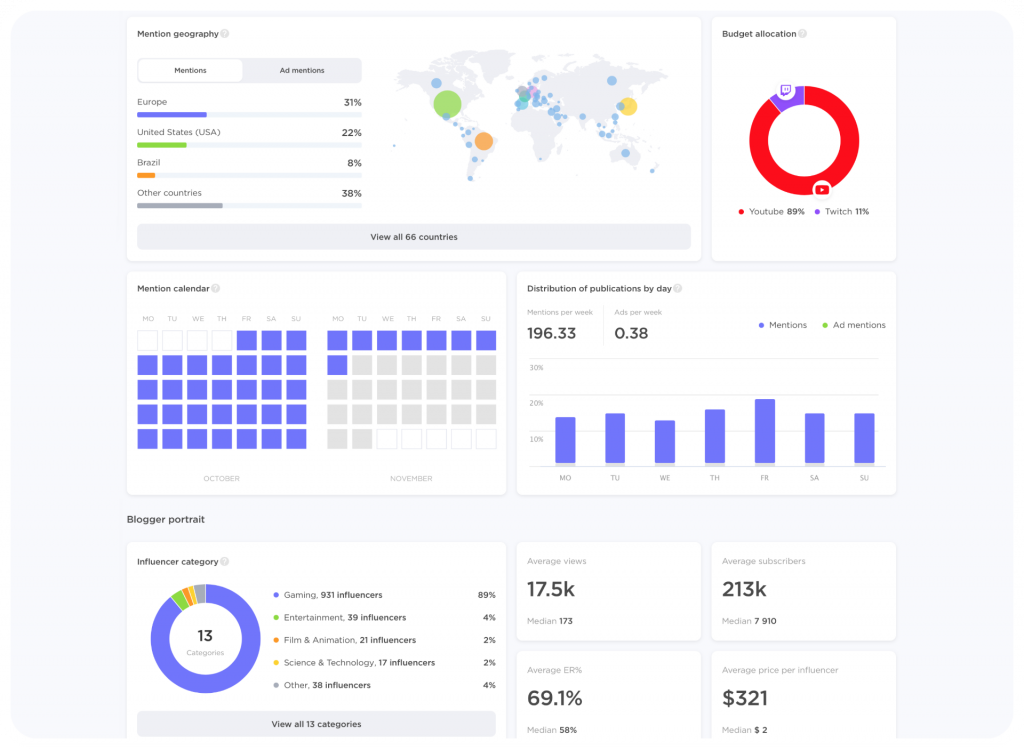 For example, if you see steady audience growth over time for an influencer, it tells you that they're probably not buying subscribers or doing follow-for-follow type shenanigans. Good information, but not entirely actionable. If you see steady growth for your competitors' audience over time, you can learn much more. Pick a time period where growth is strong and you can start looking at the videos they made or collaborated on during that period. Find out who the influencers were that they worked with, and get an idea of the strategies they're employing. What hashtags are they using? Are they doing TikTok challenges? Which of these tactics is having the greatest impact? You'll also see ratings and rankings of games and apps to get an idea of how they're actually performing in the marketplace—not just in the marketing. BuzzGuru customers will likely spend the bulk of their time with the software doing competitive analysis, and for good reason.
---
Conclusion
There's a long line of platforms aimed at analytics and competitive research, and it was only a matter of time before they started splintering off and serving different market segments. BuzzGuru's focus on gaming and mobile app brands comes as a result of the work they've done as an agency over the last four years, but it's a smart niche to serve.
Even though the fashion and beauty verticals have become synonymous with influencer marketing, gaming was right there at the forefront of it all. While the Kardashians and James Charles were building up followings and influence on Instagram, people like Markiplier and Jack Septiceye were doing the same for gamers on YouTube. And yet, no one's really developed an influencer marketing platform that focused on finding these kinds of creators. BuzzGuru has taken that first step, and although not a perfect one—it's a big step, and they're going to keep taking more.
BuzzGuru
Features

Ease of Use

Reporting

Services Offered: Search/DiscoveryContent LibraryInfluencer AnalysisAudience AnalysisFake Follower/Fraud DetectionCompetitor Research