Influencer Platforms act as support to make life easier for both agencies and brands when managing and working with influencers. An Influencer Marketing Platform is a software solution designed to assist brands with their Influencer Marketing Campaigns. Influencer Marketing Platforms provide influencer discovery tools for brands and agencies, some also offer massive searchable databases of potential influencers, using clever algorithms.
Others prefer an opt-in method for influencers, where the staff of the influencer marketing platform can vet potential influencers and check that they are genuine and willing to work with brands. More recently influencer platforms have expanded their offerings, to include relationship management, campaign management, influencer marketplaces, third party analytics, and influencer content amplification.
---
Top Influencer Marketing Platforms for 2022: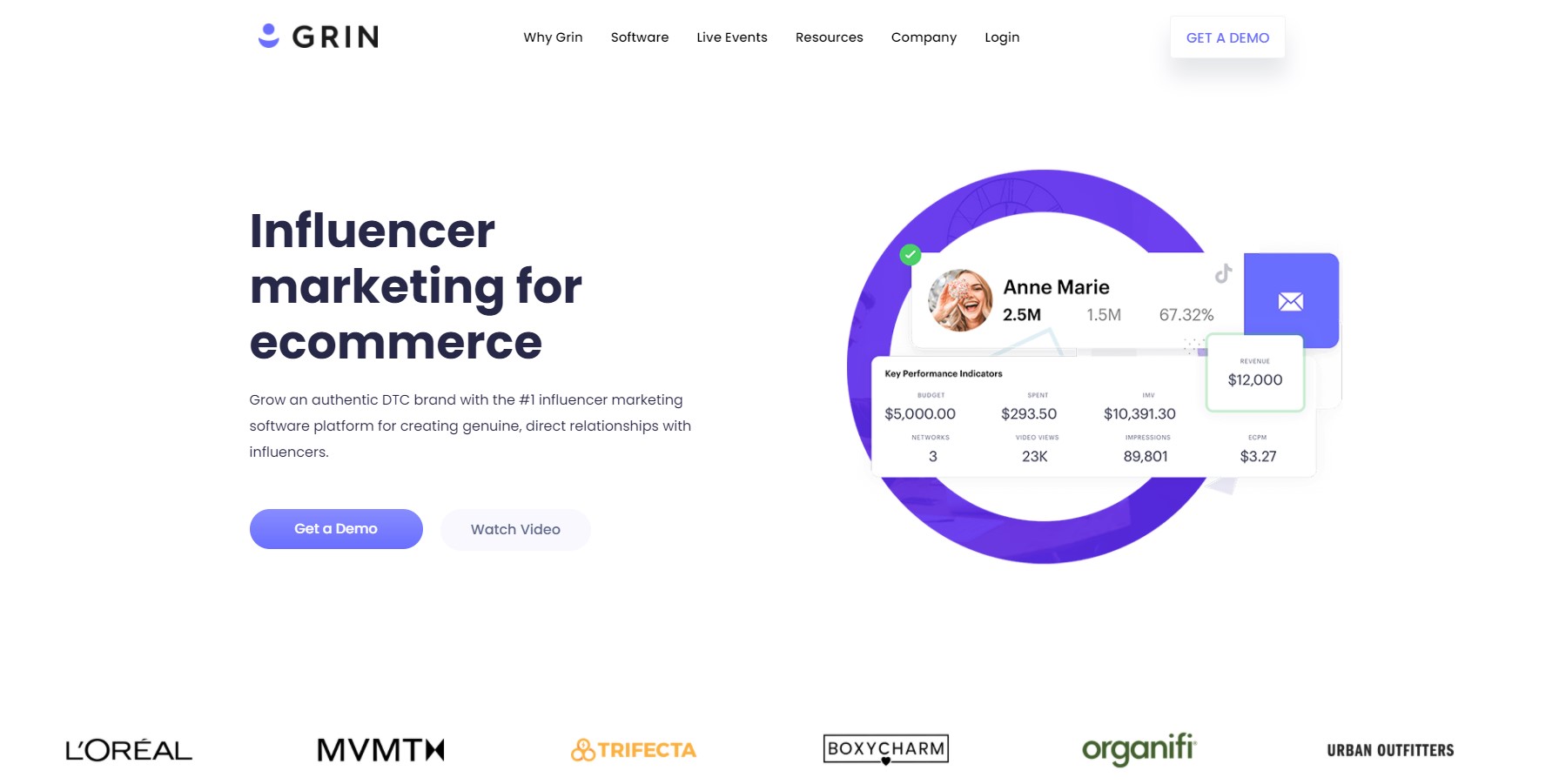 Grin is a model of how to do things right. Grin's philosophy is that influencer marketing is marketing to the influencer. If you build a trusting relationship with them, all else falls into place. 
Grin's focus is on eCommerce businesses with integrations into some of the major shopping platforms. 
Offering all the significant features that a top-tier marketing management software should, the platform is easy to use. It organizes everything all into workflows so that users never get lost. Even the largest of organizations can integrate Grin seamlessly into their existing systems. Grin pulls all the registered users from your eCommerce site in and finds their social profiles. This provides you with a list of potential influencers and their relevant statistics, all of whom have previously purchased and enjoyed your products.
Grin's searchable database includes influencers from Instagram, YouTube, and TikTok. There are more than 100 million influencers you can search, and roughly 37 million of those profiles have email addresses. Once you find suitable influencers, Grin's Lookalike function helps you find even more, just like your preferred selections.
---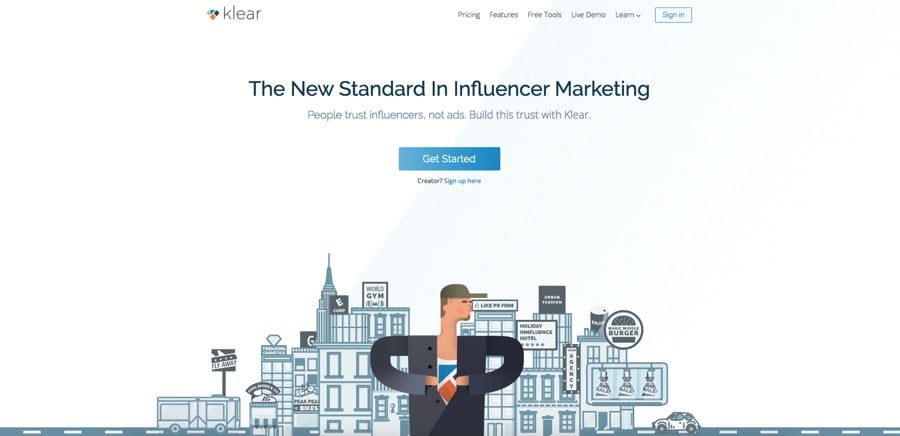 Klear was created four years ago by three brothers – Guy, Eytan and Noam Avigdor, who wanted to create a smarter way to access insights from the social web. They now work with some of the biggest brands and agencies, including Huawei, IMG, Adidas, Microsoft, and CocaCola.
Their plans are very simple. You can either test the waters with a free plan, with limited influencer search and social profiles, and demo monitors, or you can select the Advanced Plan. The Advanced Plan allows brands and agencies to find influencers, undertake influencer research, operate relationship management with influencers, undertake campaign monitoring, work on social monitoring, and have 1 on 1 consultation as part of their account management.
There is also an option for small businesses, the $250 / month Startup Plan. This allows small firms to participate in most influencer marketing activities, but with limits on the numbers of results/search, profiles/month, influencers managed, and brands and keywords they can work with.
---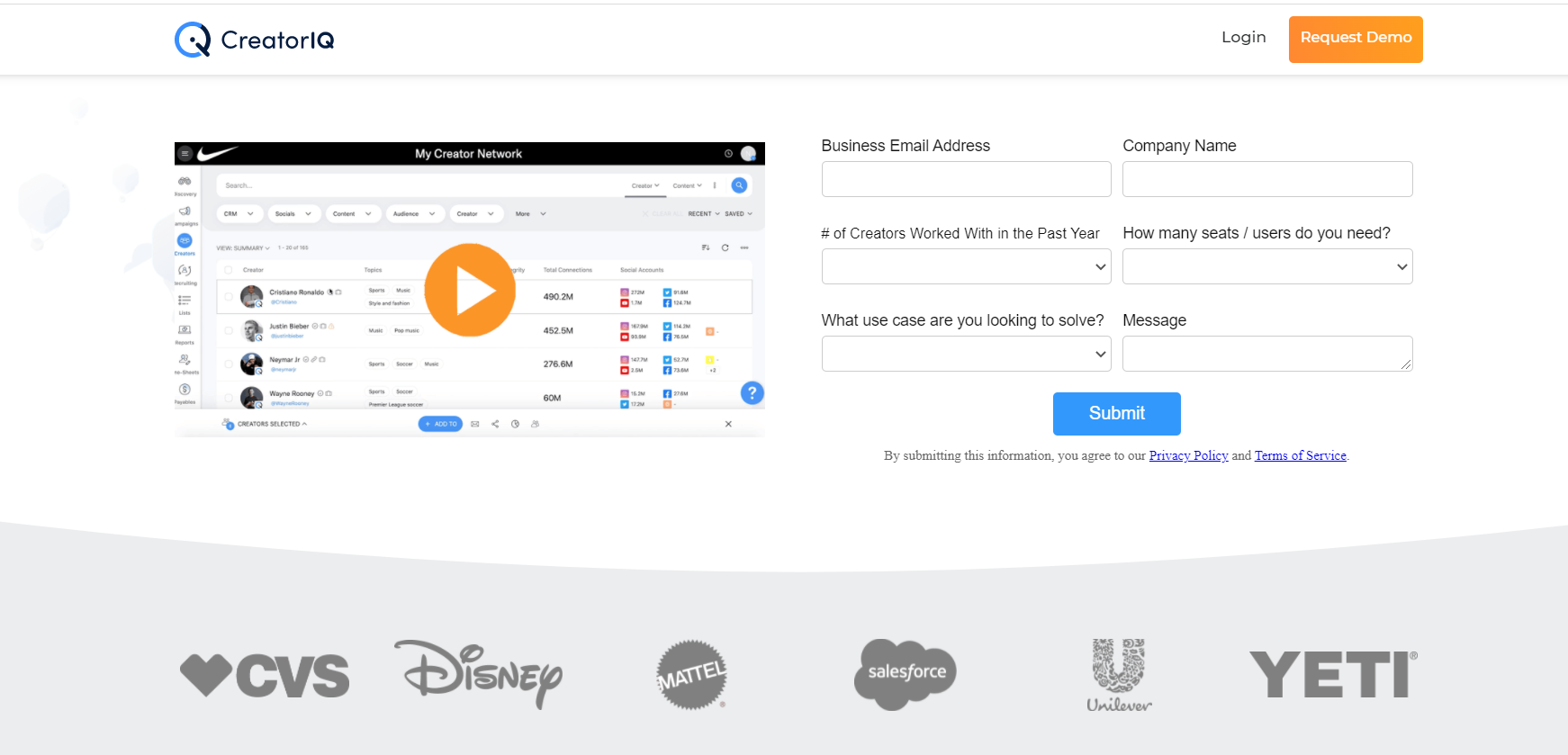 CreatorIQ relies on tech to not only simplify the influencer marketing process, but also to solve problems that have long plagued the industry: follower fraud, inflated reach metrics, and inauthentic/mercenary influencers. 
They include some very recognizable names amongst their clients, including Disney, Tiffany & Co., Unilever, Dell, and Ralph Lauren. They freely acknowledge that their client base is large companies, with the smallest clients in their published list earning around $100m annually.
CreatorIQ integrates directly with social platform APIs, and its AI-powered algorithm analyzes over 1 billion public social accounts, checking everything against a set of criteria to see if they merit being added into the platform database. There are currently more than 15 million creator accounts indexed on the system.
CreatorIQ is exhaustive in its ability and scope. The AI looks at all the discrete parts of any given piece of content—the image itself, the location, mentions, even emojis—and makes logical inferences. These ensure that the influencers it highlights are exceptionally relevant.
The AI assigns each influencer an "Integrity Quotient," which can help you discern just how authentic an audience is (or isn't). 
Once you've identified the influencers you want to work with, you can invite them via email to join your network. They can register with you and go through an onboarding process. It all looks, feels and acts like a customized influencer marketplace.
---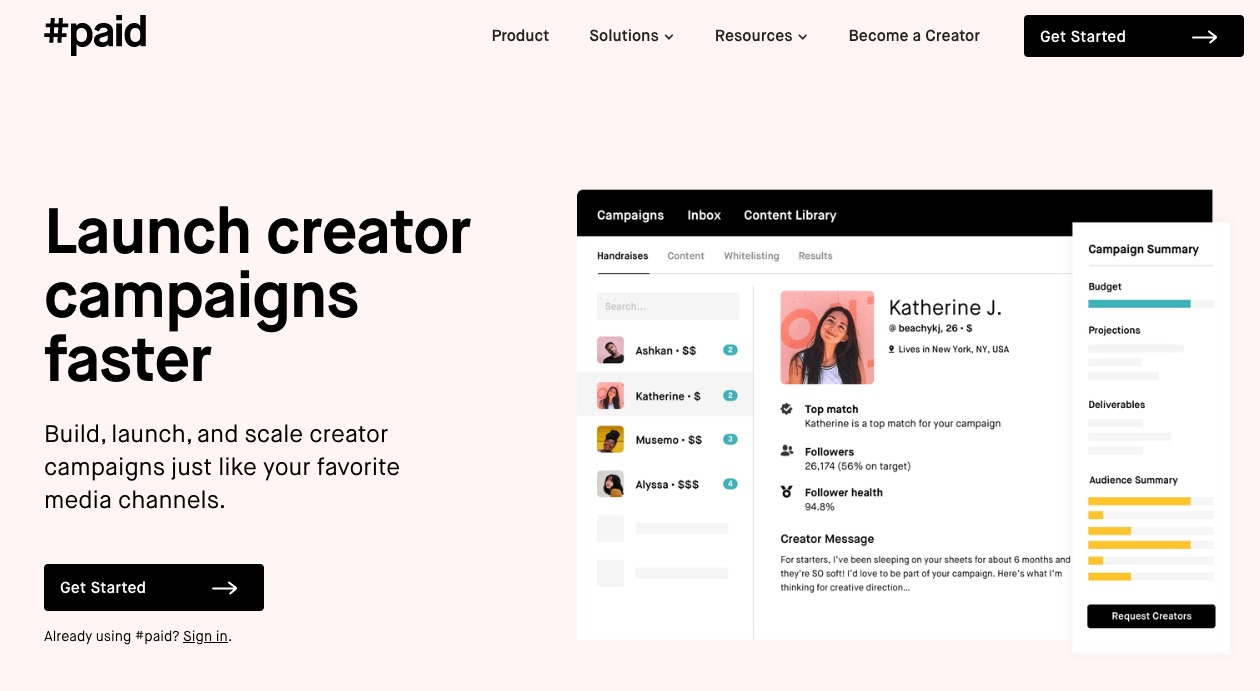 #paid shies away from traditional models of influencer marketing. It was one of the first platforms to target campaigns for the different sections of your sales funnel.  It also recognizes that influencers have that status because they create content so good that it has built them an audience. #paid believes that isnfluencers should both be creating exciting content and also be a good fit for a brand. This is far more important than reach.
As with many influencer marketplaces, brands can use #paid to create campaign briefs describing campaign goals, the scope of desired content, and a little about the ideal creator. However, brands can go further in determining their ideal influencers. They can use  Whitelisted Ads, where they whitelist specific creators and content for use with paid Facebook and Instagram ads. You can easily connect with Facebook Ads Manager and push ads into timelines and feeds under the creator's handle. The shared content will still carry the Sponsored Post tag but appears more authentic because it doesn't come from the brand's account.
Influencers can signal a wish to participate in a brand's campaigns, using a Handraise. They "raise" their hand to indicate interest. Potential influencers write a message describing why they believe they are a good fit for a campaign, and what their strategy might be. #paid has a team of people who vet every creator who submits a pitch.  
---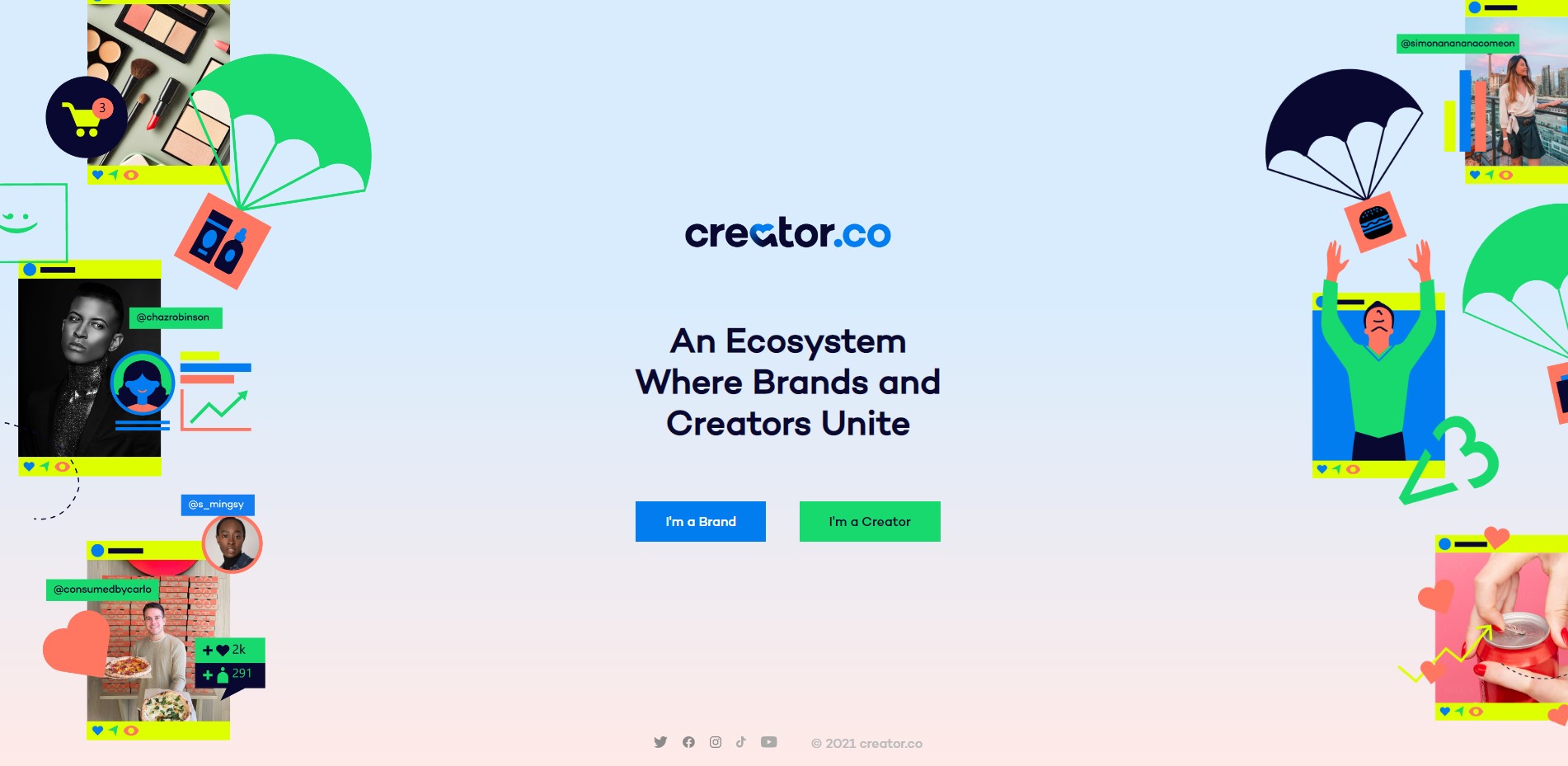 Creator.co began life in 2018 as Shop and Shout, an influencer marketplace, focusing on small businesses and micro-influencers. It has recently rebranded itself to Creator.co. This reflects the platform's focus as being as much on creating content as it is on the dissemination of it. With much of the content being produced by micro-influencers, the platform takes as much interest in the quality of that content as it does its marketing.
With a database of 500 million influencers, you should find some who should fit with your brand. And Creator.co provides surprisingly in-depth data on these influencers and their audiences. They present "Deep Insights" reports for any influencer, offering all the data you would expect but with greater context than is typical.
However, brands don't need to feel lost in such an enormous database. Creator.co offers two plans, a "hands-free" version of the marketplace experience they call the Community-Driven Plan and a cheaper Self-Serve plan. With the Community Driven (automated) Plan, brands need only create and define their campaign and ideal influencer. The system comes up with suggested influencers from a much smaller but thoroughly vetted talent pool of around 80,000. All a brand needs to do is choose whether to activate those influencers who want to participate.
You begin by creating and defining your campaign, being as specific and detailed as possible. You then search for influencers. With the Self-Serve plan, the search runs very much like any other influencer marketplace. However, with the Community-Driven Plan, you sit back and wait. Creator.co makes the search and influencer approaches for you, and you wait for those influencers who the algorithm finds and who opt into your campaign to show up in your dashboard for you to review.
---

AspireIQ is a self-service platform, working with Instagram and YouTube, with a database of more than 150,000 influencers who have opted into the system. Although anybody can sign up to AspireIQ, creators have to meet criteria to be able to view brands or campaigns. Currently, thimediaks means that you need to have 500 Instagram likes or 2,500 YouTube views to be considered an influencer.
Any influencer that meets the criteria (and passes a manual review to ensure posted content is suitable) gets entered into AspireIQ's searchable database and is, in turn, able to see any proposals from brands. It has a simple search engine, including the Tinder-like "Quickmatch" which does its best to match up brands and influencers for a particular campaign.
AspireIQ provides an extremely thorough range of campaign tools to assist with every aspect of campaign management.
---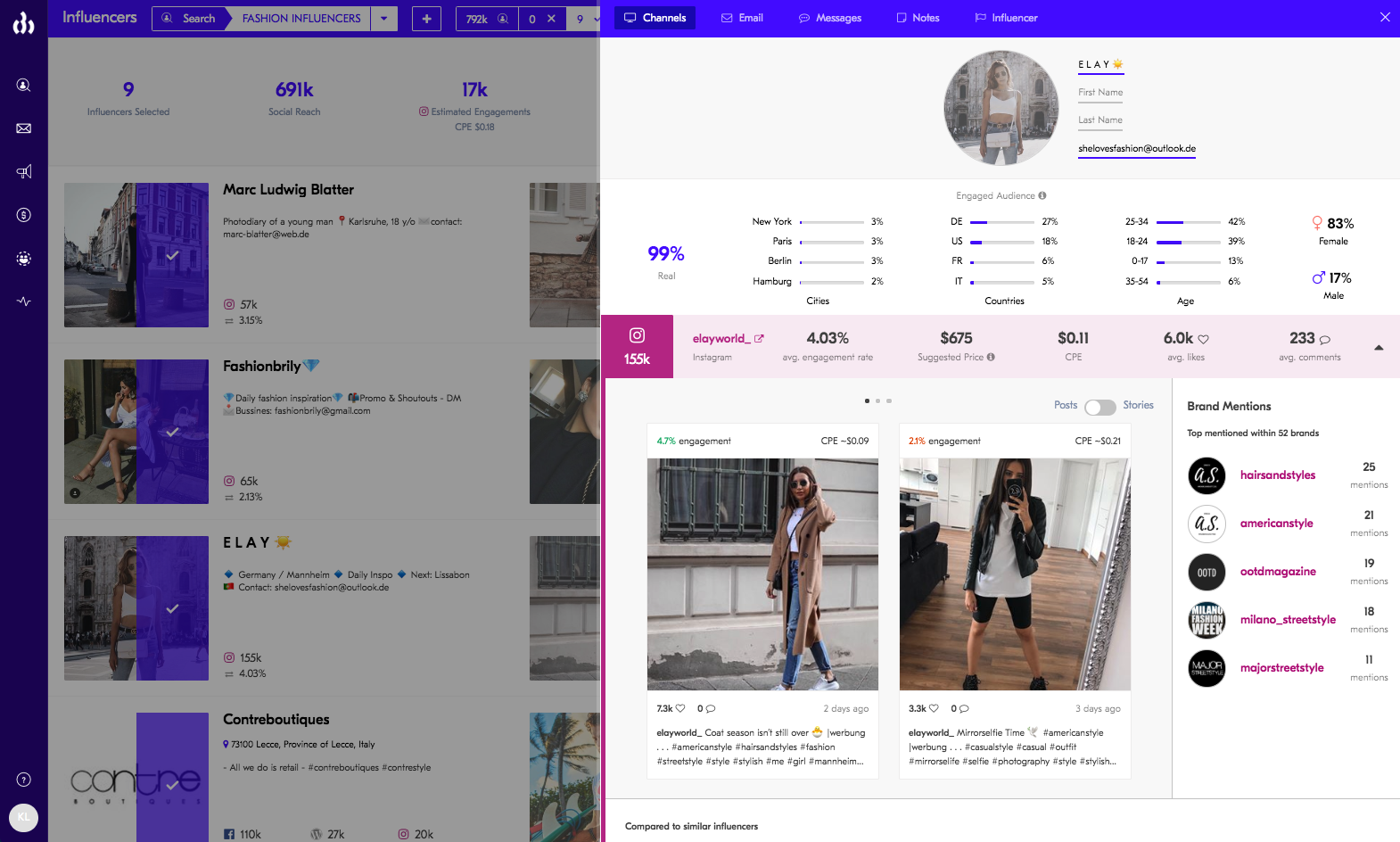 Upfluence is a self-serve platform, allowing it set it pricing at a level affordable by small and medium-sized businesses, although companies like Microsoft and PayPal also utilize its services.
It has recently grown out of two products – Facade, a social media search engine, and Publishr, an influencer relationship management system.
It uses a massive database with 500 million items of content, spread across Facebook, Twitter, Instagram, YouTube, Pinterest, and blogs. Businesses can search through the database to find influencers that match their specific criteria. There is a considerable amount of information in the database on each influencer. Businesses can drill their way down through the data to find influencers who are most suitable for their needs.
The influencer management system provides tools for brands to manage each influencer relationship. For example, they can create lists of suitable influencers for particular campaigns. They can track the performance of their influencer campaigns, and collaborate on content.
---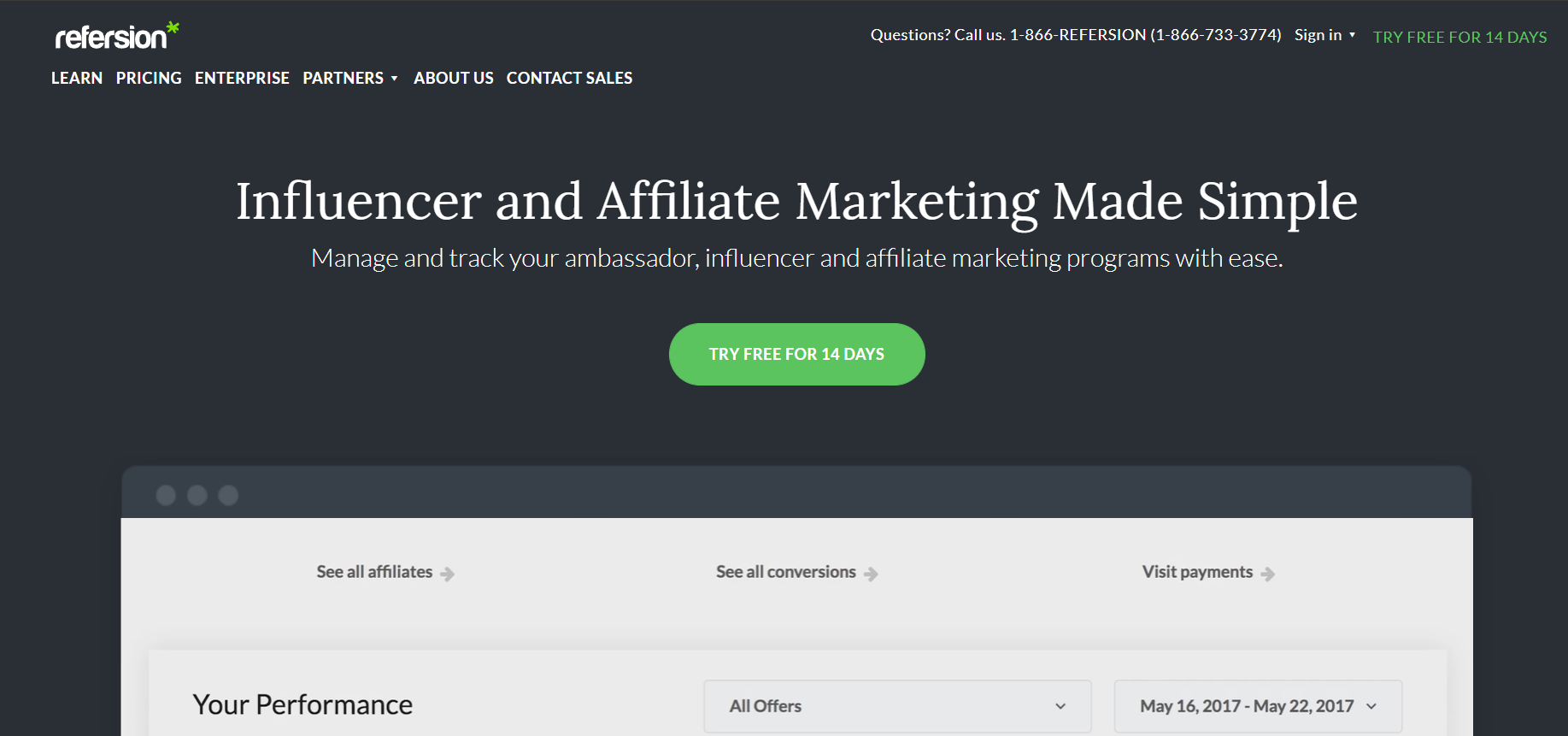 Technically, Refersion isn't an influencer marketing platform – it's an affiliate marketing platform. Yet, it meets many of the needs of influencer marketing. There are many similarities between affiliates and influencers. Both tend to be people who own well-trafficked websites and social pages. However, instead of collaborating with brands to create advertising campaigns and content for them in exchange for a fee, affiliate marketers initiate the sale of products to their followers and supporters in return for commissions on all sales conversions for which they are responsible.
Refersion has a strong eCommerce focus and integrates with all the major eCommerce platforms. It also makes an API available for other platforms. Refersion also works well with other influencer marketing platforms, integrating neatly with Upfluence, #paid, and Cohley. 
The Refersion Marketplace works like a typical influencer marketplace. You publish a campaign ("offer") with specifics about what you need and what you are prepared to pay. People apply to participate. One difference to many programs is that you don't necessarily pay in cash, and you hand out trackable links and coupon codes to help track relevant influencer and affiliate activity. The platform helps you set up a landing page that can exist on your company website. 
You can adapt your offers to fit each campaign best, whether that be a flat rate commission or increased payment rates as sales volumes go up. 
Refersion recognizes that there are two parties to an influencer marketing transaction, so it includes a portal for influencers. Amongst other things, it shows them any requirements you have set for your campaign.
---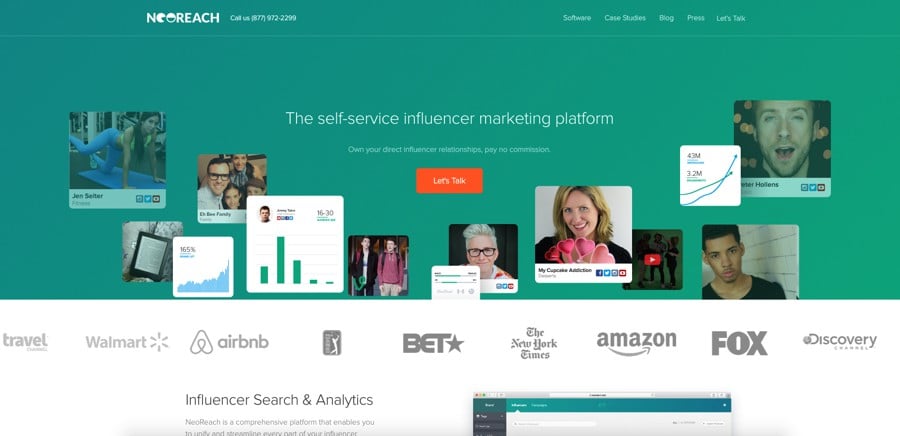 NeoReach grew out of a Stanford University class where Jesse Leimgruber (now CEO) and Misha Talavera (now CMO) came up with the idea for a digital marketing platform which would connect social media influencers with brands. The idea had enough traction for Leimgruber and Talavera to be accepted into Stanford's accelerator program, which seeded NeoReach's creation.
NeoReach uses an algorithm to mine the social web for data and indexes it through their platform. This has found 3,000,000 influencers for the NeoReach database.
NeoReach targets large companies and is not designed for small to medium businesses, with annual subscription fees being customized for each client, but in the range from $50K to $500K.
It collects a considerable quantity of data on each influencer. It also provides numerous tools for its clients, helping them to find influencers, run campaigns, track campaign performance, and report.
NeoReach looks at influencer activity on Facebook, Twitter, Instagram, YouTube, Pinterest, and Snapchat.
---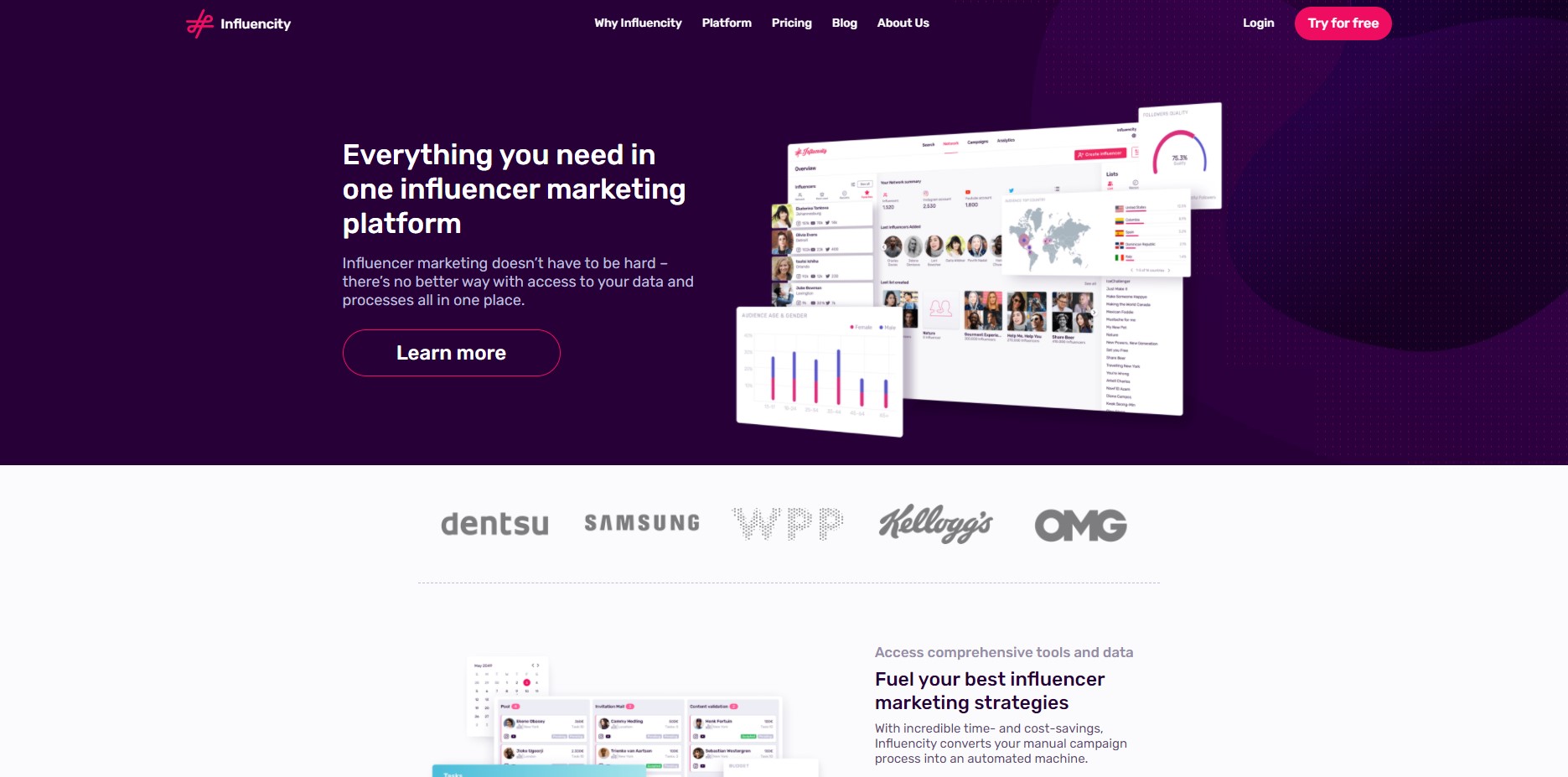 Influencity has changed with the times. It began in 2014 when its CEO Daniel Sanchez described Influencity's hook as "a system of automatic publication of tweets written by influencers." Its focus now is much more on Instagram, along with YouTube and TikTok. It currently includes over 70 million influencers, 20 million on TikTok, and 10 million on YouTube in its database.
Although Influencity offers four plans (ranging from the Starter plan at $48/mo to the Business plan at $698/mo), customers can personalize their own plan by selecting the features that suit them best and creating a Custom Bundle. 
Influencity offers an overwhelming amount of data. You can apply filters to your search to digging deep into an influencer's profile. Nothing appears confusing or oversaturated. You will find an abundance of options to choose from when selecting search filters. Indeed, Influencity claims there are over 100,000 ways to combine filters to find the most relevant results.
You can also do a lookalike search. The platform judges the similarities based on the influencer, their content, and audience data but still caters for other filters.
You can do a deep dive into any influencer profile for information on audience quality, performance metrics, brand affinities, and audience data. 
Influencity also provides data in this detail for your influencer campaigns. You can easily see the kinds of audiences that your influencers reached and how well their audience received these posts.
---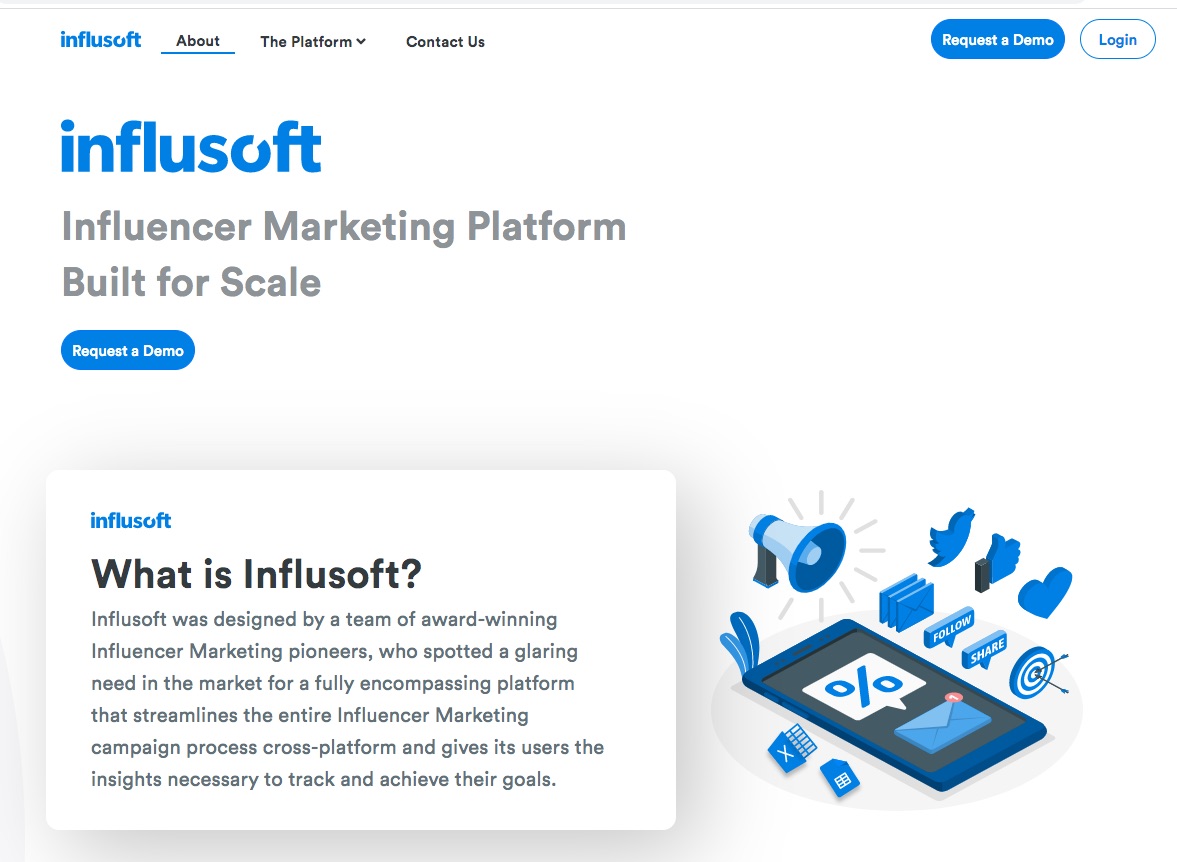 Influsoft focuses on enterprise clients, so if you're a small or medium business, you might want to turn your focus onto one of the other platforms listed here. Its creator, Viral Nation, built Influsoft as a tool, before spinning it off as a separate entity. Viral Nation was the first client, and it now claims to also work with  Activision Blizzard, Tencent Games, Canon, Facebook Oculus, and Elite Model World.
Its Discovery module is highly detailed. You can make in-depth searches of the millions of influencers in Influsoft's database. However, as most of this information comes from third-party sources, Influsoft prefers not to focus on this module. Instead, it emphasizes the importance of using first-party data once you have selected/referred influencers. They view their Discovery engine as more of a means to an end rather than the end itself. They prefer to focus on the data made available by the influencers with whom they work. These people sign rights that give Influsoft access to more detailed analytics than the social networks make available to the public. For example, with an influencer on YouTube, you'll get deep insights into how audiences interacted with each video—average watch time, as well as a second-by-second view of where people drop off. Videos on Facebook include data points specific to the platform, like a breakdown of those who watch with the sound on vs. off, and whether the audience is paid or organic.
Influsoft also includes a Plan module where you can undertake all the upfront tasks needed for a campaign. Once you've planned your campaign, you can shift to the Measure module, which gives you a live update on how your campaign is performing. You can go even further into this in the Listen module, which goes into even further analysis of your campaign's performance. This includes sentiment analysis – not just positive/neutral/negative, but also more detailed emotion analysis. 
---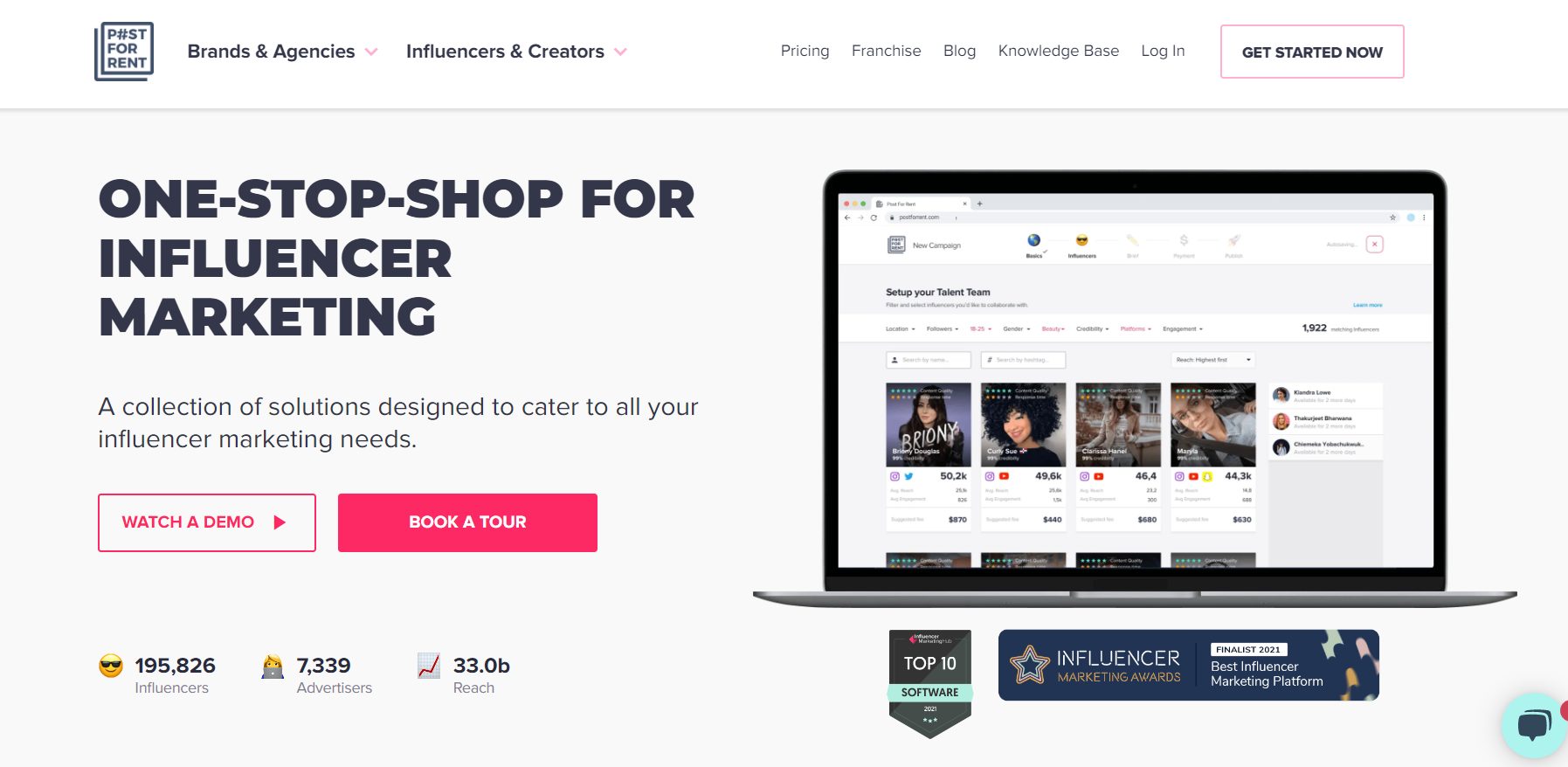 Post for Rent effectively maintains a balance between cold business efficiency and authentic influencer campaigns. It was built to serve all sizes of brands, but it also makes plenty of room for agencies and talent managers, as well. Some of its better-known clients include Nike, HBO, Jameson, and H&M. Post for Rent is just as happy to work with small and medium-sized companies.
Brands can take a seven day free trial of the $59/month Standard plan. With this plan, you can manage unlimited campaigns with unlimited influencers for a single brand. Under this plan, Post for Rent charges a 10% service fee for all payments made to influencers, and a flat $20 fee if you're paying with product.
Larger organizations can use the $999/mo Pro plan (which is currently still reduced to $399/month, six months after we did our review). With this plan you can access data for unlimited brands and pay no service fees, along with other additional features).
There's a system in place for brands and influencers to leave reviews for each other, and act as references. 
Post for Rent offers an exceptionally clean interface for creating campaigns. The process is broken up into discrete steps, and the platform saves the brief as a draft every time you move on to the next page.
Once you've published your campaign, it will show as Active in your dashboard. You click into each one to manage and monitor its progress.
---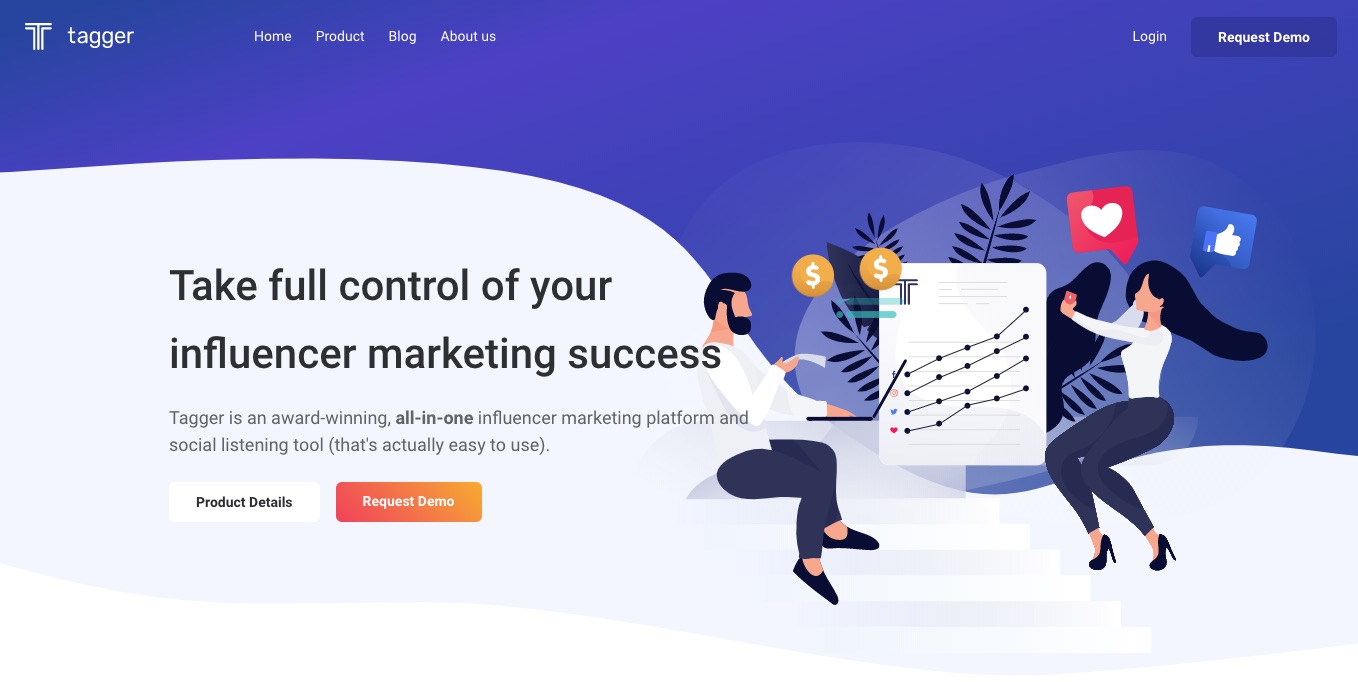 Tagger places a strong emphasis on data. It tracks more than 9 billion social conversations, all indexed, analyzed, and searchable. This is not software for a small business. Tagger offers more use and data than a small company would know what to do with.
It offers all the features of an influencer marketplace but has so much more. You can perform advanced searches on a database of influencers. You can create campaigns available only to those that you invite or make them open so that anyone can apply. Searches for influencers offer dozens of filters to refine results. Once you have selected influencers (using Tagger's wealth of data), you can manage all the influencers and their content submissions easily. Tagger also allows you to analyze the performance of all posts and influencers and determine your ROI.
Tagger's greatest strength is the way it allows you to use influencer psychographics. The platform analyses what people talk about to understand their interests and affinities. It can clearly identify the topics that interest people and about which they are likely to speak. This makes it easy to find influencers whose audiences will take a genuine interest in your brand.
In many ways, Tagger is an incredibly in-depth social listening tool – not only of a brand and its potential influencers but also of the company's competitors. 
Tagger offers a detailed dashboard with many ways to organize your marketing efforts. You can group influencers in virtually any way imaginable and track an entire group. Tagger's customizable workflow tools ensure that everyone who needs to be involved is. 
---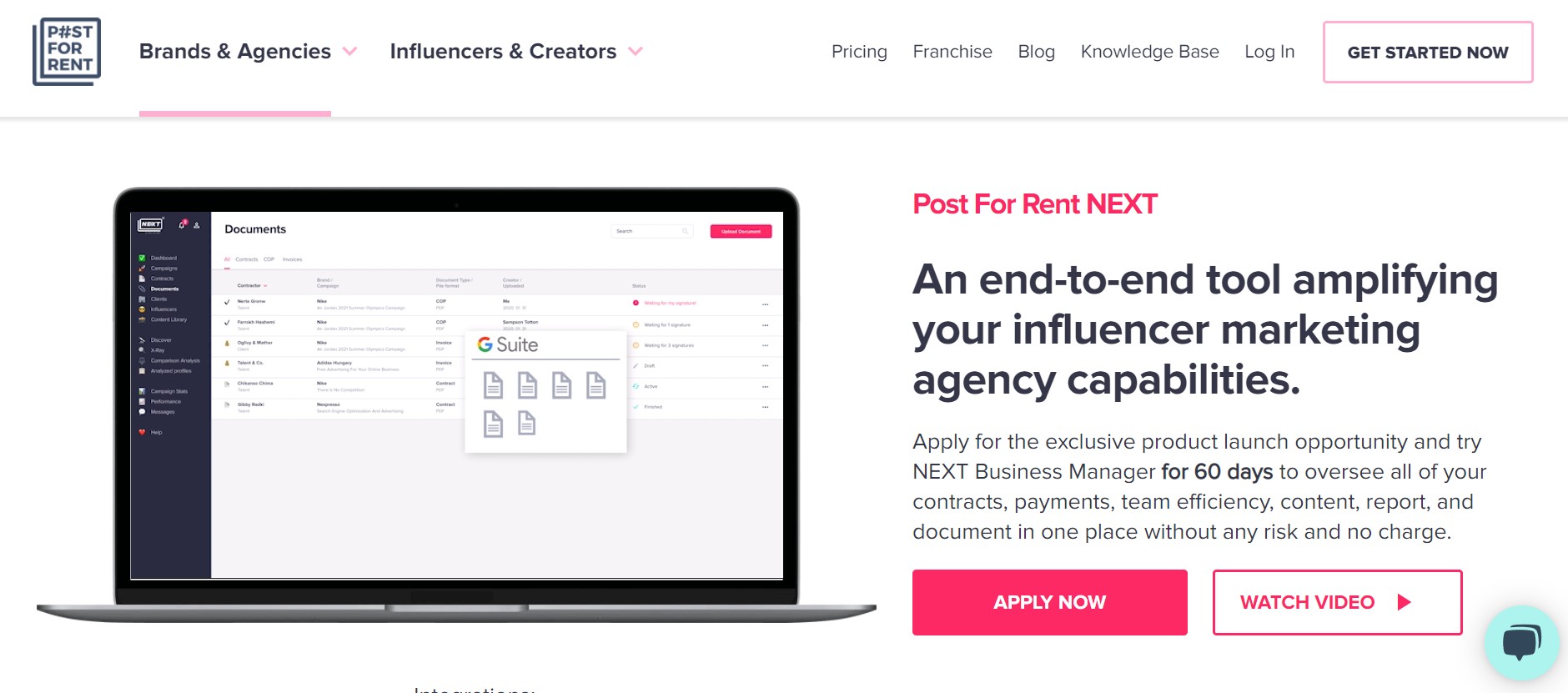 You will have noticed Post for Rent elsewhere in this list. After operating for a while, the team at Post for Rent wondered what should come next. That's why they named their following product NEXT. While NEXT is an influencer marketing platform like Post for Rent, it targets a different clientele – large brands and agencies. It incorporates some of the best technology from Post For Rent, however. 
Post for Rent lets you try NEXT Business Manager for 60 days to oversee all ​of your ​contracts, payments, team efficiency, content, reporting, and documents in one place without any risk and at no charge.
If you decide that NEXT meets your needs, you can select from two plans: Professional (starting at $2,590/mo.) or Enterprise (starting at $4,890/mo.) The Professional plan targets influencer and talent management agencies that run multiple campaigns and programs looking to streamline work. The Enterprise plan targets teams and companies of all sizes requiring a management overview of the team and financial performance.
NEXT's Discovery and Analytics modules are very similar to those of Post for Rent. The main areas of difference focus on paperwork, team communication, and administration. The platform is extraordinarily detail oriented. The main menu includes a wealth of options, and the dashboard gives a breakdown of all outstanding tasks and responsibilities. This leads to improved communication, which in turn improves efficiency. Integration with Slack (Enterprise plan only) keeps everyone informed. You can set up contracts within NEXT, which integrates with DocuSign helping to make it all official.
The platform catalogs every item of content users and influencers upload, making it simple to find any post at any time. In addition, it integrates well with Google Workspace, along with many companies' banking apps. Enterprise users also have API access to enable further integrations.
---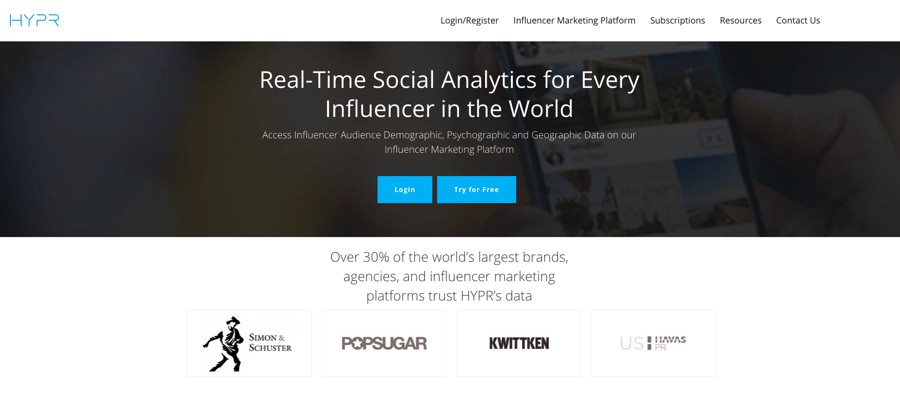 Hypr is predominantly an influencer platform designed for brands to discover influencers, based on their postings on Facebook, Twitter, Instagram, YouTube, and Pinterest.
They have a gigantic database of 10 million influencers, along with extensive demographic data about each influencer's following. Obviously, this is not an opt-in network. They have a giant search engine scraping social media posts, determining popularity, and collecting data.
Hypr considers itself a "talent agnostic" search engine, as it relies on data, not opinion, to determine who is an influencer.
Obviously, Hypr's main strength is the power of its search engine, which allows for very comprehensive and targeted searches for particular types of influencers (although the capabilities are severely restricted for those who choose the Standard plan).
The only real management tool is the ability to create lists of different groupings of influencers.
---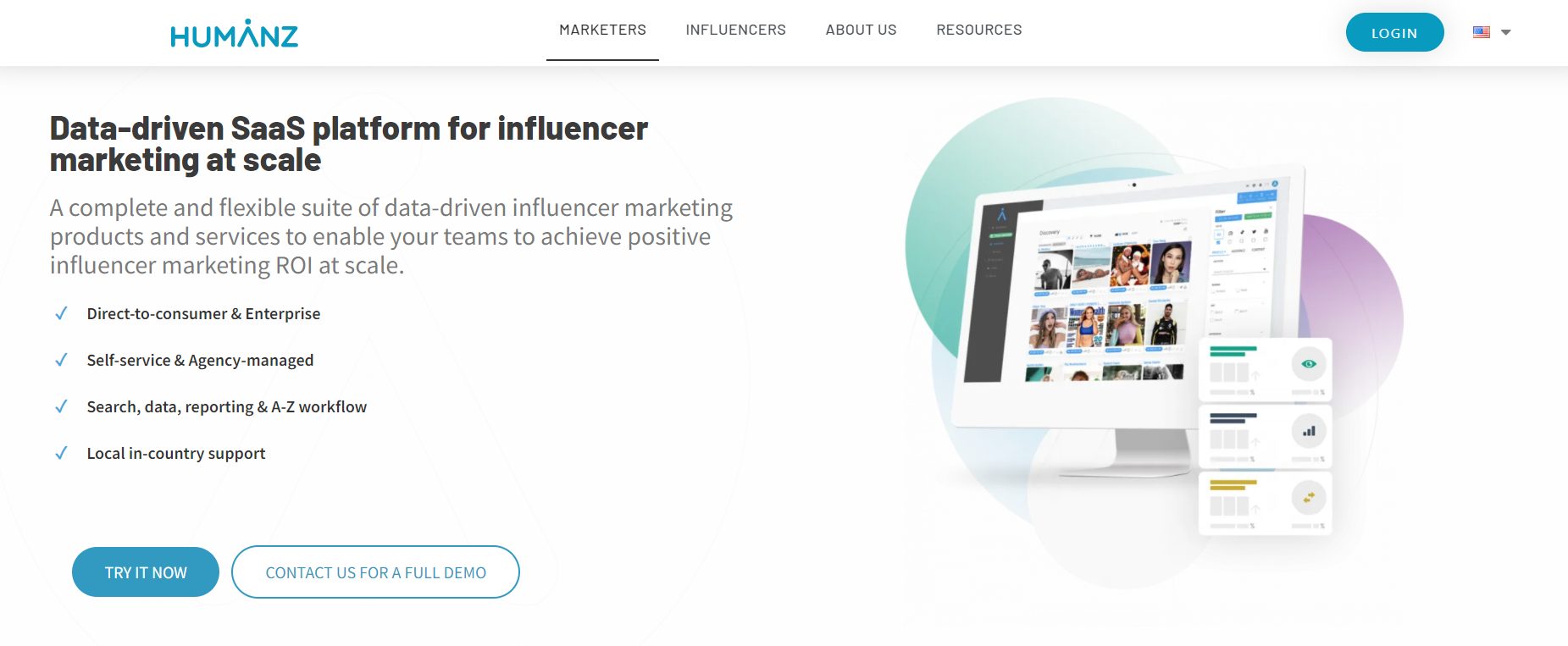 While it was founded merely a few years ago in 2019, Humanz has already impressed a number of big names (including yours truly). In fact, if you read our full review of its platform, you'll see that we've given it 5 out of 5 stars. In short, they describe themselves as an influencer marketing platform, powered by artificial intelligence, with the goal to restore trust between brands, creators, and their target audiences. 
It offers a marketplace of over 50,000 influencers helping brands and their marketing teams to find the right influencer for their campaigns. By working with a registered influencer, it makes it easier to stay on top of tasks like communication and content approval as everything is centralized. That being said, if you would prefer to work with other influencers not registered on their platform, you're more than welcome to do so.
What makes the software one of the greatest tools is that you'll also get much more accurate insight into influencers and their potential reach. With the help of its algorithm, it analyzes public profiles with regards to followers, text, image and video content, and performance data.  
Influencer marketing platforms are mainly designed to help brands with their influencer marketing campaigns, but Humanz has made it their mission to create a platform that appeals as much to brands as it appeals to influencers. Both marketers and influencers can look forward to the same level of functionality and intuitiveness. All in all, the sleek interface needs to be praised for the careful consideration and planning that went into its features.
---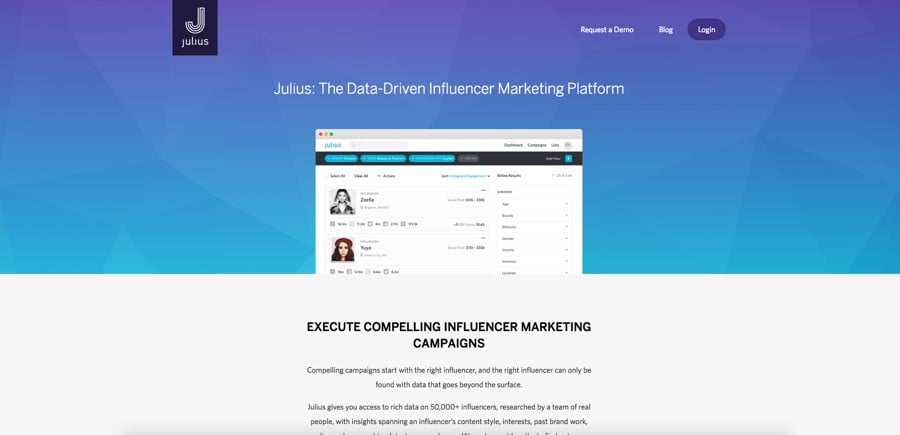 Julius began life as Thuzio, a web-based talent agency for athletes looking to make extra money with appearance fees and endorsement deals. Over time, other types of influencers joined the roster, and eventually, Thuzio morphed into Julius, the Influencer Search and Discovery tool.
Julius' talent database has now grown to more than 50,000 influencers, each of whom has been manually researched before he or she was entered into the database. It covers a wide range of social media channels: Facebook, Twitter, Instagram, Pinterest, Vine, Snapchat, and YouTube.
Julius benefits from having a comprehensive and easy-to-use search facility, with more than 50 data points to search that can be combined in any way. It also benefits from having an efficient set of campaign management tools built in.
---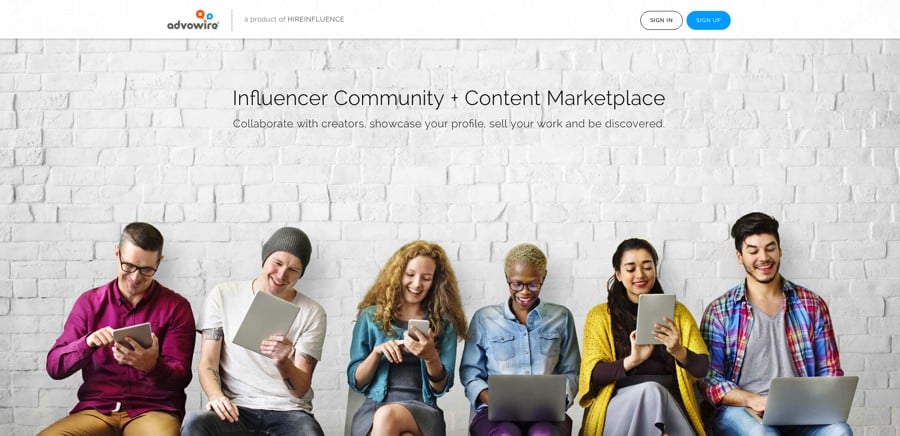 Full service digital marketing firm, HireInfluence, created Advowire in 2015 to provide an influencer marketing service for its clients. They have slowly built and perfected Advowire since then, so it is now a self-service influencer marketing platform, that works with influencers on Facebook, Twitter, Instagram, YouTube, Pinterest, Snapchat, and blogs.
Advowire uses an opt-in model for its community of influencer creators. It charges brands for their connections with its influencer community, using a system of credits. Different activities cost different numbers of credits. The higher the subscription level a firm opts for, the more credits they have available to use.
With subscriptions ranging from $99.99 to $1,399.99 per month (ignoring the free tier which is only really a trial), Advowire is happy to work with businesses of all sizes.
As well as the normal search functions where firms (with enough credits) can isolate the most suitable influencers for their niche, Advowire has the Marketplace, where content creators pitch articles and images they've already created.
---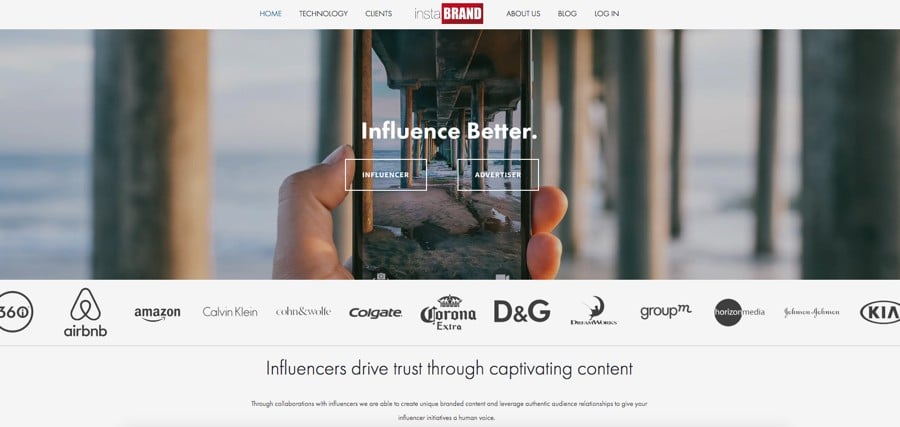 InstaBrand's mission is to give brands a human voice, and content is how they do it. They have built up a database of 100,000 influencers on Snapchat, Instagram, Twitter, Facebook, and YouTube. They describe themselves as being a "Mobile First Company" and place their main focus on mobile-specific networks like Instagram and Snapchat.
The heart of InstaBrand is it's Influencer Search Engine. Along with the 100,000 influencers it recognizes 3,000,000 unique mentions and 5,000,000 keywords. It uses keywords for search rather than predetermined verticals. It offers multiple search options for brands trying to locate the perfect influencers.
InstaBrand is more than just a search engine though. They help brands to create a strategy, match influencers, engage influencers, confirm activations and report.
---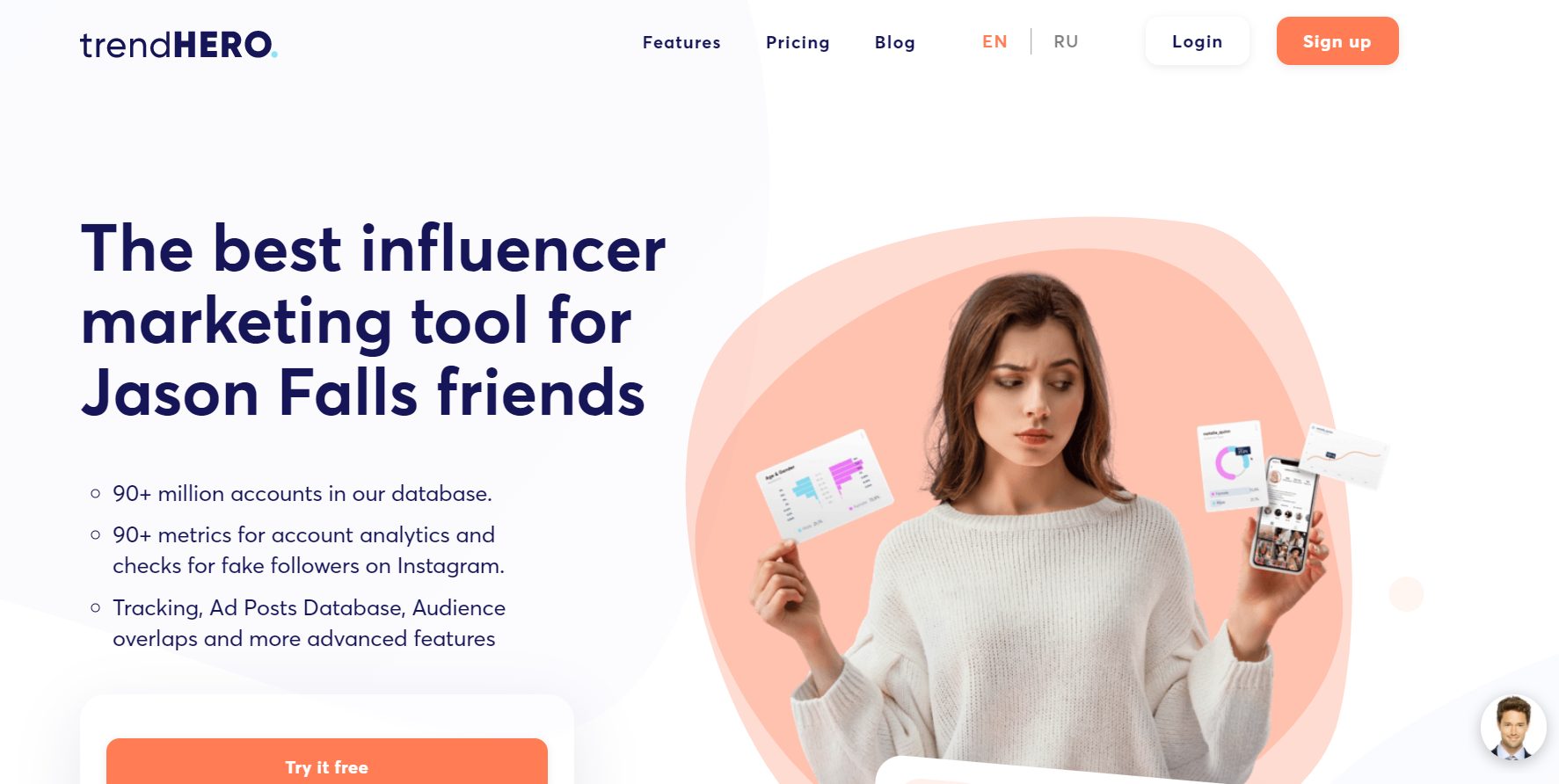 TrendHERO strongly focuses on influencer discovery. You can use it for "influencer auditing," a kind of background check for creators with whom you could potentially work. One of the main reasons you would do this is to determine whether they have a quality audience suited for your brand.
It includes data on over 75 million influencers and uses advanced machine learning to process and understand it all. A few years ago, only expensive high-end platforms targeting enterprises offered this type of technology. trendHERO now offers it at a price that even small businesses can afford. 
trendHERO restricts its analysis to Instagram only. Although the platform's influencer search is relatively basic, it does include a lookalike feature to help find you someone similar to a preferred influencer. trendHERO's AI uses over 1,000 data points to analyze and compare profiles when determining lookalike influencers.
trendHERO's search results may be limited, but it includes valuable data about the influencers it suggests. It gives particular scrutiny to likes comments.  The platform distinguishes between comments from influencers and those from their audience. This makes it easy to see how actively engaged an influencer is.
It includes a Tracking module to keep track of selected influencers or brand accounts via social listening. Some of the insights are unique to trendHERO. 
In addition, an Ad Posts feature lets you search through advertising content posted by influencers to see how they handle sponsored content.
---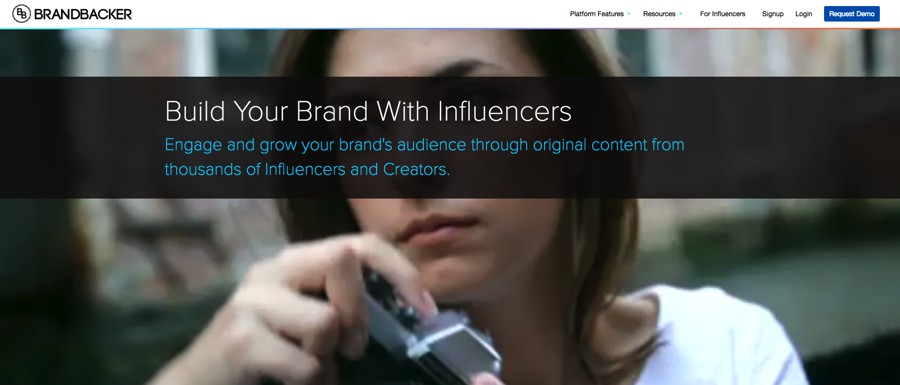 BrandBacker is another influencer marketing platform that encourages talented social media users to join up as an influencer. It particularly focuses on niches such as beauty, women's fashion, mommy, menswear, lifestyle, food, and travel. There are currently 20,000 influencers signed up.
Influencers receive opportunities in their dashboard for such things as free samples, paid posts, discounts and early access to things. They are also given the opportunity to apply to campaigns that interest them. Once a brand agrees to use an influencer, that person creates content and submits it for brand approval. Once approved it is up to the influencers to publish the content and share it with their audience.
Brandbacker provides a great deal of data for brands. Brands can learn who is talking about their brand, and compare their content performance with their competitors. Brandbacker also shows industry trends and in-depth detail about topic trends.
---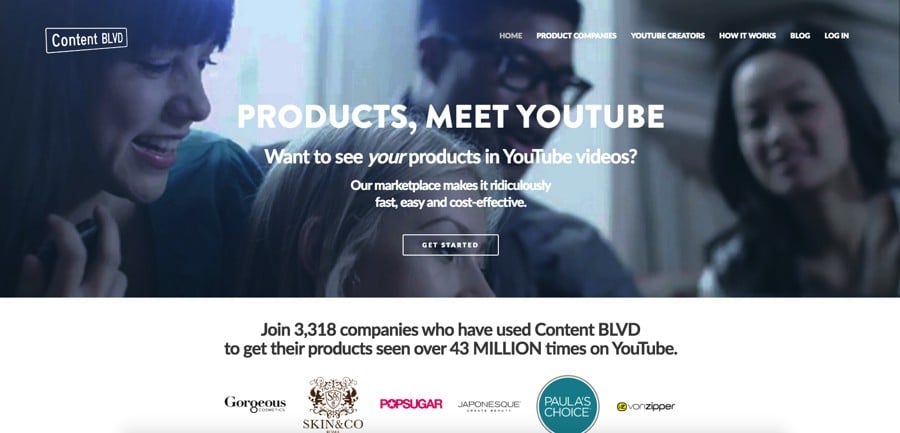 Content BLVD's focus is on enabling brands to see their products shared on YouTube, so it seeks to match up product companies with YouTube creators. Their aim is to make it easy for brands to match up with popular YouTube creators who match the brand's niche.
YouTube creators have the opportunity to set up an editorial calendar of their upcoming videos, giving brands a chance to see any possible synergies between the video channel and their brand.
Brands list products they want to promote in Content BLVD's marketplace. Interested YouTubers check the listed products and can request a sample so they can promote it. Brands look at requests and choose to accept or decline each one, based on the quality and relevance of each YouTuber. The brands can see the videos go live, track any physical product shipments, message YouTubers, and examine video performance from their dashboard.
One difference with Content BLVD is that it features unpaid placements. YouTubers choose to feature products because they interest them and make good video content.
---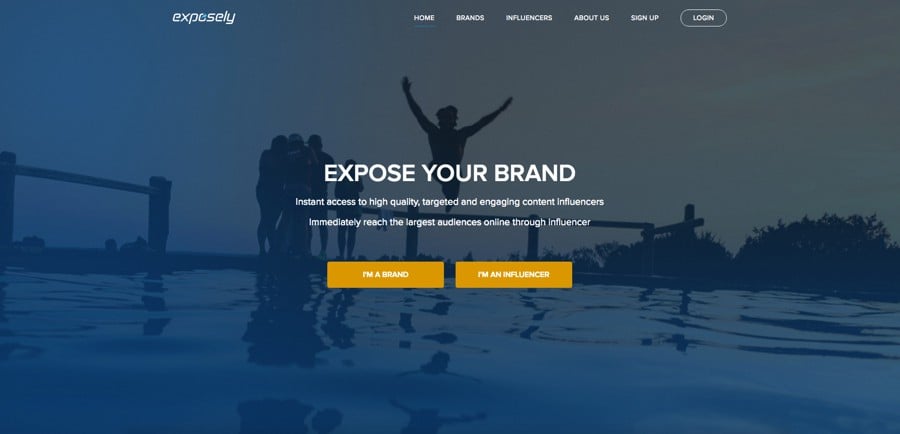 Exposely is a self-service social advertising platform, connecting brands with highly engaged online influencers. Those who believe they are influencers can sign up to the site to gain access to paid opportunities to share content from brands. They can be social influencers, web influencers or video influencers.
Brands sign up, set a budget, search out relevant influencers, pick who they want to work with and then carry out campaigns. Even small businesses can work on Exposley, with campaign payments starting at $100.
Both parties have access to clear dashboards detailing engagement and campaign data.
---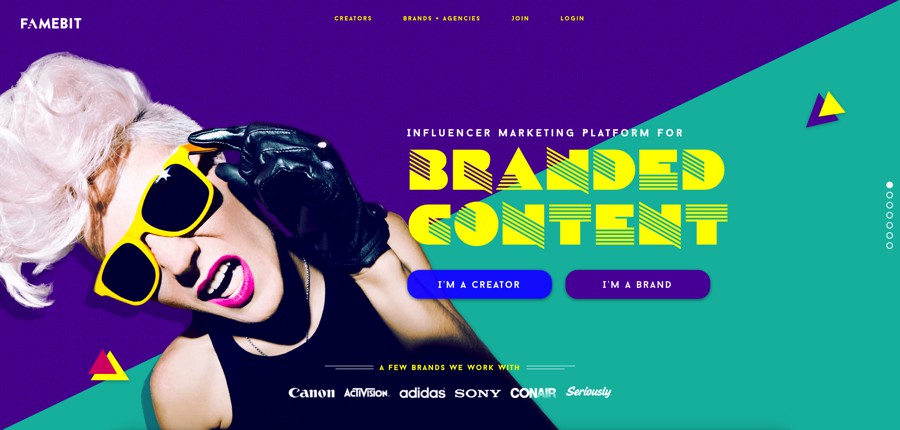 FameBit began with a focus on video content, initially connecting popular YouTubers with brands. Brands provided content on the platform for popular influencers to post on YouTube, or alternatively, they allowed creators to come to them with proposals. Over time they expanded to also cover Facebook, Tumblr, and Twitter. For a while, they also worked with Instagram influencers, although they no longer do so.
Google bought the company in October 2016, at which time FameBit claimed to have over 300 million subscribers.
Both brands and creators can sign up to FameBit. To be considered an influencer, however, creators need 5,000 followers on a social account for their membership to be accepted.
Unlike many other platforms, FameBit focuses on creators/influencers finding brands, rather than the other way around. Brands post a campaign they want to run, and creators make proposals to them of what they could do. FameBit makes its money by charging a 10% fee on any transactions between the brands and the creators.
---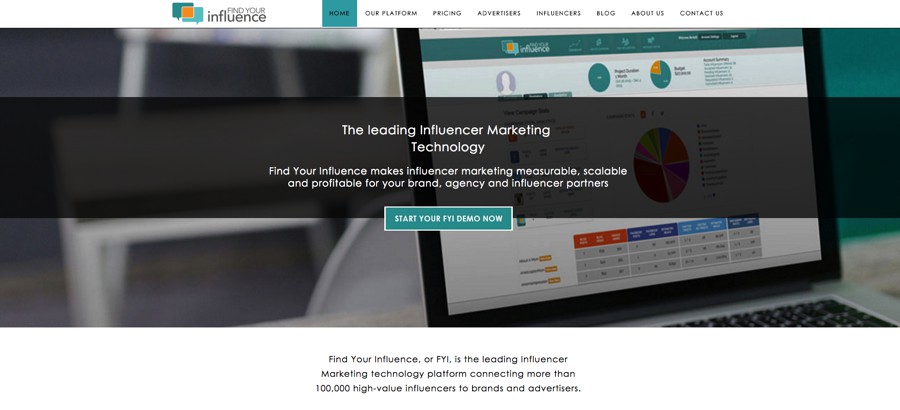 Find Your Influence claims to be the leading influencer marketing technology platform, connecting more than 100,000 influencers to more than 500 brands and marketers, in 10,000 campaigns to date. They operate with influencers across blogs, Facebook, Instagram, Twitter, YouTube, Vine, and Pinterest.
They have some big-name clients, including Lenovo, Kleenex, Sony, Hallmark, Walmart, Honda, and Budweiser. However, Find Your Influence does have a variety of pricing options, giving a wide spectrum of businesses access to their SaaS platform, ranging from $300 for small businesses running a single campaign who have access to 5,000 influencers to $1,500 for enterprises who can operate unlimited campaigns and can access the full 100,000 influencers should they choose.
They have a strong focus on their technology and have automated every step of the influencer marketing process. There are extensive real-time analytics and data-based reports made available to the brands to gauge the success of their campaigns.
---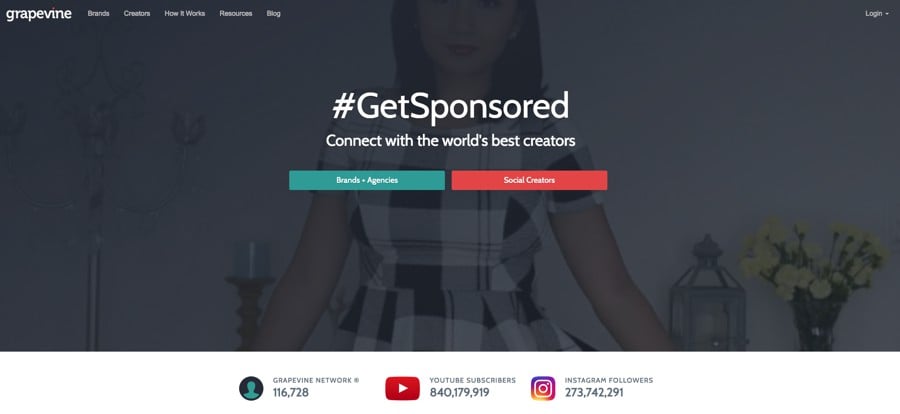 The Grapevine platform very much focuses on matching influential YouTube creators with brands wanting promotion on that platform. It is an opt-in platform for those with successful YouTube channels (although they can also link up their Instagram accounts). Anybody with a YouTube channel can join the Grapevine community, accessing their Creator Match tool to find and collaborate with other content creators. You do need either 10,000 YouTube subscribers or 5,000 Instagram followers to have access to the Grapevine Marketplace, however, where brands offer sponsorship opportunities.
Grapevine provides detailed data about each relevant influencer to brands wanting to set up campaigns. They have a Recommendation Engine which suggests appropriate influencers for brands to consider. Its results are refined and improved as brands operate campaigns, and it becomes clearer which types of influencer perform best for the brand.
---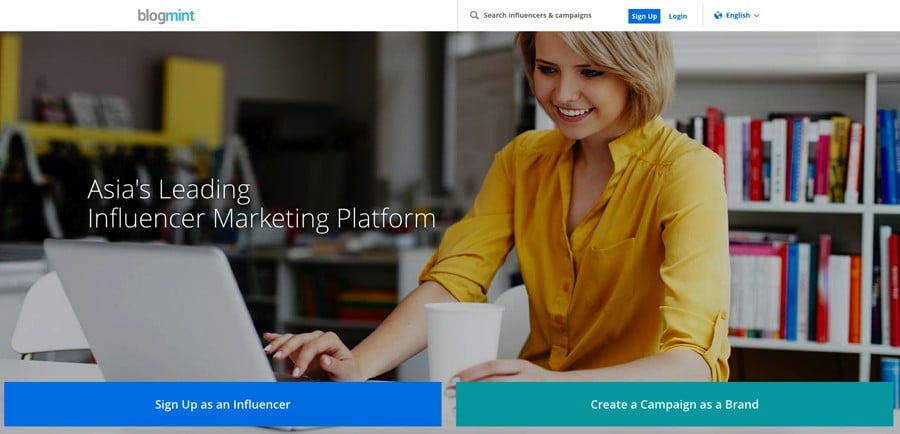 Blogmint is Asia's largest influencer marketing platform, proving that influencer marketing has a truly global impact. It currently has more than 40,000 influencers, vloggers, and micro-influencers on its books and works with 358 brands.
It uses a self-selection method where those who think of themselves as influencers sign up on the site. If you have a blog the system automatically creates what they call a BlogScore for it – a quality rating of between 0 and 100. You will gain a higher BlogScore if your blog performs well, with good traffic and engagement, and you have an active social influence. It appears to work in a similar way to an individual's Klout score (although it does give more weight to blog performance).
Brands create campaigns they want and post them on Blogmint. Influencers can apply to be part of campaigns, and brands can invite particular influencers who they want to use – based on a number of factors, such as the genre or BlogScore. Once the brands have chosen their influencers they can run the campaign, on the influencer's blog or vlog, and the influencers promote it in their social media.
---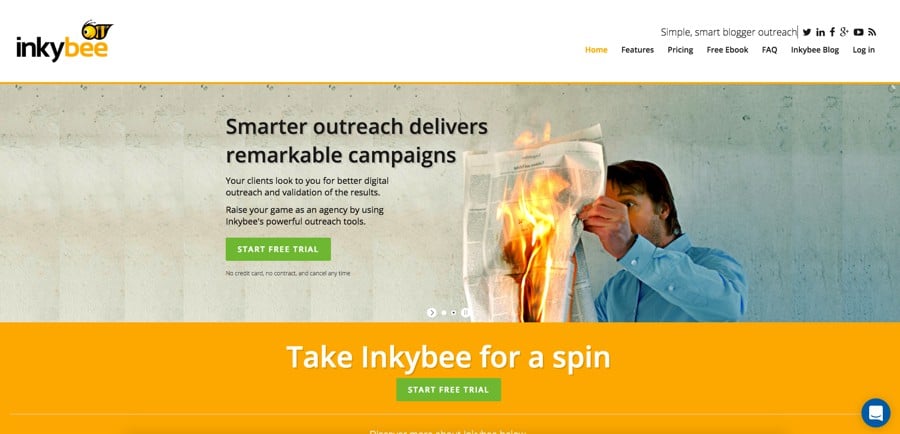 InkyBee targets itself at professionals in digital marketing, social media marketing, public relations and SEO. It provides a suite of web-based tools to help these marketing professionals to manage their entire digital outreach process – from finding influencers to measuring the success of their outreach campaigns.
They claim to cover a database of more than a million blogs. They use their algorithms to analyze this multitude of Big Data to come up with a huge quantity of statistical data, indicating who the most influential bloggers are for each niche. Marketers can sort and filter this data in multiple ways to help them determine which influencers are the best fit for their needs. InkyBee also has tools to enable Twitter bio searches and Twitter influencer analysis.
InkyBee offers more than just search tools, however. They also offer marketers a suite of outreach tools to help them engage with and reach out to their chosen influencers.
---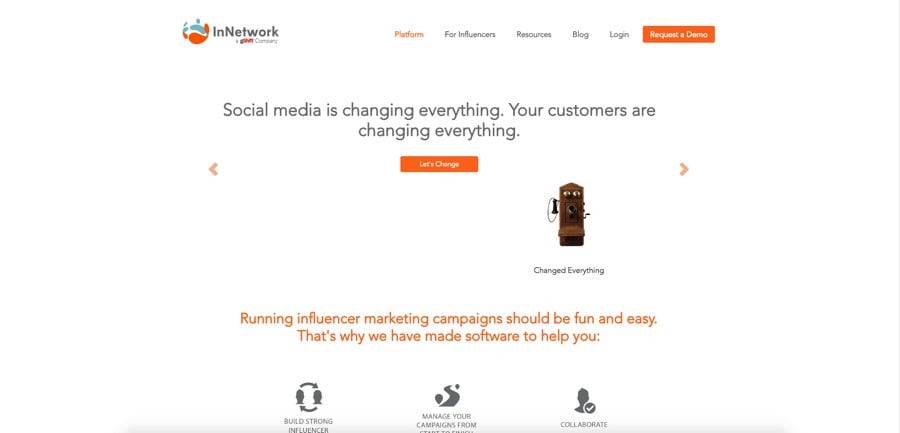 InNetwork is an opt-in influencer marketing platform. They are careful about who they permit to join their site as an influencer. You can't just sign up, you have to go through a screening process first. They are not so concerned about somebody's follower count (which is very much affected by the niche that somebody operates in) as they are by whether that following is loyal and engaged. They have a team of influencer analysts who vet each influencer for quality, credibility, authenticity, and engagement.
Currently, InNetwork provides analytics for blogs and Twitter, however, they also take into account Facebook, Instagram, YouTube, Pinterest, LinkedIn, Tumblr, Vine, Snapchat, and Flickr when calculating an influencer's InNetwork score.
Marketers and brands search the InNetwork vetted network to find influencers that match their passions, styles and content types. InNetwork provides tools to help with the influencer campaigns, such as a project calendar, along with some influencer analytics and reporting tools.
---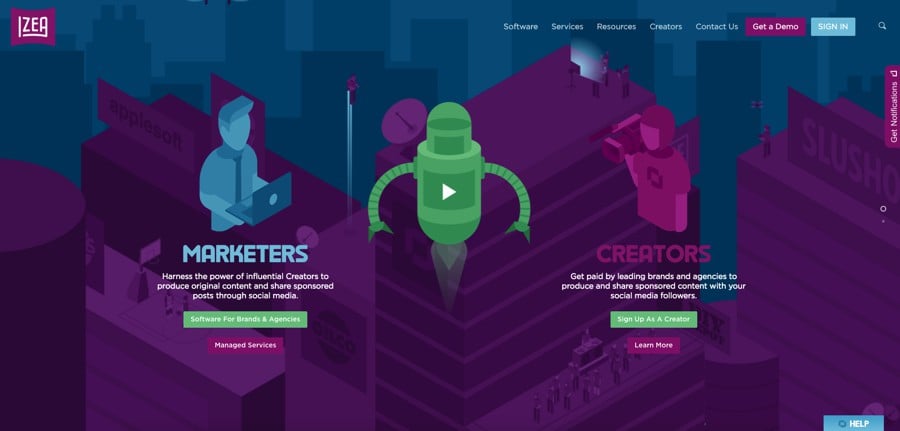 IZEA operates as a SaaS platform for agencies and brands, automating influencer and content marketing programs.  IZEA began paying bloggers to produce sponsored content for brands in 2006 – almost the stone age of influencer marketing.
They now offer a single platform that covers all aspects of content production and distribution by influencers on their blogs, and through their social media accounts on Twitter, Facebook. Instagram and YouTube.
IZEA offers marketers an extensive platform search, allowing them to create lists of creators (IZEA's term for influencers)  who could meet their needs. The IZEA software gives each creator a score, depending on their social reach.
They have split their influencer marketing process into nine steps, all of which happen at some point on the IZEA platform:
Create opportunity
Target influencers
Bid on opportunities
Accept bids
Create content
Review content
Publish and track
Promote posts
Influencer payment
---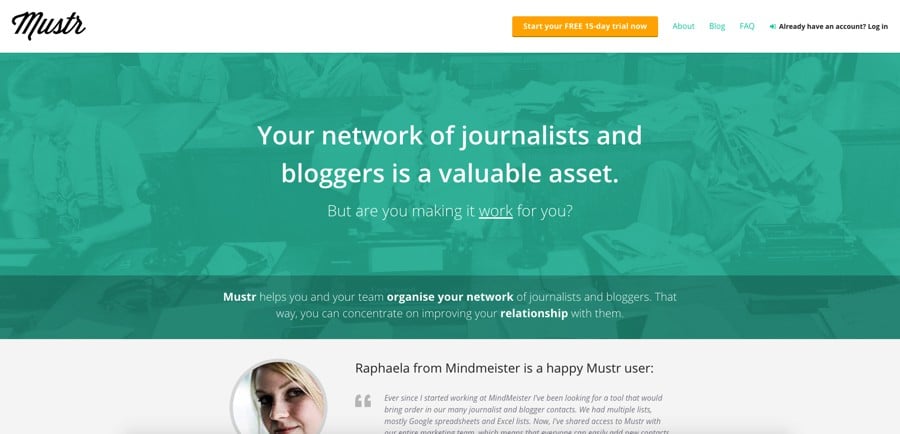 Mustr helps agencies and companies organize their network of journalists and bloggers. Mustr's clients include Weight Watchers, Michelin, Finn, and Incrediblue. In this sense, it is more about organizing useful PR connections, than it is the typical type of influencer marketing that most of the other platforms here focus on.
It works in a similar way to a Customer Relationship Management (CRM) system – except it stores the information for journalists and bloggers, rather than customers. Firms can either use their account themselves or they can invite their PR agency to manage their contacts.
Businesses can share journalist and blogger contacts with their team, directly send press releases from Mustr (including high-res pictures and other information), send notes to journalists and share PR projects with clients.
---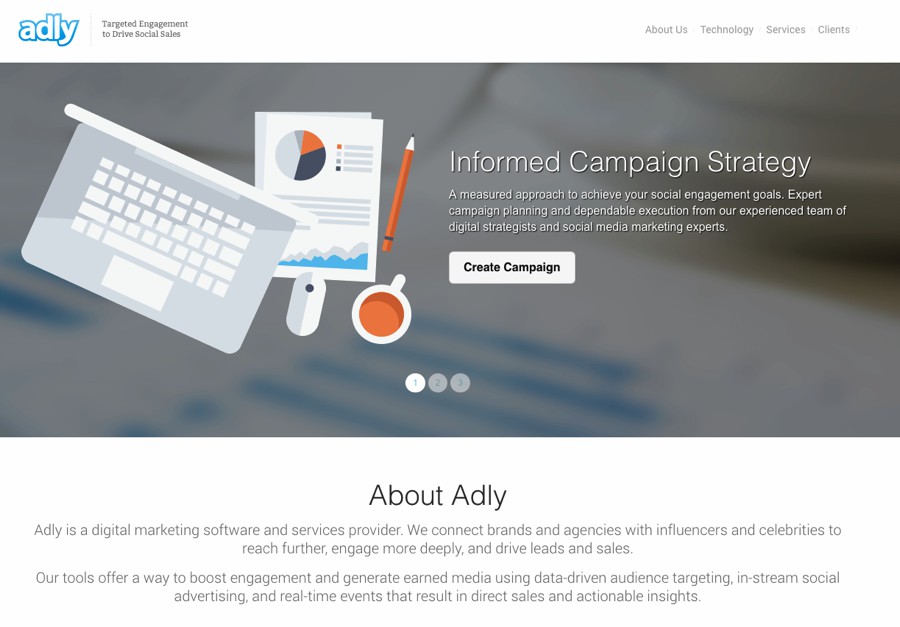 Not to be confused with the Taiwanese scooter manufacturer of the same name, Adly describes itself as a digital marketing software provider who connects brands and agencies with influencers and celebrities.It is an opt-in network for influencers who have to apply to be part of it. It covers the Facebook, Twitter, Instagram, LinkedIn, YouTube, Google + and Pinterest networks.Adly provides a variety of tools to help brands and agencies find the most appropriate influencers and then run campaigns. AudienceIQ is specifically designed to help find suitable matches, using what they call the Q-Score to determine just how influential somebody is. Adly Celebrity Intelligence Layer shows the digital connections formed by celebrity influencers.There are also tools to help with campaign building, as well as reporting and analysis.
---
Onalytica was one of the earliest influencer marketing platforms, being founded in 2009. It has built up since then and gathered some big-name clients, such as Microsoft, Canon, VmWare, and the British Heart Foundation.
It operates on a SaaS platform, charging a monthly subscription fee for use of its features: influencer discovery, tools for managing influencer relationships, deep reporting and analytics, access to support, and access to a dedicated Customer Service Manager.
Onalytica takes a hybrid approach to its influencer database. It uses an algorithm to search through social media posts to find relevant influencers. However, a human team then oversees the results, removing anything clearly unsuitable. Customers can search for influencers by categories, platform, demographics, or content. The algorithm (with its human oversight) analyzes posts on Facebook, Twitter, Instagram, LinkedIn, WordPress and Blogs.
Onalytica's search function digs very deeply and can generate a huge amount of data about influencers and their postings.
---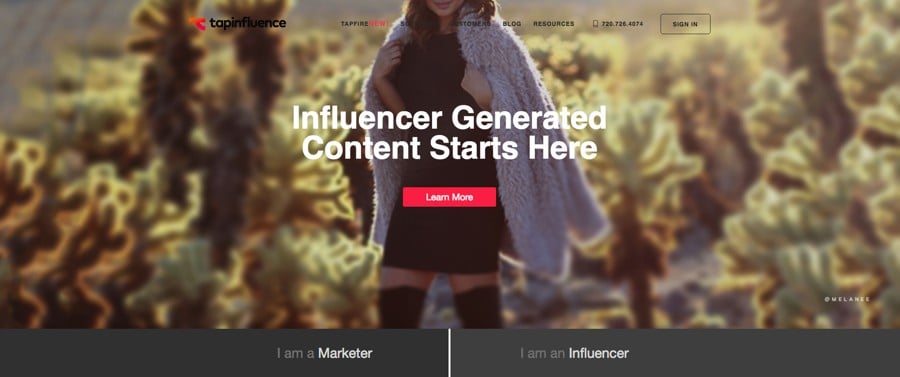 TapInfluence grew out of a product called Blog Frog, which focused on selling banner ads to companies looking to connect to targeted companies. With banner advertising losing favor, the company changed direction to work with social media influencers and became TapInfluence in 2013. They now enjoy a roster of impressive clients, such as Canon, Volvo, and Target.
They offer a range of plans to firms, from a self-serve plan giving firms access to the TapExchange software platform, to higher level plans where firms work directly with the TapInfluence team to develop their marketing plans and find the perfect influencers. They also offer TapFire as an add-on service to amplify content.
TapInfluence comprehensively covers four main areas: influencer search, influencer outreach, analytics, and campaign management. The search function allows users to discover influencers via their niche's demographics and interests. It provides data on the influencers' performance history and an estimated cost per engagement. Influencer information relates to their posts on Facebook, Twitter, Instagram, YouTube, Pinterest and their blogs.
It's an opt-in network, so all 100,000 + influencers have been vetted and validated.
TapInfluence provides a comprehensive set of campaign management tools, that should meet most marketers' needs.
---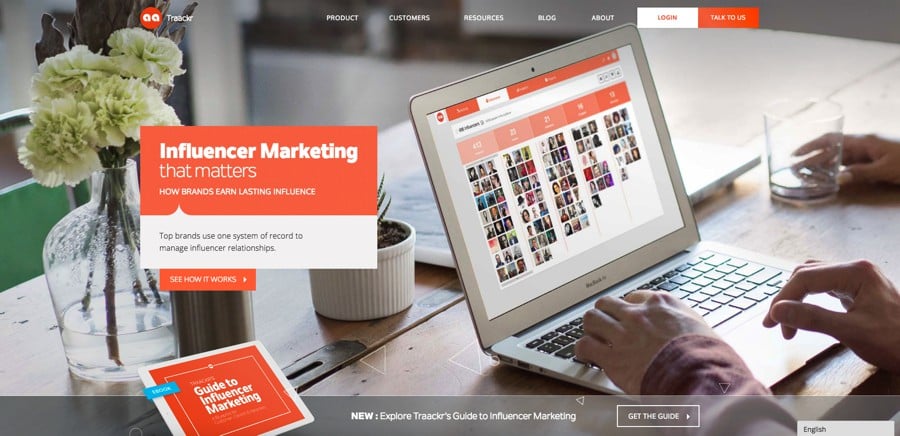 Traackr is one of the oldest influencer marketing platforms, dating back to 2008. It has survived because it has evolved.
The company now specializes in influencer relationship management and has built an online platform to enable this to happen.
Although they provide many online management tools, the real focus of Traackr is helping medium to large sized companies (and agencies) build lasting relationships with influencers
Traackr gives plenty of options for firms searching through its database of influencers. The influencer database is a hybrid – it isn't opt-in, nor is it simply computer generated – it uses a mix of a computer algorithm and human input. Firms can sort influencers in many ways, including by how much of a relationship they have with them.
There is a social listening tool where you can track influencer content in real time. Another interesting tool is a network visualization map which shows the connections between an influencer and other people, both in and out of a firm's network, giving an indication of other possible additions to the firm's network.
Traackr offers influencer discovery, relationship management, and campaign management over the Facebook, Twitter, Instagram, YouTube, Pinterest, and Tumblr channels, along with blogs.
---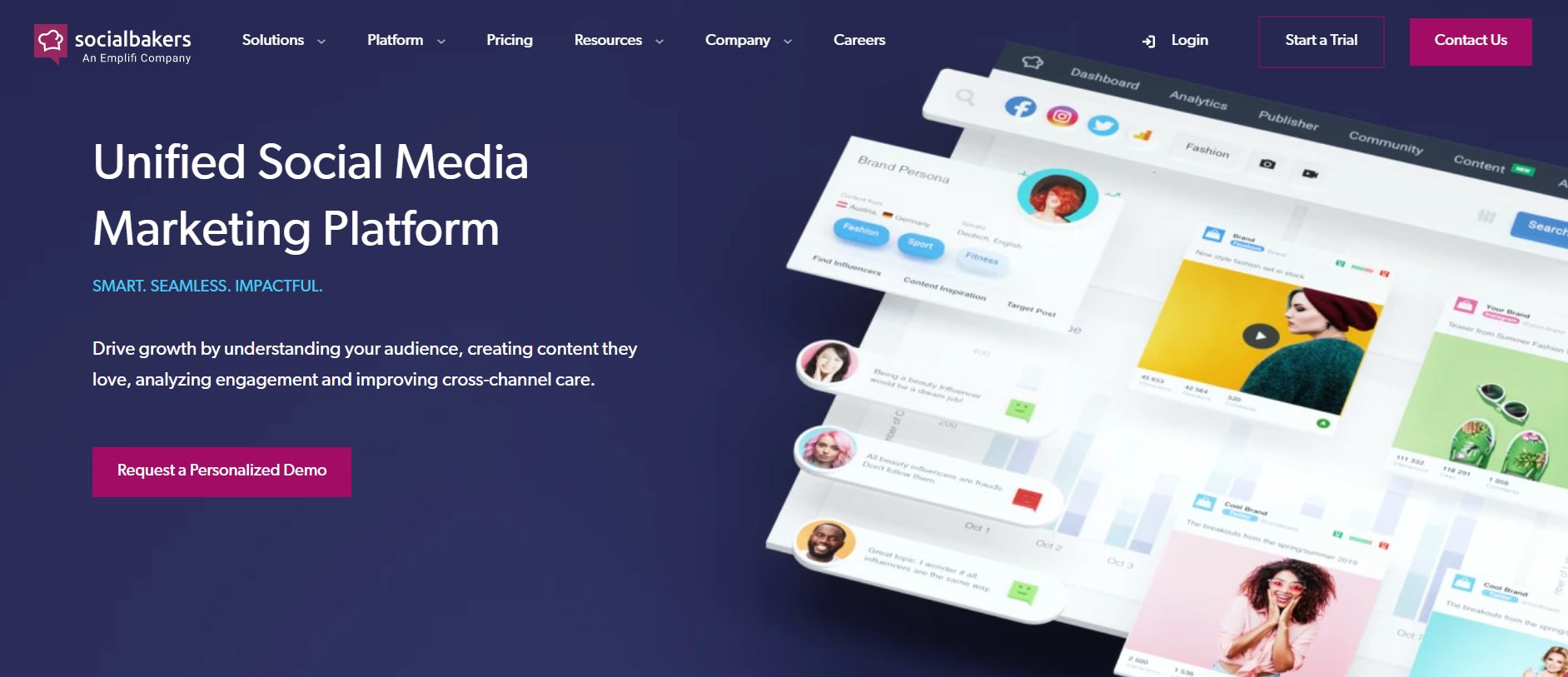 Socialbakers began in 2009 as a social media marketing agency called Candytech. Candytech created its own software platform to mine and analyze as much data as Facebook's APIs would allow them to. This was the beginning of what would become SocialBakers influencer marketing platform.
Over time SocialBakers added more features. They launched new influencer-specific tools in May 2018. These influencer marketing tools are only available in their top-tier service, however. 
SocialBakers collects a lot of data on your engaged audience. Bots, ghosts, and lurkers are all discounted to keep the data relevant. All this data is used by an AI engine to create a detailed persona map of the average audience member to whom you wish to market.
Once your various personas have been defined, the AI goes ahead and recommends influencers likely to appeal to your audience, from a pool over 30 million influencers on Instagram and YouTube. You can also do a manual search for influencers, not just to Instagram and YouTube, but also to facebook, Twitter, LinkedIn and Pinterest.
It provides information on each influencer's follower count, engagement, frequently used hashtags, a gallery of recent content, and mentions. 
A standout feature is the comparison tool, which allows you to go in-depth on profiles and view what an influencer's actual impact is. The tool can help you better understand the value each influencer brings.
---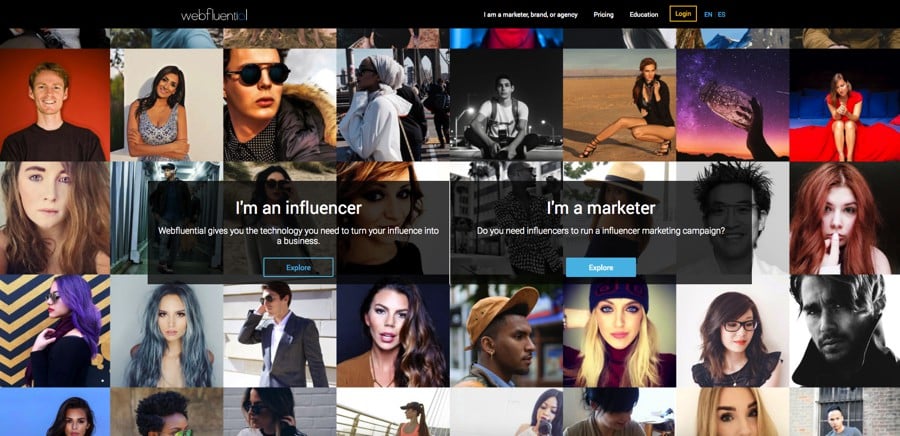 Webfluential looks at things from the opposite perspective to most of the big platforms. Rather than focusing on brands, and finding them suitable influencers, Webfluential put its focus on quality social media stars, finding them brands to work with. It works with stars on Facebook, Twitter, Instagram, YouTube, and WordPress.
This means that Webfluential only works with a roster of quality social media influencers. There is no social media post scraping here. The influencers on the Webfluential platform have been thoroughly vetted, approved, scored, and determined to be genuinely influential.
Influencers need to apply to be part of the system and if they make it through the vetting process they are given a dashboard to set up a profile, provide rates and publish a media kit. Webfluential adds a considerable amount of other data to help brands in their decision making.
The pricing system is also different from most. Brands pay a monthly fee based on the number of active influencers they have in their network (with a minimum monthly fee of $50). They also pay 10% of any content deal negotiated with influencers through the site. This makes Webfluential affordable for even small businesses wanting to participate in content marketing. Yet, even large corporations, like Adidas, Samsung, and Coca-Cola, are happy to be their clients.
Brands, agencies, and marketers search for suitable influencers within the Webinfleuntial system. They then negotiate with suitable influencers there and make payments within the system as well. It works similarly to some of the freelancing sites, like Upwork.
---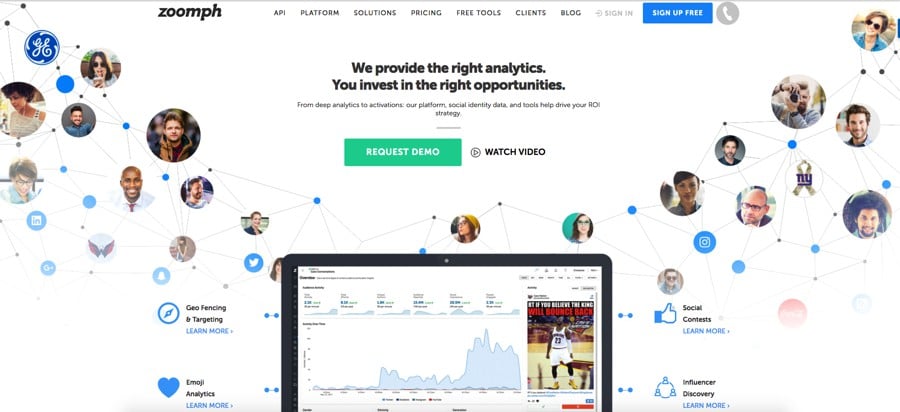 Zoomph describes itself as being one platform that powers richer analytics and deeper engagement. Data is very much the focal point of the platform. It has built up a database with more than 200 million social identities, with a great deal of information about their social activity. Zoomph enables brands to explore new communities and directs them towards communities with similar values as themselves.
It boils down trending conversations into their unique triggers and measures the impact of social campaigns.
There is quite a bit more to Zoomph than influencer marketing. However, it does include a considerable amount of data that will be of use to businesses wanting to find the perfect influencers to match their brand's image. Depending on the pricing tier selected, Zoomph covers Twitter, Facebook, Instagram, Google +, RSS, YouTube, and Chatter.
---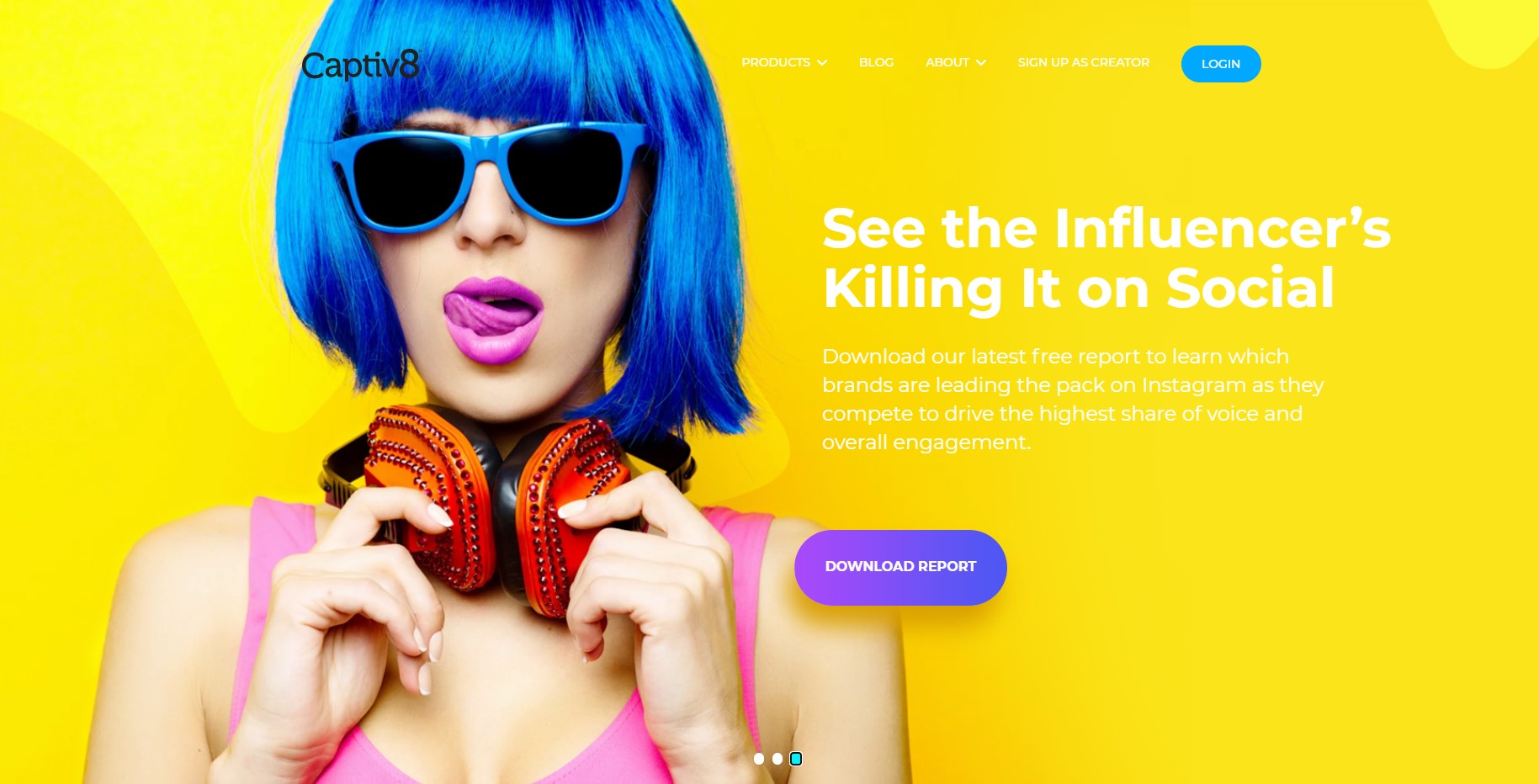 captiv8 was established in 2015, initially as a social listening and analytics tool. They were able to amass a considerable amount of data on digital celebrities appearing on Instagram. Before long, captiv8 was providing listening and data services to almost 80% of the top 30 talent agencies in the world. 
captiv8 has added additional features over the years. It is now an end-to-end influencer marketing platform with more than 1.5 million influencers in its database, although the social listening feature is still prominent. captiv8 has marketing and/or API partnerships with all the social channels, so their data gets to some very deep levels.
captiv8 allows you to research one of three categories: accounts, hashtags, and location. The amount of different data sets they present you for each of these is staggering. Unsurprisingly, the Discovery feature is just as in-depth. One particularly useful feature is searching by audience characteristics, from gender to interests to companies mentioned. However, you can also search by content. The AI digests all the content influencers produce and can label and categorize it, making it searchable by topic.
The platform boasts an impressive list of brands as customers, including Honda, Dr. Pepper, Fox, Nissan, and Miller Lite, among others. It targets large agencies and brands exclusively, so they customize their pricing and services to their clients' needs.
---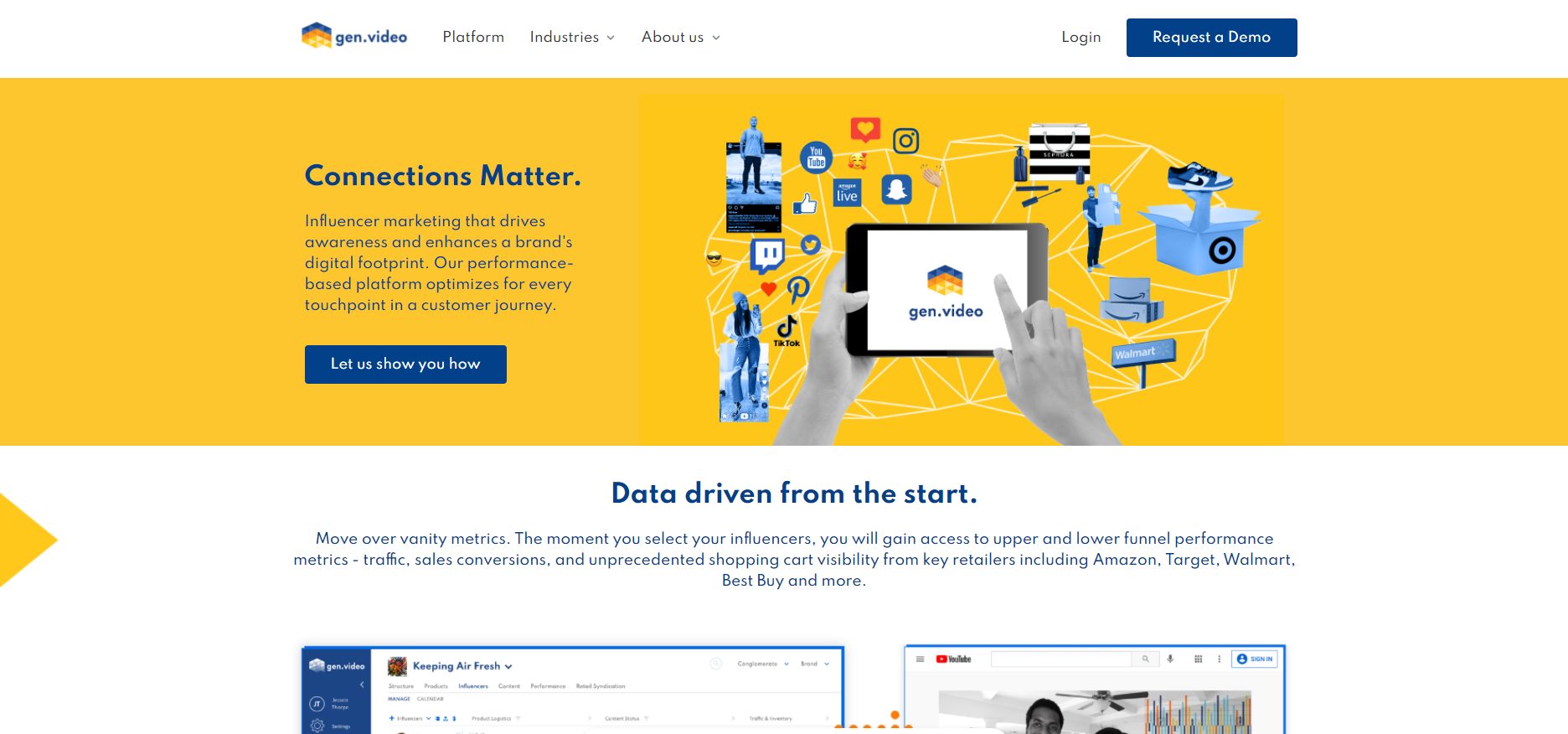 Gen. video offers a performance-based platform optimized for every touchpoint in a customer journey. It has a strong focus on analytics. From the moment you select your influencers, you gain access to upper and lower funnel performance metrics – traffic, sales conversions, and in-depth shopping cart visibility from significant retailers, including Amazon, Target, Walmart, Best Buy, and more. Their attribution system collects retail data and provides deep reporting and broad insights on the outcomes of your influencer marketing efforts.
You can use their easy-to-use platform to manage all the moving parts of your influencer marketing campaigns – budgets, briefs, influencers, timelines, contracts, content approvals, and analytics.
Their custom, immersive shopping experiences puts consumers in control of which retailer they shop at for your products, allowing you to collect valuable shopper insights. 
You can use their data to choose content creators to create brand awareness and drive conversion most authentically. Influencer rosters and key campaign details, such as contact information, contracts and rights, and ongoing performance data are integrated directly into the platform.
---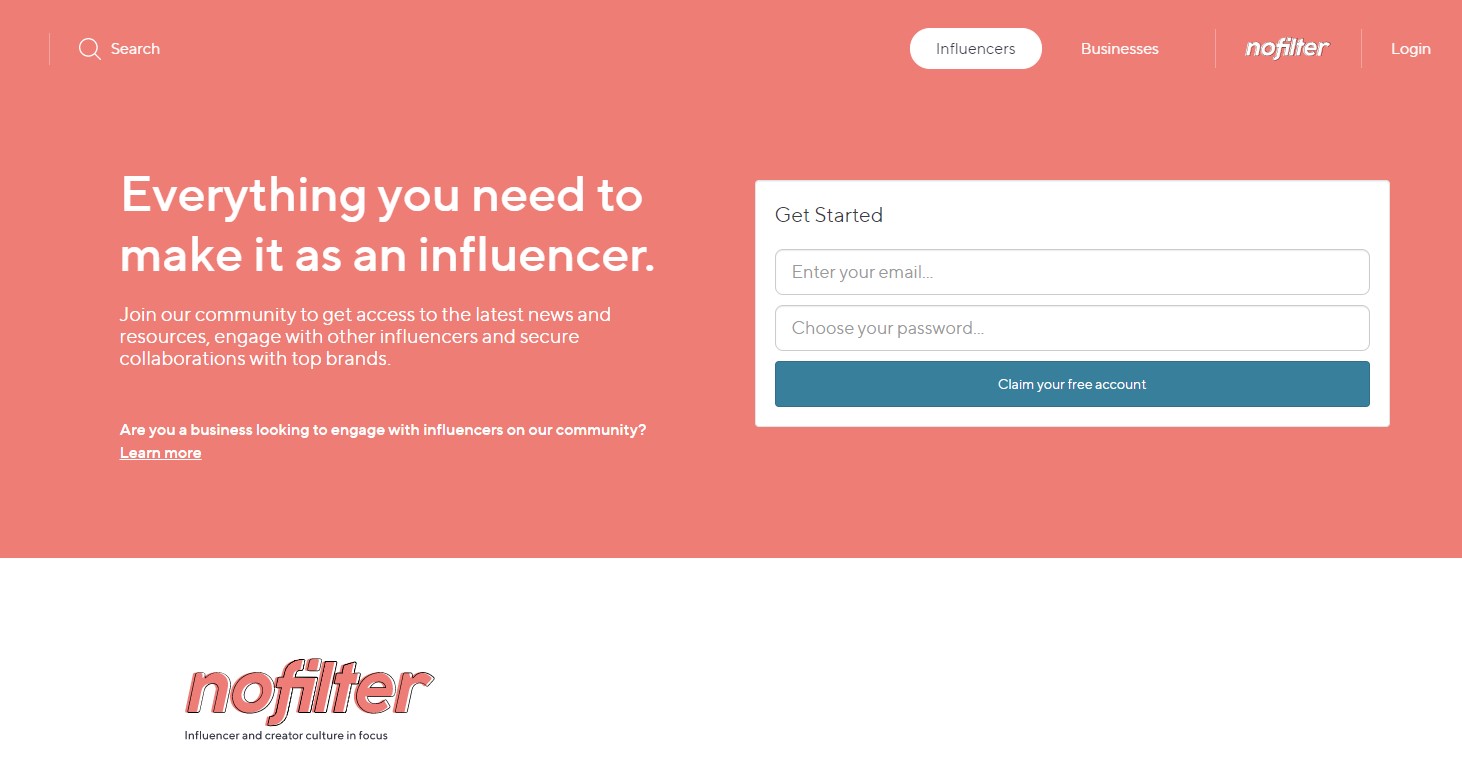 influence.co is an influencer marketplace with a difference – it provides a social foundation for brands to meet and interact socially with influencers. Brands can search for influencers easily enough, just as with most influencer platforms. Yet, it's likely to be those they find organically, those interacting with posts up and down the feed, who end up in a long term brand/creator relationship. influence.co has created a communal and collaborative social space focused on a specific audience.
Anyone can participate in the social aspect for free. It helps you discover new talent and can complement your existing methods without complicating or compromising them. 
The social feed is populated with a wide mix of content: influencers can post to show their worth; brands can share content or open campaigns, and brands can even ask for input from influencers, including asking for advice on what works and what doesn't. Influencers can create much more thorough profiles for themselves than on the typical platform and showcase their work. Those brands that pay for a Pro subscription can view even more advanced demographics as part of first-party data influence.co receives via API.
The social aspect of influence.co doesn't take the place of discovery and activation; however, it complements it. Brands can post campaigns traditionally if they prefer, too.
Those who buy the Business Pro plan gain access to campaign management tools to handle all the applications, communicate with team members, and finalize content for everything to go live. Pro members also have access to reporting for their campaigns.
---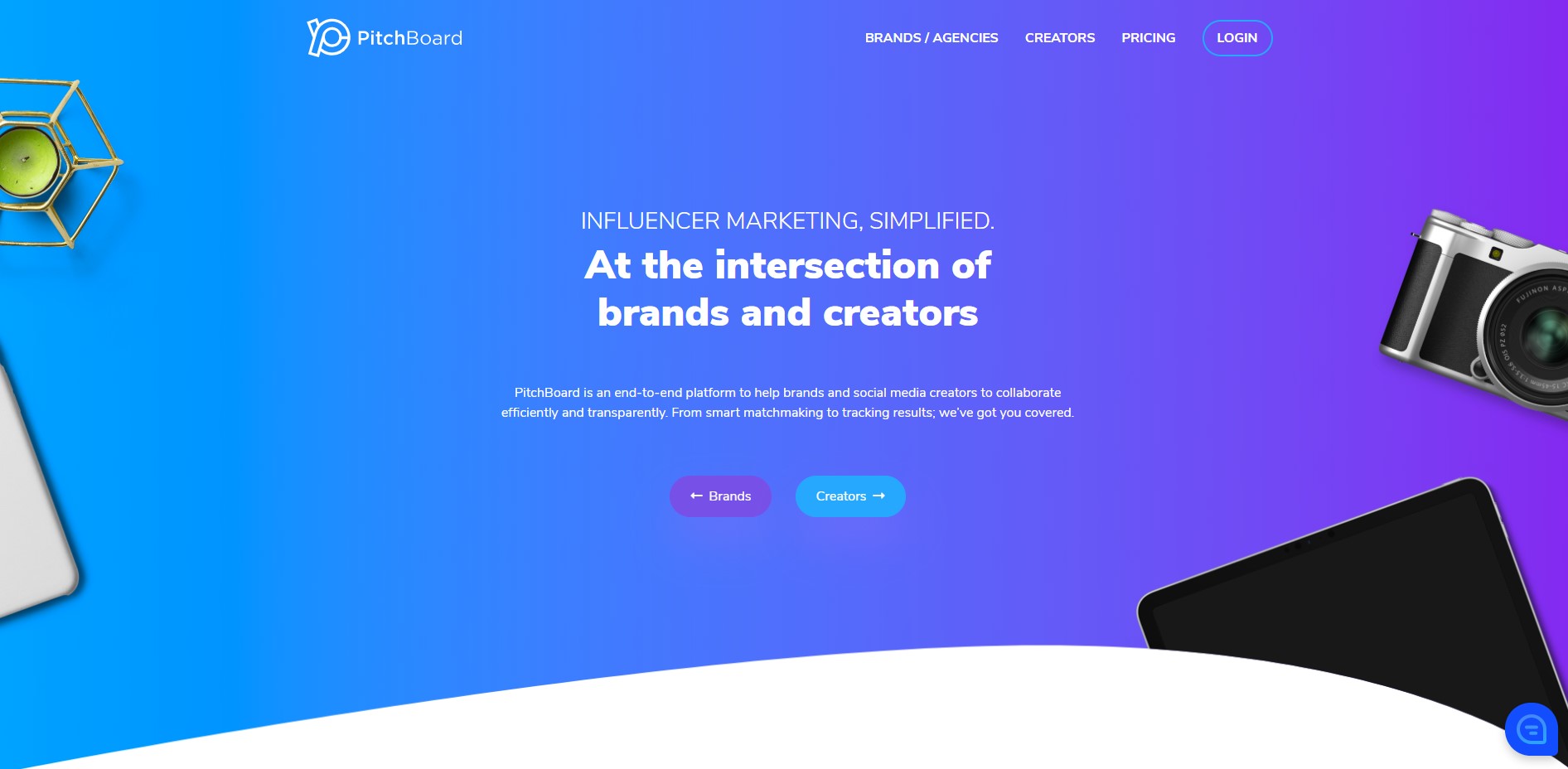 PitchBoard is an influencer marketplace with a focus on executing campaigns quickly and at scale. There's no influencer discovery feature and no relationship management, as Pitchboard clearly believes these to be irrelevant for a marketplace. A marketplace's value is the way it enables marketers to reach new audiences on a large scale.
PitchBoard uses its machine-learning algorithm to parse through influencer data from several sources to identify the influencers whose audiences are the most suitable for specific campaigns. They do this without customers having to scroll through lists of influencers and deliberate on each one.
PitchBoard earns its revenue in three different ways: monthly subscription fees, fees from brands when they pay influencers, and in turn, fees they charge influencers who make deals in the marketplace. Packages are defined in Pitchboard, and you can view real-time information with estimates showing projected engagement and cost per engagement.
The incredibly well-designed interface makes managing campaigns a downright pleasant experience. Everything is so well organized and easy to accomplish that it doesn't feel like a chore.
---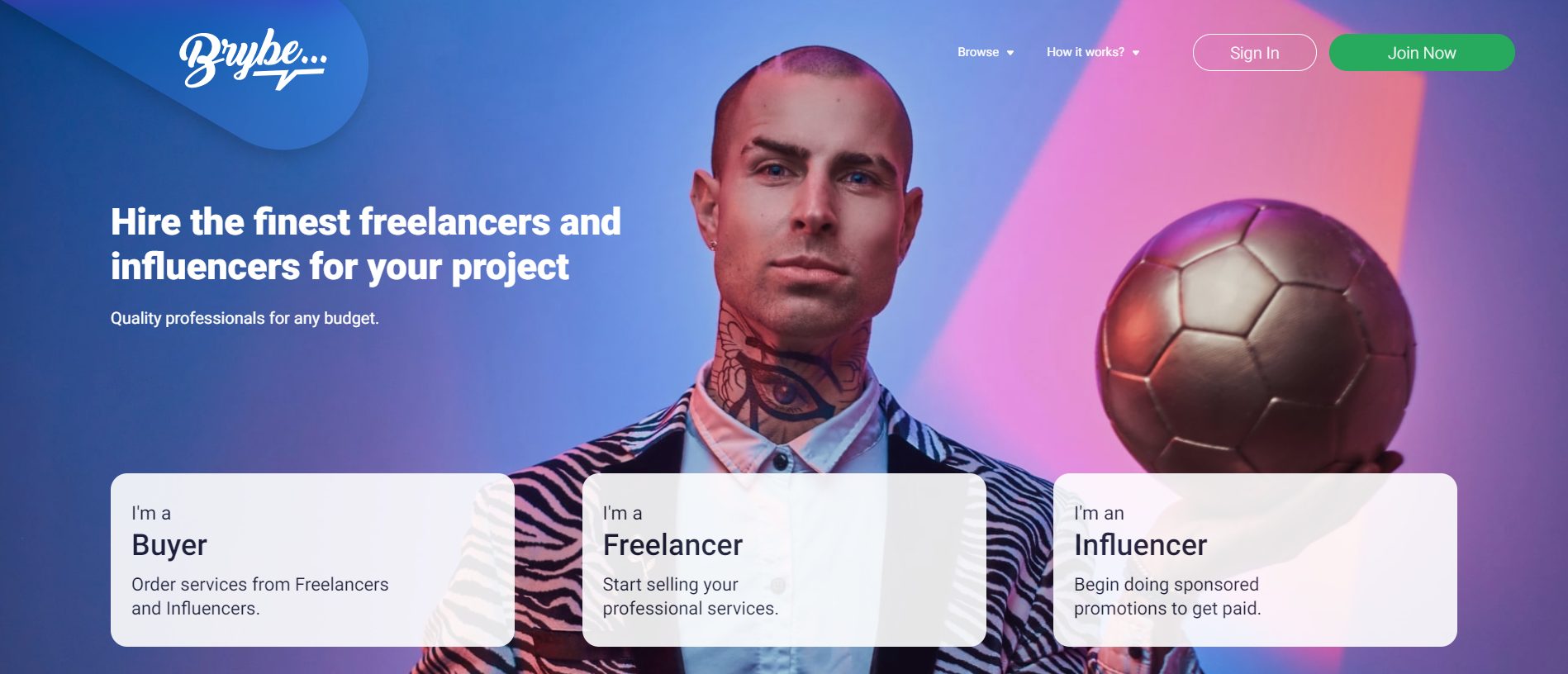 Brybe focuses on nano and micro-influencers and small and medium-sized businesses. Somewhat unusually for influencer platforms, Brybe's roster of influencers set their prices (or you negotiate with them), and brands pay Brybe a 15% fee on top of whatever is agreed upon by both parties. Influencers can create custom packages, offering a bundle of services for a flat fee.
Another difference with Brybe is that in addition to having buyers (brands) and influencers as clients, they also target freelancers. They consider freelancers to be creators, often without influence. Freelancers can use the site to connect with buyers who need assistance with content creation, e.g., photos, videos, words, illustrations, etc.
Despite Brybe's stated focus on small businesses and comparatively low-profile influencers, the platform also uncovers some well-known celebrities and macro/mega influencers. These include people like Leo Messi and Colleen Ballinger.
Brands can either create a campaign that broadcasts out to the platform for creators to apply for or search for people and deal with them directly. If a creator offers packages of services (called Brybes), you will find a menu of their options on their profile.
In many ways, Brybe looks like Upwork on steroids but focusing on influencer marketing.
---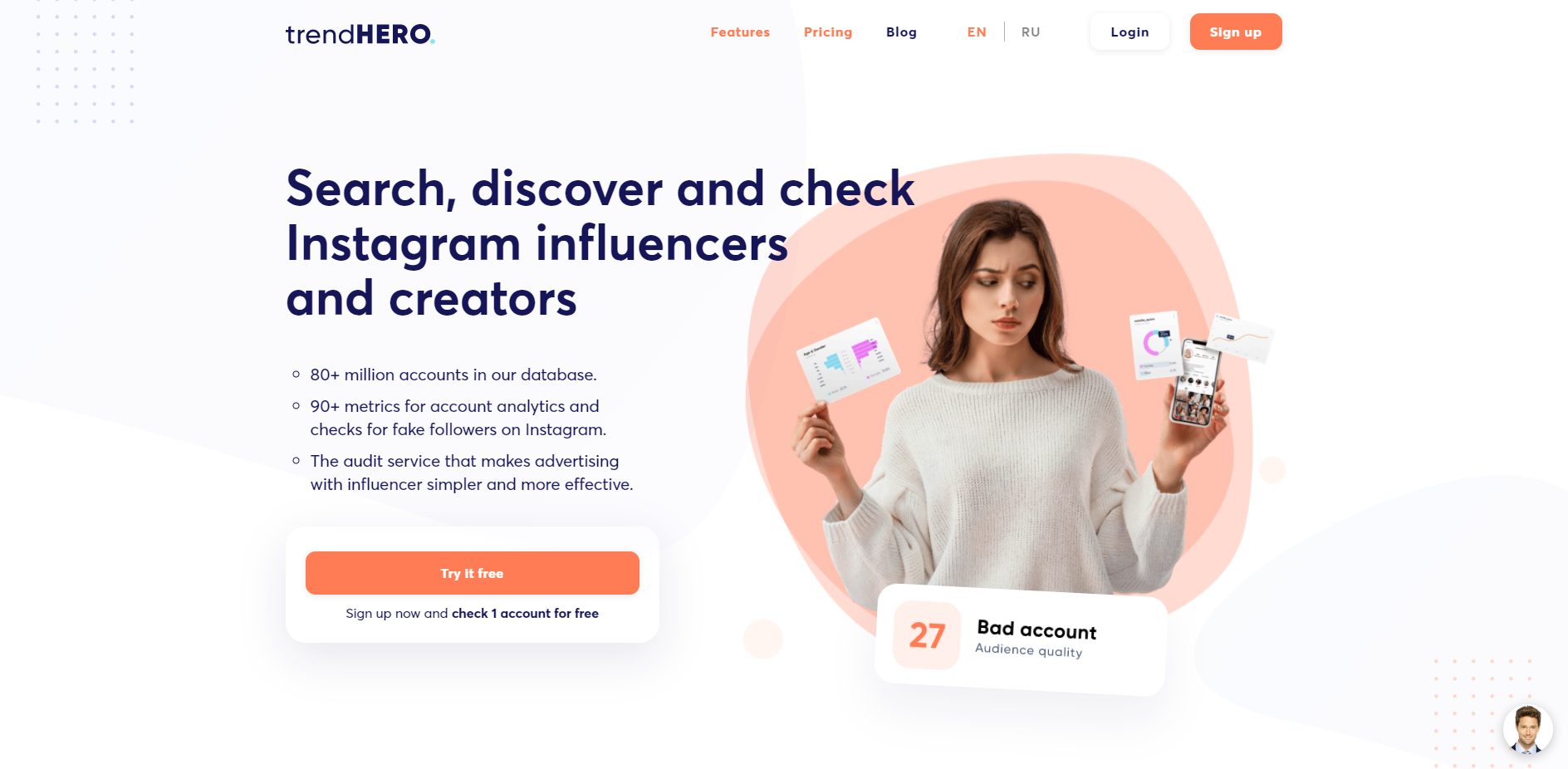 trendHERO offers "influencer auditing," a background check for creators with whom you could potentially work. These checks are beneficial to brands wanting to find influencers with a quality audience suited for their brand. trendHERO contains data on 75 million influencers. 
They have four plans, including a limited free one. The paid ones range from $15.99/mo to $119.99/mo, making the platform suitable for organizations of all sizes. Each plan offers a set number of reports per month.
trendHERO has a straightforward interface. All sections of the platform are clearly defined down the navigation menu of your dashboard. 
There's an abundance of very useful data in their reports. There's a big focus on likers and commenters that goes beyond straight numbers. The platform distinguishes between comments from the audience and those from the influencers. 
You can keep track of a number of influencers or brand accounts via social listening. These include insights that are unique to trendHERO. 
The Ad Posts feature lets you search through actual advertising content put out by influencers to see how they handle sponsored content.
---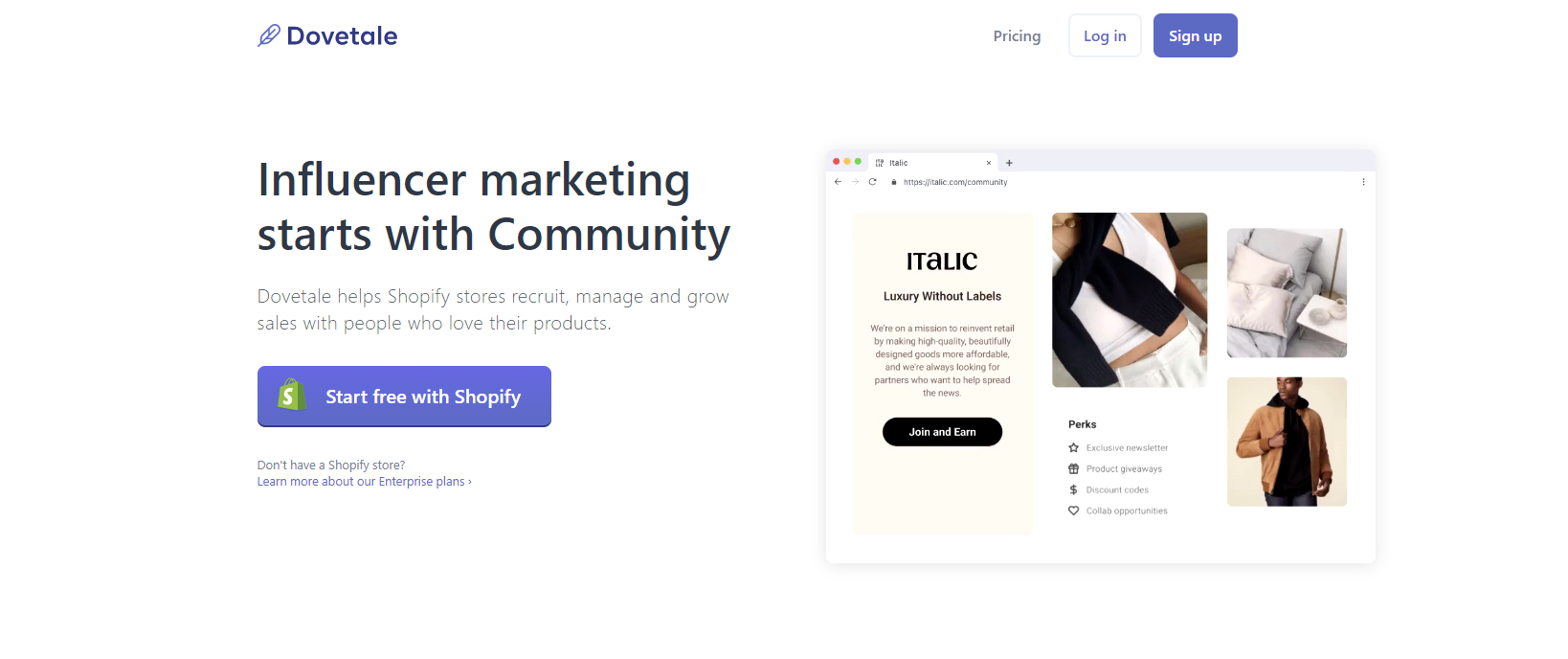 Dovetale launched in 2017 with an all-in-one answer for influencer marketing, including discovery, campaign management tools, social listening, payments, and analytics. While they still offer all these tools, their focus has moved to analytics and eCommerce. Although they cater to all types and sizes of businesses, they have proven popular with small, online retail shops.
Dovetale offers four plans, including a free plan where up to three users can manage five Community Members (influencers). As businesses grow and desire more Community Members or users, they can upgrade through the paid plans.
You create a profile/application page where potential influencers can sign up to work with you. You can undertake traditional influencer discovery, but many eCommerce brands on Dovetale rely on passive recruitment, where influencers come to them.
Dovetale includes a gifting feature that works with your Shopify integration. Influencers apply to you to participate in campaigns. When you accept an influencer, they can choose their "welcome" package, i.e., the free product they'd like to have/feature in their social posts. These connect back to Shopify with product-specific SKUs. You can group Community members in ways that make sense. For instance, you might have an "influencer" group for those with big followings and other groups for employees, family, and friends. You can define appropriate perks for each group. Dovetale keeps track of what's pending, what's been received, how much you've spent.
---